Medical College of Wisconsin Cardiovascular Center
Accelerating cardiovascular innovation and care.
From identifying processes that induce the growth of additional blood vessels in the heart to pinpointing new genes associated with high blood pressure and heart disease in African-Americans, the Cardiovascular Center (CVC) at the Medical College of Wisconsin is making significant strides in cardiovascular research. With an overall mission to improve cardiovascular health in southeast Wisconsin and beyond, the CVC is at the frontlines of scientific discovery and innovative clinical care, bringing together the nation's most renowned researchers, physicians, mentors and students. Together, they ignite the discoveries that help prevent, detect and treat cardiovascular diseases and improve the lives of our neighbors at home and globally.
Ivor Benjamin, MD, FAHA, FACC, Center Director & Professor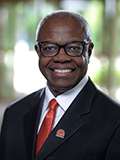 "I'd like to welcome you to the Cardiovascular Center at the Medical College of Wisconsin. The CVC is committed to becoming the premier integrated basic and translational academic organization in Southeast Wisconsin and beyond."
Dr. Benjamin received his MD from Johns Hopkins University School of Medicine, internship and residency in Internal Medicine at Yale University School of Medicine, and received fellowship training in Clinical Cardiology, Molecular Cardiology, and Molecular Biology at the University of Chicago (Michael Reese Hospital), Duke University Medical Center, and University of Texas Southwestern Medical Center in Dallas.
As director of the CVC at MCW since 2013 and Professor of Medicine at MCW and Froedtert Hospital, Ivor Benjamin, MD brings more than 25 years of experience leading cardiovascular clinical and research programs. Dr. Benjamin's leadership of the Cardiovascular Center at the Medical College of Wisconsin is increasing the investigative workforce as Co-Director of an NHLBI T32 training program and he is building a transformative platform for centralizing clinical and translational research along the T1-T4 continuum, with support from the Advancing a Healthier Wisconsin Research and Educational Endowment Program.
With a 30-year volunteer history with the American Heart Association, he proudly served as president from 2018-2019. A highly regarded physician-scientist of molecular cardiovascular remodeling, he was an AHA Established Investigator, a founding member of the Journal of the American Heart Association and currently serves on the editorial boards of Circulation and Circulation Research. As chair of the American Heart Association research committee from 2015-17, he expanded opportunities in research for women, minorities and undergraduates. Dr. Benjamin will serve as the Association's national chief science and medical volunteer, responsible for medical, scientific and public health matters.
CVC In The News
The State of Heart Research
Milwaukee's NPR radio program Lake Effect speaks with Ivor Benjamin, MD, Director of the MCW Cardiovascular Center about the state of cardiovascular research and the national push to train the general population in CPR and the use of automated external defibrillators (AEDs).
Contact Us
MCW Cardiovascular Center
Medical College of Wisconsin
8701 Watertown Plank Rd.
Milwaukee, WI 53226