Accelerating cardiovascular innovation and care.
From identifying processes that induce the growth of additional blood vessels in the heart to pinpointing new genes associated with high blood pressure and heart disease in African-Americans, the Cardiovascular Center (CVC) at the Medical College of Wisconsin is making significant strides in cardiovascular research. With an overall mission to improve cardiovascular health in southeast Wisconsin and beyond, the CVC is at the frontlines of scientific discovery and innovative clinical care, bringing together the nation's most renowned researchers, physicians, mentors and students. Together, they ignite the discoveries that help prevent, detect and treat cardiovascular diseases and improve the lives of our neighbors at home and globally.
Learn More
Ivor Benjamin, MD, Center Director and Professor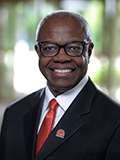 As director of the CVC at MCW, Professor of Medicine at MCW and Froedtert Hospital and the newly-appointed president of the American Heart Association, Ivor Benjamin, MD brings more than 25 years of experience leading cardiovascular clinical and research programs.
"I'd like to welcome you to the Cardiovascular Center at the Medical College of Wisconsin. The CVC is committed to becoming the premier integrated basic and translational academic organization in Southeast Wisconsin and beyond."
CVC In The News
Dr. Ivor Benjamin onstage at Apple product launch
Watch Dr. Benjamin introduce new functionality that provides the ability for people to access health data from an on-demand Electrocardiogram (ECG).
The State of Heart Research
Milwaukee's NPR radio program Lake Effect speaks with Ivor Benjamin, MD, Director of the MCW Cardiovascular Center about the state of cardiovascular research and the national push to train the general population in CPR and the use of automated external defibrillators (AEDs).
CVC Events, Seminars and Conferences
Contact Us
MCW Cardiovascular Center
Medical College of Wisconsin
8701 Watertown Plank Rd.
Milwaukee, WI 53226