Carrie Falk Memorial Lecture Series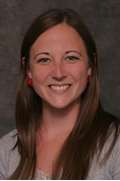 A native of Wisconsin, Dr. Carrie Falk joined the Medical College of Wisconsin Affiliated Hospitals in 2011 as a Resident in the Department of Emergency Medicine.

Dr. Falk passed away on July 14, 2013 at the age of 31 from metastatic melanoma. The Department of Emergency Medicine and the entire campus community laments the loss of our friend, colleague and an incredibly talented and caring physician. While our hearts are heavy with grief over Dr. Falk's passing, her spirit and compassion will continue to inspire us long into the future.