Welcome to the MCW Libraries where your quest for knowledge begins!
MC
W Libraries supports all the MCW missions and partners, giving the MCW Libraries a broad mandate and patron base.
To serve our patrons, the MCW Libraries has a physical presence in three locations: Medical College of Wisconsin Todd Wehr Library, Froedtert Hospital, and Children's Wisconsin. Additionally, our extensive online presence provides access to a large electronic collection of scholarly medical information resources, available anywhere, anytime, on any device.
Library services are designed with our patrons in mind. You can conveniently consult with a librarian, submit information requests, request materials not available in our collection, review our LibGuides, view a video on how to search our databases, or utilize our successful poster printing service, all online from our website. Alternatively, you are welcome to come onsite for personal assistance from an information professional.
Promoting our collection and services is an experienced staff of 10 librarians and 7 support staff. All our librarians hold the terminal MLS degree from an American Library Association accredited program, many with the additional Academy of Health Information Professionals (AHIP) credential from the Medical Library Association continuing education program, and some with additional academic degrees.
MCW Librarians are active participants in the class room, at the bedside, and in the research life cycle. Our newly implemented liaison program is further integrating MCW Libraries with the MCW missions, providing new opportunities for partnership and collaboration.
I encourage all MCW students to ask us questions and to become information literate health care professionals. I invite MCW faculty, researchers, and health care providers to let us know how the MCW Libraries can best serve your information needs.
Ellen N. Sayed
Director, MCW Libraries
Special Collections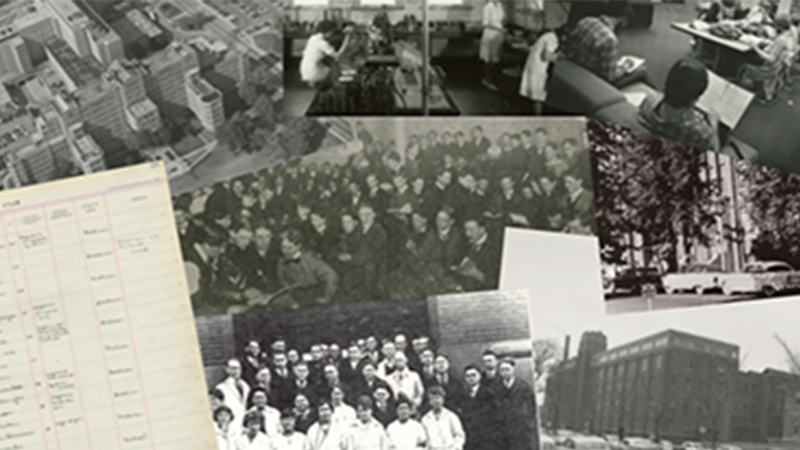 Digital Collections
Digitized archival materials that feature the history of MCW.
Search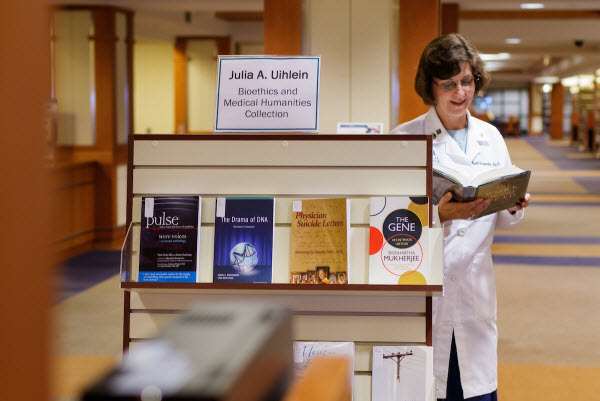 Uihlein Collection
Julia A. Uihlein Bioethics and Medical Humanities Collection
Learn More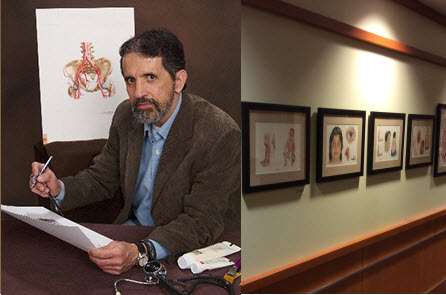 Carlos Machado Exhibition
Special exhibit of illustrations featured in Netter publications, on loan from Elsevier.
Learn more
About Us
Library Committee
The primary function of the Library Committee is to serve as a liaison between the Library staff, MCW Administration, and the faculty of the Medical College. The Committee advises on budget development and implementation, library policies, library computer services, promotion of library use to faculty, and development and implementation of changes in library services. The Committee meets six times per year.
Committee members
are either elected or appointed to serve by the dean of the medical school.
Mission Statement
Empowering MCW missions in the discovery of knowledge to improve health and advance science. We do this by linking to high quality information resources and supporting learning opportunities in order to position the MCW community to be leaders in their fields.
Patron Code of Conduct
This policy is designed to preserve the MCW Libraries (Todd Wehr, Children's and Froedtert) as places for research, learning and quiet study. All user (patron) conduct that disrupts the use of the library facilities, collections or services is defined as unacceptable and is prohibited. Users are urged to report disruptive behavior immediately to staff so that appropriate steps can be taken. Examples of disruptive or unacceptable behaviors include, but are not limited to:
Mutilation or destruction of Library buildings, materials or equipment.
Engaging in loud conversation or rowdy behavior.
Arguing with library employees or using abusive, threatening, or offensive language toward other library users or library employees.
Following staff or other users around the library or staring at staff or other users such that they are made to feel uncomfortable or threatened.
Not allowing staff to search possessions when the security gate alarm has been activated upon exit.
Non-compliance with the acceptable use policy of Library computers. The acceptable use policy is posted in the Todd Wehr Library Microlab, as wallpaper on each public computer, at appropriate points at the entrance to the libraries and on the Library's web page.
Remaining in the Todd Wehr Library after closing or refusing to leave when staff announce the library is closing.
Refusing to show proper ID when requested.
Opening emergency exits except in an emergency situation.
Accessing without authorization or altering or damaging any computer system network program or data.
The conduct of children under 18 years of age while they are in the Library is the responsibility of their parents/legal guardians. Children under the age of thirteen must not be left unattended in the library.
Any patron who commits or attempts to commit any of the disturbances listed above –or anything construed to be a disturbance – or other behaviors illegal under the laws of the state or federal government is subject to sanctions, including:
Being asked to leave the library
Being reported to MCW Security or Children's or Froedtert Security for incidents that occur in those hospitals
Offenders are subject to loss of all library privileges including using the library premises.