Welcome to the Medical College of Wisconsin Magnetoencephalography (MEG) Program
Our MEG Program was created in the end of 2008. The first research session took place on November 2008 and the first clinical case was seen in early February 2009. Our mission is to provide state-of-the-art support and expertise to scientific investigators nationwide interested in using MEG as a tool for cognitive and clinical neuroscience studies.
We further develop innovative neuroimaging solutions to translate to routine clinical applications of MEG in a variety of neurological and neurosurgical conditions. Our program has a strong clinical focus on the pre-surgical evaluation of epilepsy and brain tumors, in close collaboration with Froedtert & the Medical College of Wisconsin clinicians and Children's Wisconsin.
Learn More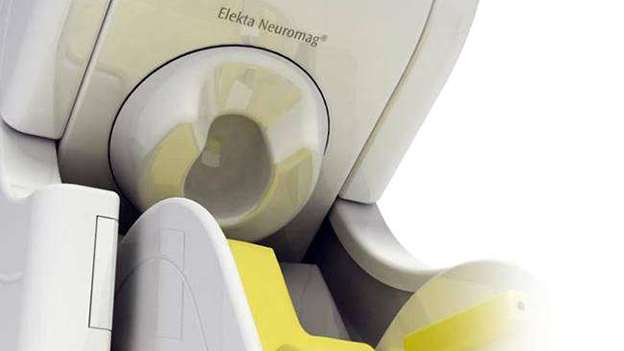 If you are a physician and would like to inquire about or order a MEG study for your patients, please visit Froedtert Hospital MEG web pages for basic information about the procedure and/or contact Linda Allen, RN, BSN, our Epilepsy Program Coordinator at (414) 805-3641 to refer your patient to our Program.
If you are a patient who is about to undergo an MEG procedure, please also visit Froedtert Hospital MEG web pages for useful information regarding the MEG routine.
Where to find us
The MEG Program is located in the lower level of Froedtert Hospital West Clinics, 9200 W. Wisconsin Ave. You may park in Froedtert's West parking structure off 92nd St. Parking is also possible on Wisconsin Ave. and 92nd St.
Directions to our office
Entering through the West Clinics lobby, take the C elevators down to the lower level and keep on making rights outside the elevators and in the hallways. You will find our door with a large 'MEG Program' sign in the main hallway that would take you to Children's Cafeteria and Froedtert East Pavilion.
Need assistance?
Stop at the Froedtert West Clinics front desk or call us.
Contact Us
MEG Program
Department of Neurology
Medical College of Wisconsin
9200 W. Wisconsin Ave.
Milwaukee, WI 53226
Vahab Youssof Zadeh, PhD
Technical Manager
Send an email
(414) 805-1174
(414) 805-1103 (fax)