Message From Our Residency Program Director
Lauren Parsons, MD, Associate Professor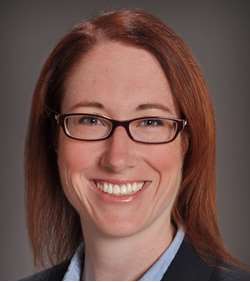 The pathology residency program at the Medical College of Wisconsin is a four-year, combined Anatomic and Clinical Pathology Program, accepting four residents per academic year through the National Residency Match Program.
The overall goal of the Pathology Residency Program is to provide comprehensive training in the practice of pathology and laboratory medicine. The Medical College of Wisconsin Affiliated Hospitals (MCWAH) and other associated training facilities provide a diversity of practice settings, faculty skills and interests, patient populations, and specimen types to allow for both well-rounded general training and establishment of subspecialty expertise.
The training program explicitly seeks an appropriate balance between service obligations and educational opportunities. Residents are expected to take ownership of patient case material and function as integral members of the health care delivery team. The approach to pathology practice that is stressed and modeled is one of pathologist as clinical consultant, as a critical member of the clinical team. This role is encouraged by the subspecialty surgical pathology signout system and a robust, structured CP curriculum that stresses clinical consultation. The environment that is fostered is one of collegiality, teamwork, patient centricity, academic inquiry, and continuous quality improvement. The Pathology Training Program seeks to provide training that allows graduates to be highly competitive for fellowship programs and be prepared to enter either community-based or academic practice.
The training program features a robust slate of teaching conferences, including a year-round, comprehensive didactic lecture series, daily surgical pathology peer review sessions, weekly unknown conferences, monthly gross pathology conference, weekly clinical pathology conference, semimonthly journal clubs, quarterly autopsy conference, and innumerable multidisciplinary conferences.
Involvement in clinical or translational research projects is strongly encouraged, with funding available for travel to national meetings to present abstracts. Translational research in the department is supported by our Clinical and Translational Research Core Laboratory, which also serves as the hub for a comprehensive three-month rotation in molecular pathology.
The department also organizes and sponsors a highly successful annual surgical pathology update course in Milwaukee featuring both distinguished visiting lecturers and MCW departmental faculty. Traditionally, one evening of this conference is devoted to case presentations by senior residents and fellows, giving them a chance to showcase their talents before a large audience of local and regional practicing pathologists. Attendance at this course is complimentary for our trainees.
Thank you for visiting our website, and we hope to see you soon in our beautiful city of Milwaukee!