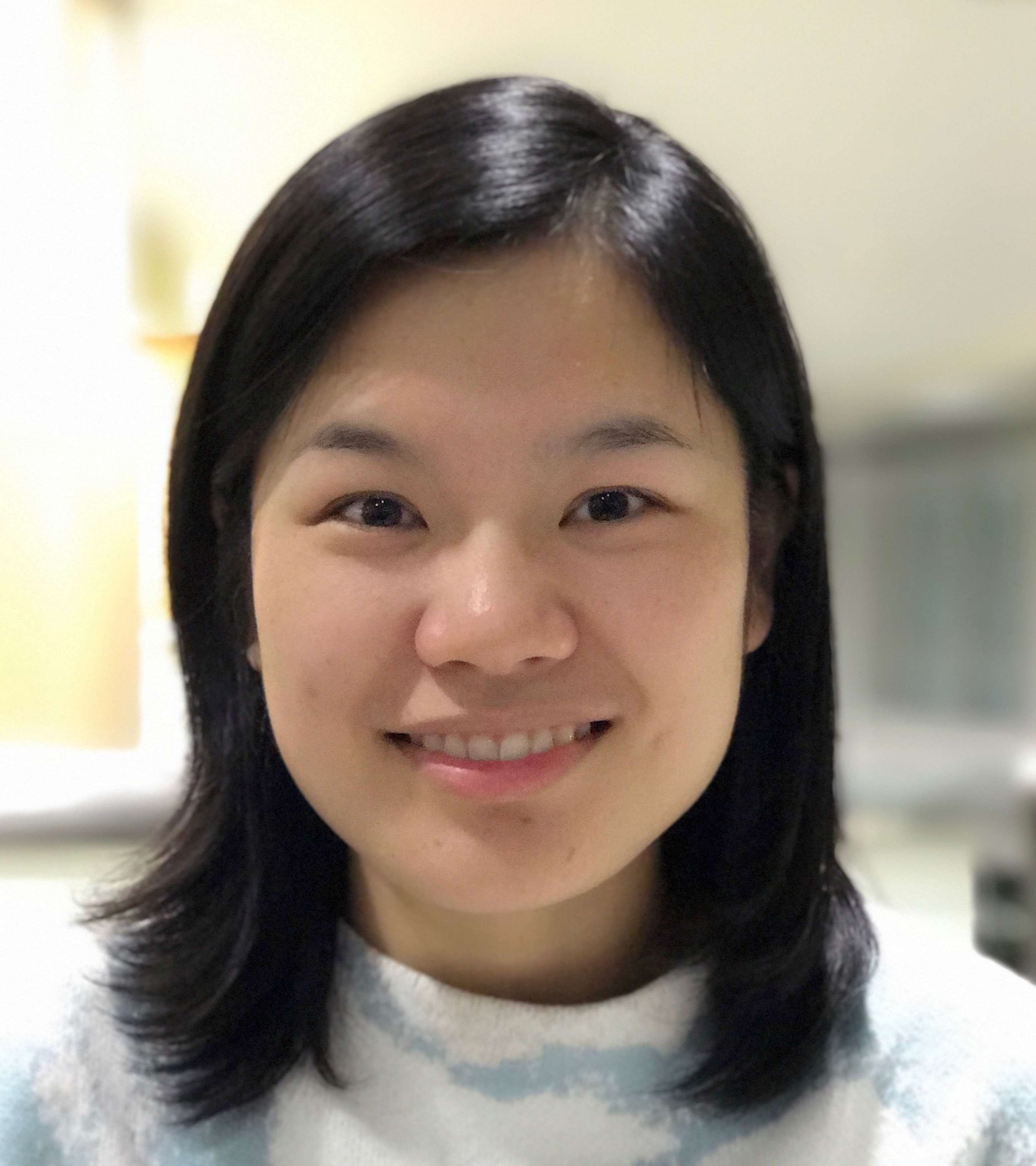 Ziqing Liu, PhD
Assistant Professor
Education
Research Associate, Integrative Program for Biological and Genome Sciences, University of North Carolina at Chapel Hill, 2022
Postdoc, McAllister Heart Institute, University of North Carolina at Chapel Hill, 2018
PhD, Microbiology and Immunology, Indiana University, 2014
BS, Life Science, School of the Gifted Young, University of Science & Technology of China, 2008
Biography
Cardiovascular diseases are the leading cause of death globally, taking an estimated 17.9 million lives each year. The situation is getting worse due to global aging and the failure of cardiac regeneration after heart attack. Urged by the need of new strategies for heart regeneration, Dr. Liu has committed to a research career in cardiovascular biology and regenerative medicine after receiving her PhD from Indiana University under the mentorship of Dr. Johnny He. To gain a comprehensive understanding of the cardiovascular system, Dr. Liu completed focused post-doctoral training by studying how to make new cardiomyocytes with Dr. Li Qian, and how to make new blood vessels with Dr. Victoria Bautch.
During postdoc training with Dr. Li Qian at the University of North Carolina (UNC)-Chapel Hill (2014-2018), Dr. Liu studied the molecular mechanisms of direct cardiac reprogramming that may be utilized to convert local fibroblasts into cardiomyocytes after heart attack. Dr. Liu combined experimental and genomic approaches including single-cell RNA-seq and characterized the repatterning of epigenetic, transcriptomic, and splicing landscapes during reprogramming. She also identified through screening specific epigenetic and splicing factors as barriers of reprogramming. Her work resulted in publications in journals including Nature, Cell Stem Cell, Circ. Res., etc. These studies significantly advanced our understanding of the molecular basis of cardiac reprogramming and moved us one step closer to potential clinical applications.
Since revascularization is another crucial component of the repair process following heart attack, Dr. Liu later joined the lab of Dr. Victoria Bautch at UNC as a Research Associate (2018-2022) to study how to build new blood vessels. Dr. Liu established in the lab a pipeline of bulk and single-cell OMICS from experimental design to data collection and bioinformatic analysis. She then applied this pipeline to address key questions in vascular biology including endothelial cell (EC) heterogeneity in response to flow-mediated shear stress, EC proliferation-quiescence decisions, and similarities and differences between developmental and wound healing-associated angiogenesis. Dr. Liu's work improved our understanding of the molecular mechanisms of EC flow response and angiogenesis. Looking into the future, Dr. Liu will continue her efforts in elucidating the molecular mechanisms and identifying key regulators of heart regeneration, from both cardiac and vascular perspectives.
Professional Affiliations
2019-present: Member, American Heart Association
2019-present: Member, North American Vascular Biology Organization
Mentoring and Training
We are hiring! Dr. Liu is very enthusiastic about mentoring and training the next generation of scientists. Talented students (graduate and undergraduate level) and postdocs are always welcome to contact her directly about opportunities in the lab. There are highly innovative projects waiting for you. If you're interested in regenerating a heart and/or making blood vessels, please don't hesitate to contact!
Honors and Awards
2023 – American Heart Association Career Development Award
2023 – MCW Cardiovascular Center 2023-2024 Keelan Scholar Award
2013 – Health Point 1st Place Translational Research Award, University of North Texas Health Science Center Annual Research Appreciation Day, Fort Worth, TX
2012 – Student Travel Fellowship, the 31st Annual American Society of Virology Meeting, University of Wisconsin-Madison, Madison, WI
2007 – Finalist & Best Foundational Technology Prize, International Genetically Engineered Machine Competition, Massachusetts Institute of Technology, Boston, MA
Research Interests
Despite wide therapeutic options for treating myocardial infarction (MI), cardiac function recovery in MI patients remains unsatisfactory, urging the need for new strategies to regenerate the heart. Unfortunately, adult mammalian cardiomyocytes (CM) have extremely limited proliferative capacity, and insufficient revascularization post MI fails to restore blood supply of the infarcted area. Alternatives to replenish lost CMs and revascularize the injured area are urgently needed.
The long-term goal of the Liu lab is to develop novel strategies for cardiovascular regeneration. To achieve this goal, the lab will explore new approaches of making CMs and blood vessels by elucidating the molecular mechanisms of cardiac reprogramming and vascular development and repair. We will combine state-of-the-art omics approaches with genetic mouse models and human cell culture systems to answer fundamental questions in cardiovascular biology.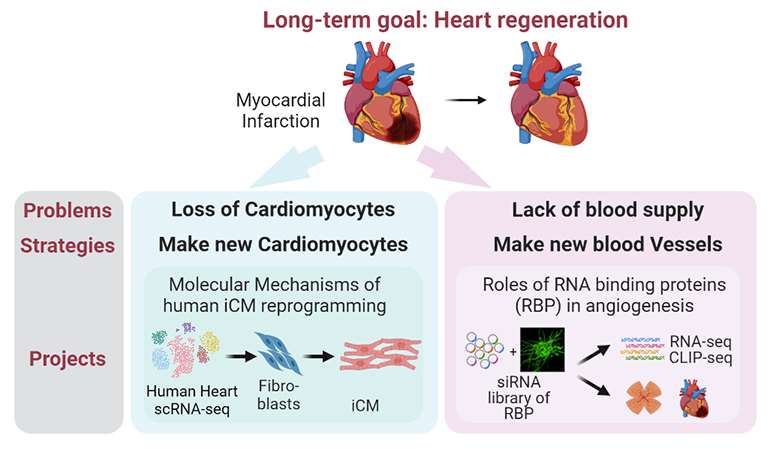 Question 1: How is angiogenesis regulated epigenetically and by RNA binding proteins (RBP), in addition to signaling pathways?
Angiogenesis, the formation of new blood vessels from pre-existing vasculature, is essential for development and regeneration. Research in the past 30 years revealed the critical roles of signaling pathways such as VEGF and NOTCH and their downstream transcriptional events in governing angiogenesis. Nevertheless, angiogenic therapies like VEGFA treatment has been unsuccessful in ischemic heart diseases, underscoring the importance to better understand the molecular basis of angiogenesis. Epigenetic modifications have been implicated in tumor angiogenesis, but whether and how they regulate angiogenesis during development and tissue repair has just started to be tested. Similarly, alternative splicing of key regulators of angiogenesis such as Vegfa and Flt1 was well established but whether and how RNA binding proteins/splicing factors regulate angiogenesis globally is unclear. Angiogenesis is extremely heterogeneous and involves different types (tip vs. stalk), behaviors (migration vs. proliferation), and signaling (high vs. low NOTCH) of EC. This heterogeneity certainly exists as a challenge for studying regulatory mechanisms of angiogenesis. Therefore, we will combine single-cell omics and CRISPR screening to identify critical epigenetic factors and RBPs regulating angiogenesis. We will use the neonatal mouse retina model of developmental angiogenesis, coronary artery revascularization post-MI, as well as a 3D in vitro angiogenic sprouting bead assay. We will also use genomic approaches like RNA-seq, CLIP-seq and CUT & RUN to dissect mechanisms. Together, this line of research will illuminate the roles of epigenetic modifiers and RBPs in regulating angiogenesis and fill critical knowledge gaps in the vascular field. It will also identify potential targets for therapeutic intervention of cardiovascular diseases in the future.
Question 2. What are the molecular mechanisms of human cardiac reprogramming and how can we improve the reprogramming efficiency and quality?
Reprogramming cardiac fibroblasts into CMs with a defined set of factors has emerged as a promising alternative for heart regeneration in the past decade. Previous work in the field mainly focused on mouse reprogramming. Human direct cardiac reprogramming, on the other hand, has substantial clinical relevance, but suffers from longer time and more complex cocktails compared to mouse, suggesting the presence of molecular barriers to be unveiled. Therefore, we will combine single-cell omics and loss-of-function screens to identify critical regulators of human cardiac reprogramming. We will then comprehensively characterize whether and how the top candidate from the screen improves the efficiency and quality of reprogramming. This line of research in the lab will shed light on the mechanisms underlying fibroblasts-to-CM fate conversion in human cells and provide with us a better cocktail for potential clinical applications.
It is our hope that our findings about cardiovascular development and regeneration will open new avenues for therapeutic strategies to repair a failing heart in the future.
Research Experience
Single-cell omics
Heart regeneration
Direct cardiac reprogramming
Angiogenesis
Endothelial flow response
Epigenetic modifications
Splicing regulation and RNA binding proteins
Methodologies and Techniques
Single-cell/spatial omics
RNA-seq/CLIP-seq/CUT&RUN
Bioinformatic and biostatistical analyses
CRISPR-Cas9
Lentiviral library screen
Mouse models of myocardial infarction
Direct cardiac reprogramming of mouse/human cells
Neonatal mouse retinal angiogenesis
3D fluorescence imaging