Central Wisconsin Residency Program
Why become a resident at MCW
As a major academic medical center, and the largest research institution in the Milwaukee metro area, the Medical College of Wisconsin is a distinguished leader in the advanced training of physicians, researchers, pharmacists and health professionals. Together with its top-tier partner institutions, the Medical College of Wisconsin Affiliated Hospitals (MCWAH) puts you at the forefront of advancement that's improving the vitality of society.
A Message From Our Director | Robert Gouthro, MD, Assistant Professor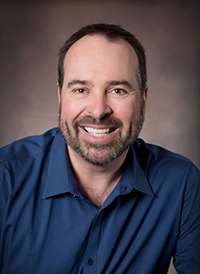 Building on the Medical College of Wisconsin's (MCW) community education focus, the MCW Department of Psychiatry and Behavioral Health opened the doors of two rural-based Wisconsin psychiatric residencies in 2017. Although both residencies have their own identities, they share a similar goal of educating tomorrow's psychiatrists in the locations where they are most needed. Being the rural-most MCW psychiatry residency, the Central Wisconsin Psychiatry Program is fully geared toward instilling the knowledge base and ability needed to care for the mental health needs of patients in rural areas and beyond. Such a defined focus will not decrease a prospective applicant's educational opportunities; but, rather quite the opposite. Graduates of our program have the practical experiences needed to be psychiatric providers--functioning and lending consultation to other disciplines and serving in geographic areas of most any size. A broad-based psychiatric training allows our graduates to care for a wide range of diagnoses in settings which may not have access to psychiatric specialists.
Unsurprisingly, given its name, the Central Wisconsin Psychiatry Program is based in the communities of Central Wisconsin: Wausau, Stevens Point, Rhinelander, Wisconsin Rapids, and Tomah. Given the collaborative relationships with our sister programs, specialized rotation opportunities include training in Milwaukee, Madison and Green Bay. With the variety of training opportunities, the program offers a tremendous balance of small, big, community, and academic settings.
If you are interested in the opportunity to train and serve in areas of need and to draw upon the wealth of resources of the Medical College of Wisconsin; if you would like a big city educational experience yet desire to live in a smaller city with strong schools, easy access to a wide variety of outdoor and recreational activities, an emphasis on quality of life and community, we invite you to consider the Central Wisconsin Psychiatry Program.
Our Mission
We are committed to educating exemplary psychiatrists.
We enhance our communities by providing outstanding psychiatric care in the rural and urban settings we serve.
We respond to the needs of the medically underserved.
We strive to create an inclusive learning and work environment that promotes the dignity and respect of our residents, faculty, staff, patients and communities.
We strive to be responsive to the changing needs of the communities that we serve.
We strive to prepare clinicians to be culturally competent, to provide culturally competent clinical care and to promote culturally responsive research.
Program Information
Living and Working in Central Wisconsin
Central Wisconsin's cultural diversity, activities and attractions offer something for everyone.
How to Apply
The Central Wisconsin Psychiatry Residency Program at the Medical College of Wisconsin accepts applications through the Electronic Residency Application Service (ERAS).
We do consider and accept qualified IMG doctors. We review a number of items on the application. Successful applicants to our program often have USMLE scores above 200 (or comparable COMLEX) and have passed on their first attempt. We also look at prior psychiatric experience at the residency level and evidence of a command of the English language. Evidence of a passion for a career in psychiatry and a social conscience are also valued. There are no absolute cut-off points, but these are factors we consider in reviewing the hundreds of applications we receive each year. There are some specific requirements listed below. After the entire application is reviewed, and, based on the application's merit, an applicant would be selected to interview for our program. Our department does not routinely offer observership, externships or pre-match positions.
For application to our program, we require via ERAS:
Application
Four (4) letters of recommendation
Dean's letter
Transcripts
Personal statement or letter of intent
CV
USMLE Step I and Step II transcripts or COMLEX steps 1 & 2 transcripts
We accept J-1 and H-1B visas.
Although the Department of Psychiatry and Behavioral Medicine is willing to pursue an H-1B visa on your behalf, there is no guarantee that it will be successful. The Medical College of Wisconsin Affiliated Hospitals' ability to continue to claim H-1B exemptions for applicants remains unsettled. On April 28, 2011, the United States Citizenship and Immigration Service (USCIS) stated it is reviewing its policy on H-1B cap exemptions for non-profit entities (like MCWAH) that are affiliated with an institution of higher education (like MCW). Until further guidance is issued, USCIS is applying interim procedures to allow organizations like MCWAH to pursue H-1B cap exemptions. Unless determined to be exempt, H-1B petitions are subject to a statutory limit that would make the visa process availability and timing very unpredictable for those pursuing a GME program at the Medical College of Wisconsin Affiliated Hospitals.
Applicants must have an appropriate visa to begin Graduate Medical Education with the Medical College of Wisconsin Affiliated Hospitals. If a candidate does not obtain an appropriate visa that permits MCWAH to employ him/her on the designated start date, the training position will not be held and may be offered to another candidate.
Benefits, Conditions & Terms of Employment
The MCWAH Board of Directors met on December 15, 2021 and established the following annual housestaff stipend levels for the academic year beginning July 1, 2022:
PGY1 - $65,180
PGY2 - $66,310
PGY3 - $67,440
PGY4 - $68,580

Note that, as of 7/1/22 (2022/23 academic year), the working condition fringe benefit annual payment of $1,500 will be retired and will no longer be paid in December and June installments after 6/30/22. Instead, $1,500 has been added to and included in the above listed stipend levels as of 7/1/22. Overall, there is no change for the housestaff other than the amount becoming a part of the stipend that is paid on a monthly basis instead of being paid as a separate benefit.

Additional Benefits
Vacation - 3 weeks
Education Leave - 5 days (beginning in the PGY2 year)
Health Insurance
Dental Insurance
Vision Insurance
Liability Insurance
Life Insurance
Long-Term Disability Insurance
Contact Us
MCW-Central Wisconsin
1900 Westwood Dr., Suite 3100
Wausau, WI 54401-4106