Meet Our Central Wisconsin Residents
Our first class of residents started in July 2017. We are pleased to introduce the current Central Wisconsin Residents. Our residents bring the exact qualities of experience and initiatives of our program. All our residents have outstanding experience and credentials to lay a solid foundation for our program.
PGY3
Amy Butterworth, MD
Resident, PGY3
Medical School: St. James School of Medicine. Dr. Butterworth has completed one year of a family practice residency at the University of Wyoming, she has an MBA, and she has worked as a teacher. She has tutored students for USMLE. She is enthusiastic about serving in the communities of central Wisconsin.
Ryan Stever, MD
Resident, PGY3
Medical School: St. George's University School of Medicine. Dr. Stever originates from southeastern Minnesota. He has strong ties to serving in rural areas. He has volunteered with troubled teens and in a women's shelter as well as completing mission trips in Nicaragua. He has taught psychopharmacology to psychology undergrads.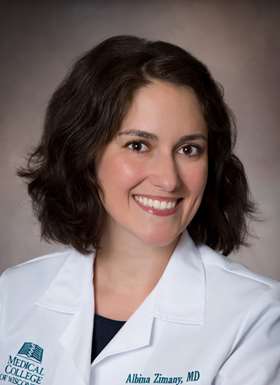 Albina Zimany, MD
Resident, PGY3
Medical School: University of Wisconsin School of Medicine and Public Health. Dr. Zimany is a Wisconsin native. She has outstanding medical school credentials as an innovator. She worked in the MEDIC, a student-run free clinic in Madison and led the Psychiatry Interest Group during medical school. She has taught in Adult Achiever, an adult literacy program. She is AOA and received the Gold Humanism award.
PGY2
Shweta Anand Karve, MD
Resident, PGY2
Undergrad and Medical School: Bharati Vidyapeeth Medical College, Pune, India. Dr. Karve comes to MCW-Central Wisconsin from Sunnyvale, California, where she was a research assistant at Stanford University Department of Psychiatry. She begins her residency with extensive clinical experience. In her spare time, Dr. Karve enjoys cooking and trying out new recipes; making personalized doodles; reading; and making DIY art, craft, home decor and gifts.
Christian Ryser, DO
Resident, PGY2
Undergrad: University of Utah; Medical School: Des Moines University of Osteopathic Medicine; Masters in Forensic Science: Arcadia University. Most recently from Des Moines, Iowa, Dr. Ryser is an outdoors enthusiast enjoying running, cycling, hiking, backpacking, skiing and scuba diving. Dr. Ryser achieved the Gold TOUCH Award (100+ community volunteer hours) in his second year of medical school. Dr. Ryser's additional interests include gaming and reading sci-fi/fantasy and mystery/thriller.
Tsarina Rachel VanWieren, DO
Resident, PGY2
Undergrad: University of Calgary; Medical School: Kansas City University of Medicine and Biosciences. Ranking in the top of her class, Dr. VanWieren was involved in extracurricular service activities benefiting the community, including Score 1 For Health, where 13,000 elementary-aged schoolchildren from the urban core and low-income families were given free medical screenings. Dr. VanWieren is an active person enjoying outdoor activities, the favorite of which is hiking in the mountains with her husband and exploring new places. She also enjoys cooking, especially baking treats for friends and family, and watching hockey.
PGY1
Brittney Harding, MD
Resident, PGY1
Medical School: Central Michigan University College of Medicine. Brittney has a demonstrated commitment to community service and serving the unserved having worked in hospice, Habitat for Humanity, Honduras and rural Africa. She has completed a sub-internship in child psychiatry and been a project manager in industry. She enjoys music, plays the sax, and is a self-described Pirates of the Caribbean enthusiast. She enjoys bicycling, swimming, and baking various delicacies.
Luba Kats, DO
Resident, PGY1
Undergrad: Case Western in Medical Physiology. Medical School: West Virginia School of Osteopathic Medicine. Luba is driven to serve. She has been an autism therapist, done research with NAMI and is an advocate for women's health, serving as secretary for the Medical Students for Choice group. She is a second degree black belt in Taekwondo. She enjoys rally race car driving and has participated in official Sports Car Club of America Stateline Rally Cross Events. She enjoys the outdoors by hiking and camping often getting to her destination via motorcycle.
Kirubel Woldemichael, MD
Resident, PGY1
Medical School: Medical College of Wisconsin. He currently lives in Milwaukee, Wisconsin. Kirubel brings a wealth of experience to our program. He is acutely aware of the plight of immigrants having been an immigrant from Ethiopia himself. He has worked to give back with his involvement with the Saturday Free Clinic and the Warrior Project in Milwaukee, Catholic Refugee Resettlement, and with the Ethiopian Union. He also has been a scribe and worked in the Sebastian Family Clinic in Milwaukee. He enjoys cooking, running, volunteering watching history documentaries, as well as reading history.