Northeastern Wisconsin (N.E.W.) Residency Program
Welcome!
Building on the Medical College of Wisconsin's community education focus, the Northeastern Wisconsin (N.E.W.) Psychiatry Residency Program is geared toward instilling the knowledge base and ability needed to care for the mental health needs of rural areas and beyond. Such a focus will not decrease a prospective applicant's educational opportunities, but rather quite the opposite. Graduates of our program will have the practical experience needed to be psychiatric providers able to function, and lend consultation to other disciplines, in geographic areas of most any size.
A Message From Our Director | Robert Gouthro, MD, Assistant Professor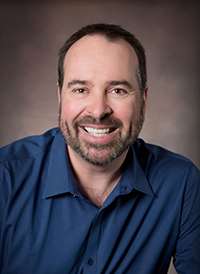 A broad-base psychiatric training will allow our graduates to care for a wide range of diagnoses and clients in settings which may not have access to psychiatric specialists. Examples of this training include early child psychiatry contacts, including a dedicated outpatient child clinic beginning in the second year; extensive forensic experience, which will allow trainees to become very familiar with the intersection of psychiatry and the law; and a strong focus on psychiatric integration with primary care, which will prepare graduates to work side by side with primary care providers in areas where psychiatric follow up may be limited. Additionally, MCW's dedication to therapy training will continue with an additional focus being placed on evidenced based therapies including Prolonged Exposure Therapy, Cognitive Processing Therapy, and Interpersonal Therapy for Depression.
Although the N.E.W. Psychiatry Program will prepare its graduates for success in rural areas, our primary training sites are far from rural areas themselves. Green Bay and the Fox Cities of Northeastern Wisconsin are small to medium sized cities with access to many "big city" experiences without the downsides of high costs-of-living and traffic. These areas also provide almost immediate access to the great outdoors. Biking, hunting, fishing, camping, boating and hiking will be just minutes, if not steps (depending on where you decide to live) from your home. These areas are affordable, safe, family friendly, and fun.
Congratulations on your decision to become a psychiatrist and thank you for considering the Northeastern Wisconsin Psychiatry Program to make your goal a reality. I look forward to providing answers to any questions about our program you may have, and hope you consider assisting us in building our N.E.W. program.
Why Choose N.E.W.?
8
Residency spots offered
5
Major health systems experiences
12
Months of electives in PGY-4
7
MCW Psychiatry Fellowship options
Program Information
Living and Working in Green Bay
Green Bay's cultural diversity, activities and attractions offer something for everyone.
How to Apply
Answers to frequently asked questions about the application process.
Benefits, Conditions & Terms of Employment
2019-2020 Academic Year (beginning July 1, 2019)
Stipends
PGY1 – $60,900
PGY2 – $61,980
PGY3 – $63,070
PGY4 – $64,150
Additional Benefits
Vacation - 3 weeks
Education Leave - 5 days
Health Insurance
Dental Insurance
Vision Insurance
Liability Insurance
Life Insurance
Long-Term Disability Insurance
Contact Us
Northeastern Wisconsin Psychiatry Program
2851 University Ave.
Green Bay, WI 54311
(920) 431-2642
(920) 431-2681 (fax)