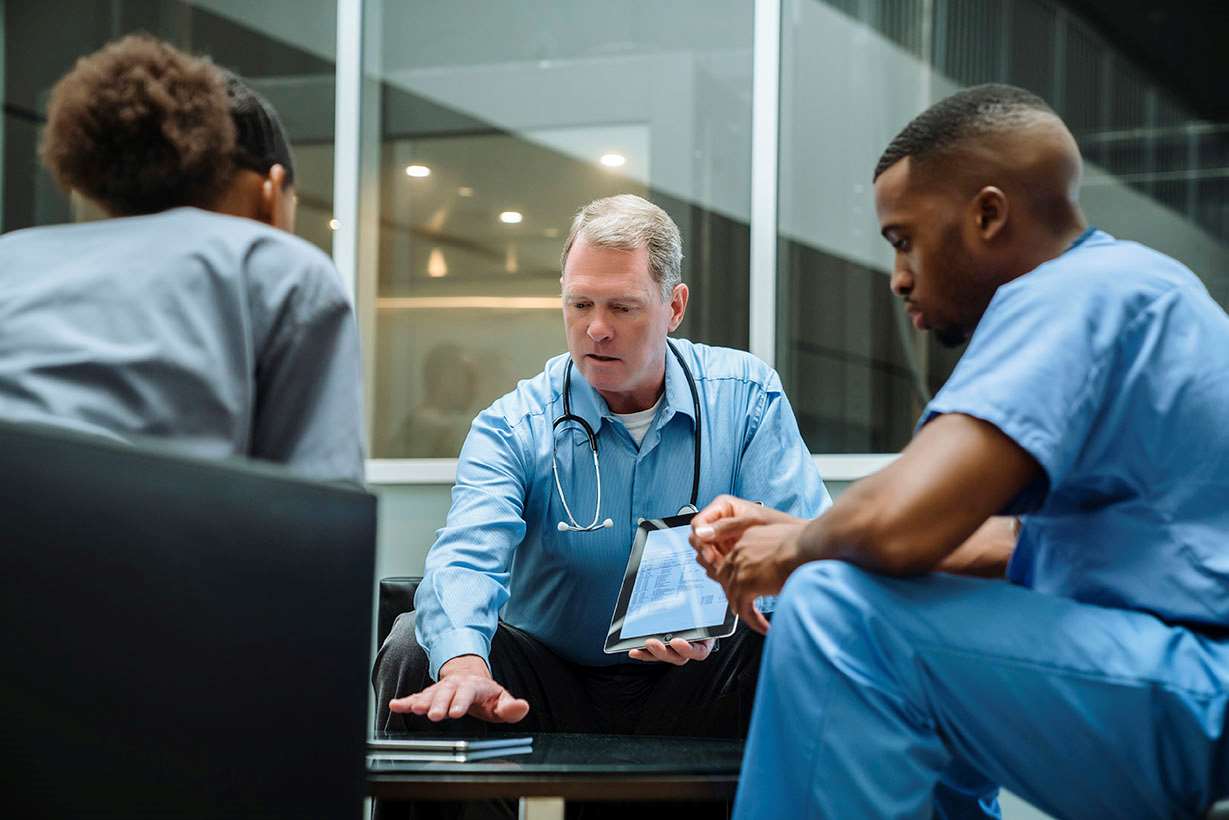 Our Goal
It is the goal of the Northeastern Wisconsin Psychiatry Program to produce psychiatrists who are well prepared to meet the mental health needs of patients in rural Wisconsin and beyond. We will develop psychiatrists who will be:
– competent in psychiatric symptom identification, mental health diagnosis, and a wide range of medical and therapy interventions;
– providers with high ethical standards, who are able to recognize their own limitations and biases and employ self improvement strategies for the benefit of themselves, their patients, and their profession;
– active collaborators with non-physician therapists, social workers, nurses, and providers of other disciplines in the provision of high quality, fully encompassing, cost effective health care;
– advocates for their patients, and for a just mental health care system
Vision and Distinguishing Features
The NEW Program aims to...
Provide access to faculty from local sites as well as to faculty from our sister programs in Milwaukee and Central Wisconsin.
Focus on child & adolescent psychiatry experience with early inpatient and year-long, half-day, outpatient experiences.
Provide support and class cohesiveness while teaching to facilitate group therapies in the first year Experiential Group.
Create custom electives and learning experiences to assist in fostering a resident's interests.
Allow for independent clinical research at local sites as well as facilitate collaboration with larger research projects in Milwaukee.
Provide outpatient experiences beginning in the second year of residency.
Allow for teaching opportunities with medical students and various medical learners while on many psychiatric rotations.
Present a strong focus on Psychodynamic and Evidenced Based Therapies.
Allow residents to follow their interests with a full year of electives during PGY4.
What are we looking for?
Advocates
Applicants who are interested in becoming well rounded physicians who advocate for their patients and challenge the stigma of mental health care.
Leaders
Residents with initiative who will play an active role in building an academic community and strong psychiatry residency foundation in Northeastern Wisconsin.
Balance
Physicians vested in the communities they serve while maintaining balance in their professional and private lives.
Teachers
Residents who will educate their patients, fellow physicians, medical professionals, and medical learners of all disciplines on appropriate, evidence-based mental health care.
What we offer
Solid Foundation
The NEW Psychiatry Residency provides a balanced approach to psychiatric specialty education. You will rotate through a full spectrum of distinctly different mental health care facilities and will learn and adapt your practice to these different delivery systems. Local, state, county, federal, private, and correctional systems are represented in the NEW Psychiatry Program training sites. This variety provides not only firsthand knowledge of what each system offers patients and their families, but also prepares you for success in these various environments prior to your entering the workforce as a psychiatrist.
Solid Backing
Our residency program may be new to Northeastern Wisconsin, but the Medical College of Wisconsin and Bellin Health have both been leaders in medical education for over a century. Additionally, the Wisconsin Resource Center and Winnebago Mental Health Institute have decades of experience in providing quality, mental health specific, post graduate training. Lastly, the VA in Green Bay continues the Veterans Health Administration's dedication to medical education present in its facilities across our country.
A Voice
As a member of the NEW Psychiatry Residency, you will have an immediate opportunity to become involved in residency leadership via administrative roles, serving on the Education Committee, attending Resident Business Meetings, assisting in recruitment, and more. Your input will be valued, and you will have an instant impact on the direction of the residency as it continues to grow.
Experience Matters
8
Major health system experiences
12
Months of electives in PGY-4
5
MCW Psychiatry fellowship options
Wisconsin Resource Center
The Wisconsin Resource Center (WRC), also located in Oshkosh, Wisconsin, is a Department of Health Services medium-security facility, providing individualized care for inmates transferred from Department of Corrections medium and maximum-security institutions.
The WRC engages and treats individuals with severe and persistent mental health needs within a secure setting to enhance public safety, promote healing, and support personal recovery. Mental health care at WRC is an interdisciplinary process, which integrates custody staff, psychiatry, nursing, psychology, social work, recreation therapy and teachers to provide treatment with an evidence-based focus.
The treatment population consists of both males and females with over 500 weekly scheduled classes for men and near 100 weekly sessions for women; this equates to approximately 2800 and 450 client contacts per week, respectively. The WRC is fully accredited by the National Commission on Correctional Health Care and is the only correctional institution in Wisconsin to have obtained this accreditation.