5th Midwest Teacher-Scholar Retreat • November 15-16, 2019
Frontiers in Interprofessional Education and Beyond
The 5th Midwest Teacher-Scholar Retreat (MTSR) brings together a growing community of healthcare educators to network, share teaching experiences and develop collaborations. This year's focus is on innovations in interprofessional education and preparing students for interprofessional practice. Additional educational topics will be covered.
Register Now by November 1
View the Full Retreat Program
Plenary: Collaborative Synergy: The Power of Academic Practice Partnerships
Mark W. Lodes, MD, Vice President & Chief Medical Officer Froedtert & MCW Population Management and George E. MacKinnon III, PhD, MS, RPh, FASHP, Founding Dean of the MCW School of Pharmacy
Poster and Platform Presentations:
Share original research, teaching curricula and educational innovations as well as opportunities for feedback, collaboration and future scholarly work. This is a great opportunity to present your work on all aspects of teaching in healthcare programs and develop potential collaborations with institutions in the region. Your presentation or poster can describe work in progress, complete projects, or just interesting ideas applied to teaching. 
Join us for a special seminar "Medical Cannabis: Unlocking the Therapeutic Potential from THC to CBD" on November 14 from 5:00-7:00 pm
Registration to the Medical Cannabis seminar on the evening of November 14, 2019 is free. 
Schedule
Thursday, November 14
5:00 - 7:00 pm

Registration, Medical College of Wisconsin
Medical Cannabis: Unlocking the Therapeutic Potential from THC to CBD

Friday, November 15


8:00 - 8:30 am
Breakfast, Registration, Medical College of Wisconsin - Alumni Center
8:30 - 8:40 am
Welcome & Opening Statement
8:40 - 9:30 am
Plenary Lecture - Collaborative Synergy: The Power of Academic Practice Partnerships

9:30 - 10:00 am
Pharmacy and Nursing Students Collaborate in Interprofessional Medication Reconciliation Session
10:00-10:30 am
Use of High-fidelity Simulation Mannequins in an Autonomic Nervous System, Emergency Room,
Interprofessional Training Session
10:30-10:40 am
Break & Poster set up
10:40-11:10 am
Developing Effective Team Dynamics for Advanced Cardiac Life Support Using High-Fidelity Mannequins:
Doctor of Pharmacy (PharmD) and Master of Science in Anesthesia (MSA) Programs
11:10-11:40 am
Interprofessional Education Aimed at Increasing Diversity in the Wisconsin Leadership Education in
Neurodevelopmental and Related Disabilities (LEND) Program
11:40-12:10 pm
Implementing a New Teaching Certificate Program: Outcomes and Opportunities for Improvement from the Inaugural Year
12:10-1:30 pm
Lunch & Posters
1:30-2:00 pm
Development of an Interprofessional Standardized Patient Simulation Experience of Schizophrenia for Pharmacy and
Occupational Therapy Students
2:00-2:30 pm
Improving medication administration safety: The implementation of a pharmacology laboratory course in a Bachelor of Science
in Nursing (BSN) program


2:30-3:00 pm

Student Engagement in Interprofessional Education Activities at Chicago State University College of Pharmacy

3:00-3:30 pm

Taking a Hands-On Approach: Developing a Longitudinal Physical Assessment Curriculum for Pharmacy Students

3:30-4:15pm

Tour of the STAR Center

4:15-4:45pm

WI AHEC IP Case Competition: Improving Patient Centered Care One Team at a Time

4:45-5:15pm

Developing a Longitudinal Mindfulness Program for Pharmacy Students in Patient Care Laboratory

Saturday, November 16
8:00-8:30 am
Breakfast

8:00-9:00 am

Classroom Flipping for All: Incorporation of Team-Based Learning to Deliver Diverse Content in a Pharmacy Curriculum

9:00-9:30 am

Preparing our Students to be "Team-Ready": Development and Implementation of a Longitudinal Interprofessional Education
Curriculum at a Four-Year Pharmacy Program

9:30-10:00 am

Community Teachers and their Effect on Interprofessional Education

10:00-10:30 am

Adaptation of Peer Instruction Teaching Methodology into Clinical Endocrinology and Urology Sessions for Pharmacy Students

10:30-10:40 am

Break

10:40-11:10 am

Leveraging Medical Simulation to Teach Interprofessional Education (IPE): A Pilot Study

11:10-11:40 am

Simulation in the Classroom as a Strategy to Teach Resuscitation of the Premature Infant

11:40-12:10 pm

Multi-Step Targeted Teaching in Pharmaceutical Drug Delivery Courses

12:10-12:40 pm

Assessment of Service Learning Provided by Student Pharmacists

12:40-1:10 pm

Introduction to Creating Digital Media to tell your Education Story

1:10-1:30 pm

Lunch & Adjourn
Accommodations
Registrants are responsible for arranging and paying for all transportation, hotel and incidental costs. A special rate is available at the Crowne Plaza hotel, available on a first-come, first-serve basis. A shuttle will be available for transportation from the Crowne Plaza to the MCW Milwaukee campus. Please register for the shuttle upon check-in. Links to other area hotels are also included here. 
Crowne Plaza Milwaukee West

Book by October 24 for a discounted rate!

Learn More

Residence Inn Milwaukee West

Learn More

Springhill Suites Milwaukee West/Wauwatosa

Learn More
Welcome to Milwaukee
The 5th Midwest Teacher-Scholar Retreat will be held at the Medical College of Wisconsin campus located in Milwaukee, Wisconsin.
8701 Watertown Plank Rd.
Milwaukee, WI 53226
Milwaukee is one of the Midwest's best-kept secrets and a prime location for the Medical College of Wisconsin's main campus. A one-of-a-kind city with a vibrant and diverse culture, this charming, yet metropolitan must-see is just 90 minutes north of Chicago and nestled on the coast of Lake Michigan.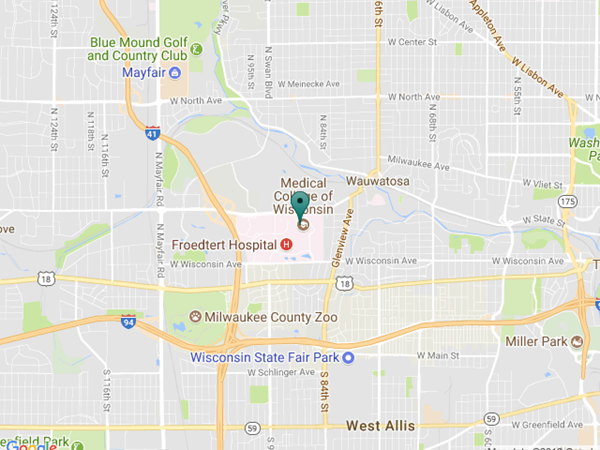 Things to Do in Milwaukee
City Guides
Culture and Arts
Dining
Outdoor Recreation
Sports
Contact Us
Please contact us for more information, special accommodations or regarding questions about the event.
Event Contact
Jayne Jungmann