5th Midwest Teacher-Scholar Retreat • November 15-16, 2019
Frontiers in Interprofessional Education and Beyond
The 5th Midwest Teacher-Scholar Retreat (MTSR) brings together a growing community of healthcare educators to network, share teaching experiences and develop collaborations. This year's focus is on innovations in interprofessional education and preparing students for interprofessional practice. Additional educational topics will be covered.
Register Now
Submit an Abstract - Deadline extended until October 15!
Plenary: Collaborative Synergy: The Power of Academic Practice Partnerships
Mark W. Lodes, MD, Vice President & Chief Medical Officer Froedtert & MCW Population Management and George E. MacKinnon III, PhD, MS, RPh, FASHP, Founding Dean of the MCW School of Pharmacy
Poster and Platform Presentations:
Share original research, teaching curricula and educational innovations as well as opportunities for feedback, collaboration and future scholarly work. This is a great opportunity to present your work on all aspects of teaching in healthcare programs and develop potential collaborations with institutions in the region. Your presentation or poster can describe work in progress, complete projects, or just interesting ideas applied to teaching. 
Join us for a special seminar "Medical Cannabis: Unlocking the Therapeutic Potential from THC to CBD" on November 14 from 5:00-7:00 pm
Registration to the Medical Cannabis seminar on the evening of November 14, 2019 is free. 
Schedule
The below schedule is tentative and available for planning purposes. The full retreat schedule will be available once abstracts have been reviewed.
Thursday, November 14
5:00 - 7:00 pm

Registration, Medical College of Wisconsin
Medical Cannabis: Unlocking the Therapeutic Potential from THC to CBD

Friday, November 15


8:00 - 8:30 am
Registration, Medical College of Wisconsin
8:30 - 8:40 am
Welcome & Opening Statement
9:30 am - 12:10 pm
Oral Presentations
12:10 - 2:00 pm
Lunch & Posters
2:00 - 4:00 pm
Oral Presentations
4:00 - 5:00 pm
Tour of the Star Center
6:00 - 8:00 pm
Dinner
Saturday, November 16
8:00 - 9:30 am
Breakfast & Posters
9:30 am - 12:10 pm
Oral Presentations
12:10 - 1:00 pm
Lunch
1:00 - 4:10 pm
Oral Presentations
Accommodations
Registrants are responsible for arranging and paying for all transportation, hotel and incidental costs. A special rate is available at the Crowne Plaza hotel, available on a first-come, first-serve basis. A shuttle will be available for transportation from the Crowne Plaza to the MCW Milwaukee campus. Please register for the shuttle upon check-in. Links to other area hotels are also included here. 
Crowne Plaza Milwaukee West

Book now for a discounted rate!

Learn More

Residence Inn Milwaukee West

Learn More

Springhill Suites Milwaukee West/Wauwatosa

Learn More
Welcome to Milwaukee
The 5th Midwest Teacher-Scholar Retreat will be held at the Medical College of Wisconsin campus located in Milwaukee, Wisconsin.
8701 Watertown Plank Rd.
Milwaukee, WI 53226
Milwaukee is one of the Midwest's best-kept secrets and a prime location for the Medical College of Wisconsin's main campus. A one-of-a-kind city with a vibrant and diverse culture, this charming, yet metropolitan must-see is just 90 minutes north of Chicago and nestled on the coast of Lake Michigan.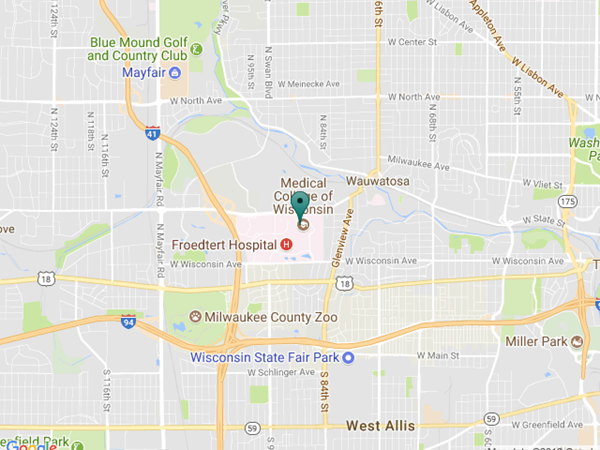 Things to Do in Milwaukee
City Guides
Culture and Arts
Dining
Outdoor Recreation
Sports
Contact Us
Please contact us for more information, special accommodations or regarding questions about the event.
Event Contact
Jayne Jungmann