Giving Back to the Next Generation
The John K. Konkel, MD and Patricia Konkel Scholarship has made a significant impact in the lives of MCW students.
"We first met in band practice at Pius High School," says John Konkel, MD '77, GME '82, smiling at his wife of 48 years, Patt. "We went to senior prom together and then dated throughout college."
John went on to study pre-med at the University of Wisconsin-Milwaukee for three years before starting medical school, specializing in orthopedic surgery at the Medical College of Wisconsin (MCW). Patt pursued a physical therapy degree at Marquette University.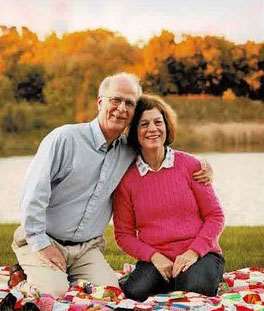 In 1982, John joined a multispecialty clinic in Menomonee Falls. Within a few years, he had taken up a leadership role as president of the clinic, managed several mergers with groups in Milwaukee, and grew the practice from 12 physicians to 250. The practice has continued to grow ever since.
While John worked long hours as a surgeon, Patt stayed home to raise their four children: David, Katherine, Emma and Lane. "John was incredibly busy, but always made time for the kids," says Patt. Between appointments, John would drive to the baseball field to watch the kids during their little league practices. He also coached their basketball and volleyball teams. When he was on-call over the weekend, Patt brought the kids to the hospital cafeteria so they could eat lunch as a family.
As the kids grew older, John and Patt established a Donor Advised Fund through the Greater Milwaukee Foundation and invited them to participate in charitable giving. Together, they established goals, a vision statement, and a framework for designating support. "We felt it was really important to model philanthropic giving for our children," says Patt.
Prioritizing education and the arts, the Konkels contributed to projects ranging from community playgrounds to endowed scholarships at MCW, which support students in perpetuity.
"We think there is something to be said for giving money that an organization can count on," says John. "By giving now and into the future, we can see our donation in action; we really want to give others the chance to succeed."
Endowed scholarships at MCW allow students, especially those with significant financial need, to receive a top-notch education from the third largest private medical school in the nation.
Patt recalled how tight money was while John attended medical school and feels fortunate they are now in a position to give back. Each year, they are struck by the sincere letters of gratitude they receive from the scholarship recipients. John also feels a sense of comradery with the students as he reflects on the long, arduous hours during his residency.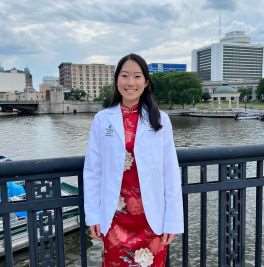 The Konkels believe strongly in the quality of education provided by MCW. "One of the wonderful things about being in this business, is that you're associated with incredibly dedicated people," says John.
John and Patt's endowed scholarship, the John K. Konkel, MD and Patricia Konkel Scholarship, has made a significant impact in the lives of students such as Jessica Liu, MCW-Milwaukee Class of 2026. "Medicine is something I have been pursuing for the past eight years and is finally coming to fruition with the help of this generous donation," shares Jessica. Due to her experiences with people with muscular dystrophy and the elderly, Jessica is interested in the physical medicine and rehabilitation specialty and hopes to practice in an urban setting in Wisconsin.
Jessica's gratitude for the generous scholarship is echoed by the many students at MCW who are fortunate to receive scholarship support. As she enthusiastically shares with the Konkels, "Thank you again for supporting my journey to become an MD!"
To learn more about how you can change the lives of MCW students through scholarship support, please visit our Scholarships page.