A Lasting Legacy: MCW Physician and Mother Models Resilience for Her Sons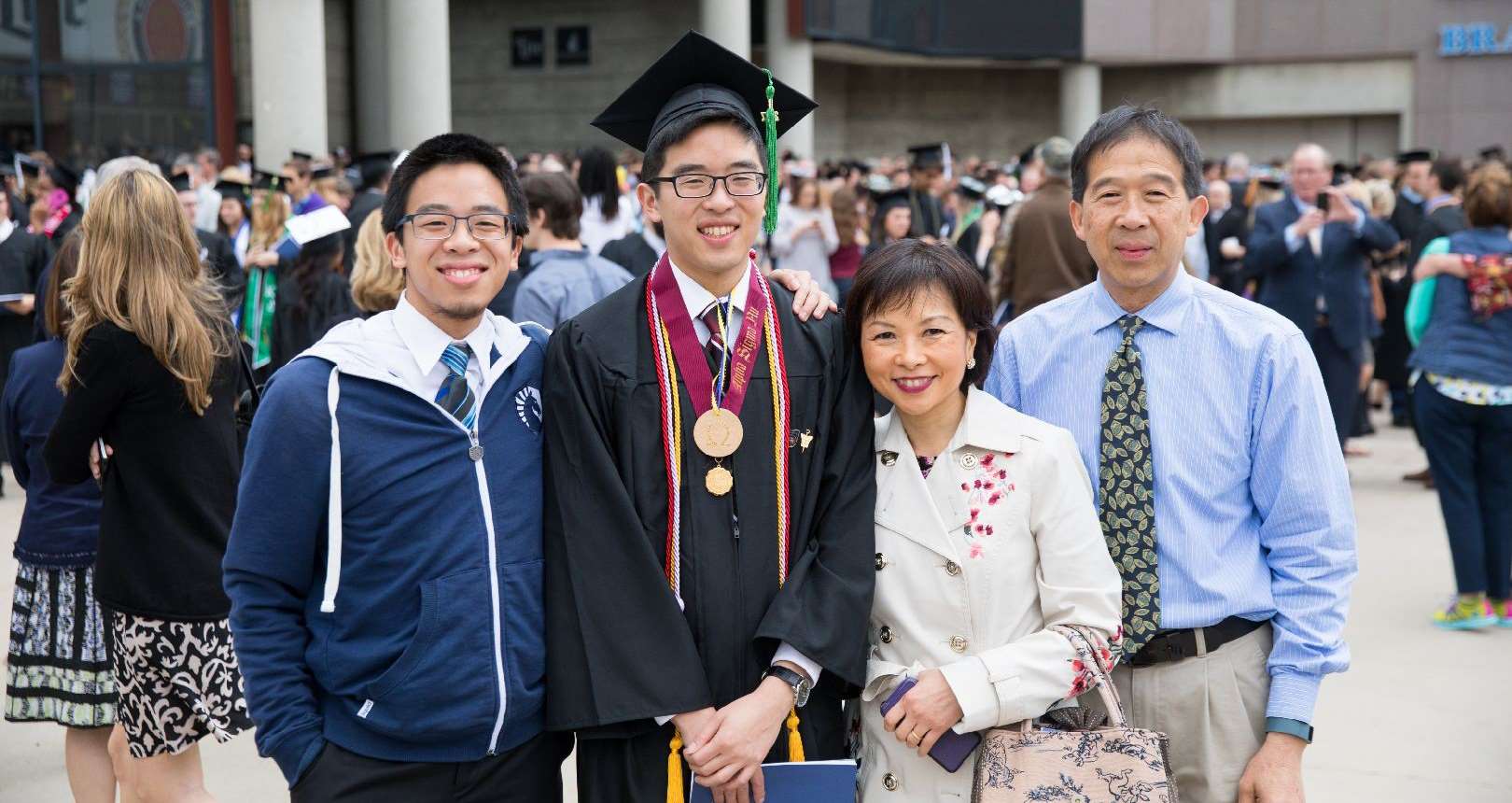 Last year, when Matthew Kosasih, received his acceptance to the MD program at the Medical College of Wisconsin (MCW), he knew he had a very important phone call to make. As he told his mother, Judith Kosasih, MD, that he would be attending her alma mater in the fall, there was no mistaking her excitement.
"She is very expressive in general," says Matthew, who is now finishing his first year of medical school at MCW. "So when I called with the news, I could tell from her voice she was very happy for me." Dr. Kosasih, an MCW professor of physical medicine and rehabilitation at the Milwaukee VA Medical Center, says Matthew's acceptance to MCW made her feel blessed her son was following in her footsteps.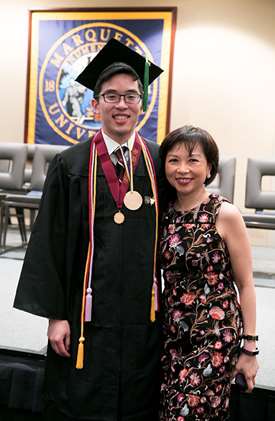 "I'm very pleased he decided to pursue medicine at MCW because I am proud to have graduated from here," she says. "I know he is at the right place, in the right setting, with great people who will help him grow to his full potential."
Matthew says hearing stories about his mother's journey to become a physician inspired him to work hard to achieve his goals.
"A huge part of my desire to pursue medicine is because of watching my parents, especially my mom," he says. "You could say my brother and I are following my parent's footsteps because my brother attended MSOE for mechanical engineering like my dad, and I attended Marquette University and now MCW just like my mom."
But according to Matthew, the path to medical school was not always easy for his mother. Both his parents immigrated to the U.S. from Indonesia as young adults. Although she had some background in English, Matthew says his mother would record and listen to lectures several times during her undergraduate years studying biology at Marquette so she could fully understand the material. In addition to the language barrier, she had to overcome cultural barriers during her early years in in the United States.
"It was a challenge to master English as a second language," Dr. Kosasih says. "There were also cultural barriers people normally wouldn't think of. For example, I had to learn to look people in the eyes because in Indonesian culture it was impolite to speak and look someone directly in the face. Also, I am a small-statured woman and was initially shy, so I had to learn to become more assertive in my personal and professional lives. I faced stereotyping, but I was encouraged because my dream to be a doctor was always there pushing me 100 percent of the time."
Dr. Kosasih says she had role models and people who helped her along her path, including professors who believed in her, nominating her for Phi Beta Kappa and Alpha Omega Alpha honor societies, and a dean at Marquette who supported her throughout the pre-med journey and even drove her to pre-interview application meetings at MCW.
"It has been a hard journey at times, but it was a good one. It has helped me to become more resilient," Dr. Kosasih reflects. "I never take anything for granted. That's also what I teach my patients. I'm a rehab doctor; it's part of my practice to show them how to be resilient. I tried to teach my children the same lessons. I want them to be resilient, to not easily despair, and to finish what they start."
Matthew says both he and his brother have learned these lessons through their parents' sacrifice, though he said it wasn't until the past few years that he fully appreciated the lessons his mother has been teaching him his whole life. Matthew began accompanying his mother on teaching sessions and at conferences as early as middle school and has memories of meeting her colleagues as he was growing up. But he didn't develop an interest in becoming a doctor until later, he says, and his appreciation for her intelligence and knowledge has only deepened since starting medical school himself.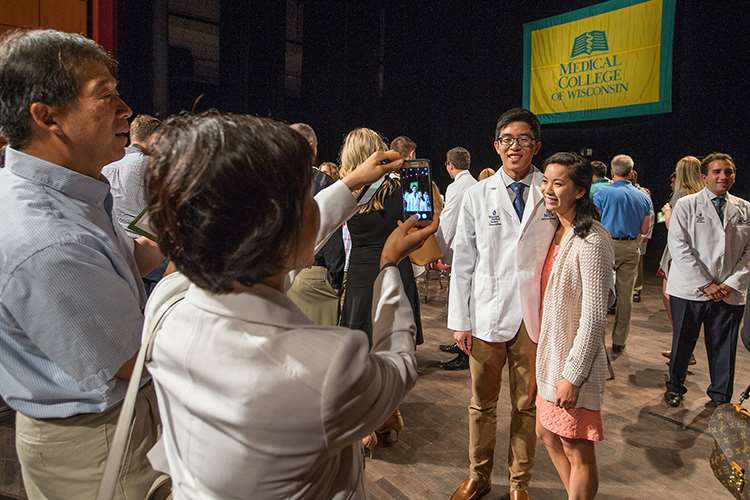 "After going through some medical training myself, I'm amazed at how one person can know so much. She does research, teaching and patient care. It blows my mind how much she can do," Matthew comments. "When I think of my mother, I think of the word 'resilience.' When I'm feeling like complaining about having work to do, and then I think of what my mother went through, I realize she had it about 100 times harder. Today, I'm very grateful for her sacrifices she made to get me here to attend MCW."
Matthew says he believes his family background will influence the way he practices medicine as a physician someday.
"I think having Asian parents living in a Western society helps me understand patients from various cultural backgrounds better," he says. Matthew is on leadership with the Asian Pacific American Medical Student Association (APAMSA) and works to address health disparities and issues that disproportionately affect the Hmong population in Milwaukee. He says medical mission trips and traveling overseas to provide care for people who need it most also will be priorities for him as he progresses through his medical career. Dr. Kosasih says she is proud of the physician her son is becoming and ultimately hopes he makes career choices that will best fit him.
"I've always viewed my role as parent to both my sons as providing foundation and opening the door. If he didn't like an open door, choose another!" she says. "I helped open opportunities, but I want Matthew to make career choices that make him happy and serve people. I tell students, 'It is difficult to find joy doing the same thing for years and years. You have to find something in medicine that gives you fulfillment and joy for many years.' My ultimate hope is for him to know that God gave him potential and ability to do what he can for the good of all, and that he will stay humble for his patients." Of course, she also has another dream of her own for her son.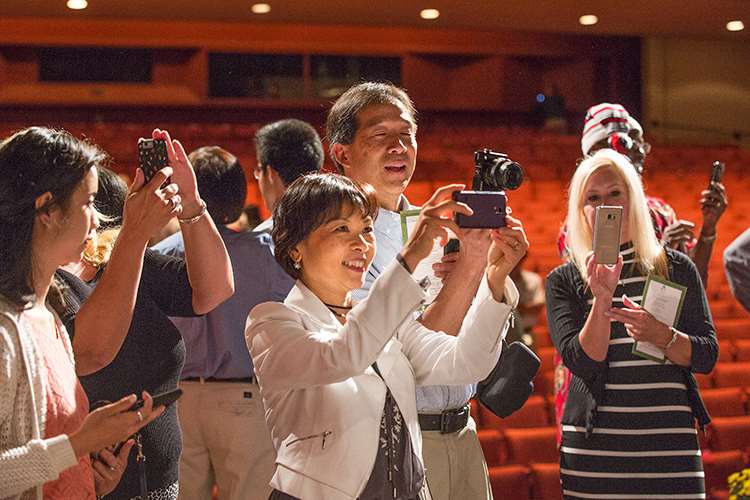 "MCW has a new tradition where MCW alumni parents gown their children at graduation," Dr. Kosasih says. "I dream about that day. My own father was a physician, and he passed away in 2003, but I know he would have been so proud to know Matthew chose this profession. I feel proud and blessed that Matthew is continuing this legacy in our family."