Alumna Advances High-Value Care for Breast Cancer Patients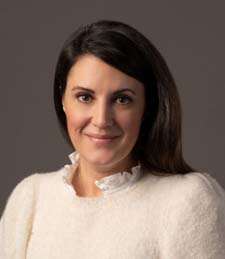 Rachel Adams Greenup, MD '04, GME '11, MPH, associate professor of surgery (oncology), chief of breast surgical oncology and health services researcher at the Yale School of Medicine, is working to better understand and provide high-value cancer care.
"I really became interested in resource allocation because my late father, Mark B. Adams, MD, MS '77, GME '78 [former MCW chair of surgery from 2003-2007], was a liver transplant surgeon at MCW and Froedtert Hospital, and when we were kids, we talked about health equity and resource allocation in that context," Dr. Greenup explains. "When I started caring for cancer patients, I recognized that there was a gap between the care delivered to those who could pay for it and the care delivered to those who couldn't."
She also recognized that patients and their families face more than a financial burden when it comes to a cancer diagnosis.
"As clinicians, we talk to patients about their final outcomes and generally give guidelines around the treatment experience, but what happens outside the clinical setting also is impactful to patients' lives," Dr. Greenup notes. "This includes the number of appointments, the driving back and forth from the hospital, childcare, breaks in their employment, hours in the waiting room and what they pay for care."
So Dr. Greenup decided to ask the question: "If we were providing more authentic and transparent information around what different treatment options look like – and what the full burden of care entails – would patients make different decisions?"
And she's getting attention for her work. In 2016, Dr. Greenup received the National Institutes of Health Building Interdisciplinary Research Careers in Women's Health Award to evaluate how financial costs and burden relate to preference-sensitive decisions for breast cancer surgery. And in 2017, she was named a Healthy Policy Scholar by the American College of Surgeons and the American Society of Breast Surgeons.
"In post-treatment surveys, women unanimously said that they wished they had known in advance more about the cost and burden of their care, and they felt like this was not communicated," Dr. Greenup shares.
Dr. Greenup hopes her research will show that providers and health systems need to find a way to communicate the full burden of care in a way that works better for patients so that they can truly understand the impact it will have on their day-to-day lives.
Dr. Greenup credits MCW with preparing her to be both a surgeon and a leader.
"I think the medical school does an incredible job training future leaders in clinical and academic medicine," she says. "We learn very early that high-quality care is provided across many settings, and that was one of the reasons Yale recruited me. MCW functions in a VA health system, a tertiary care academic hospital, a children's hospital and several affiliated private hospitals. And you can't lead in academic surgery if you are not, first and foremost, a surgeon."
Dr. Greenup is very proud of her MCW education, and while she had many mentors there, she wanted to recognize the person who prompted her to pursue breast surgical oncology: Alonzo P. Walker, MD (now an emeritus professor of surgery), who established and led the Froedtert & the Medical College of Wisconsin Breast Care Clinic and helped to develop the MCW Multidisciplinary Breast Care Program.
"He treated every patient in front of him like they were the only patient in the hospital," she recalls. "He had extraordinary integrity, and he was an excellent teacher and role model."
And then, of course, there was her father: "My dad was the best. He was the reason I became a surgeon."
– Karri Stock