An Animated Approach to Patient Education

It's not often that a doctor asks her 5-year-old daughter for professional advice, but that's exactly what Dr. Diana Lerner, an assistant professor of pediatric gastroenterology at the Medical College of Wisconsin, did when she was working on a project she had imagined since her residency.
Dr. Lerner was working on a cartoon series explaining gastroenterology procedures and conditions to pediatric patients. "As doctors we try our best to communicate with our patients," she says. "But, over time, doctors forget what is normal people language and what is medical jargon. We really do forget that we speak a different language."
And that's why she needed advice from her daughter. The cartoons use kid friendly characters and language to explain often complex and tricky subjects such as colonoscopies and inflammatory bowel disease. She would have her daughter watch one of the cartoons and then check for her comprehension.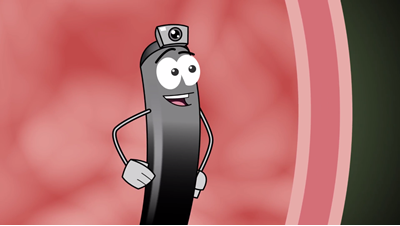 Explaining medical procedures and conditions to adults is challenging enough, but explaining medical procedures and conditions to children and their parents can be especially tough – particularly in the case of lifelong conditions and treatments. "I don't want people to leave the office thinking they have to be an expert because their kid is sick," says Dr. Lerner.
Dr. Lerner remembers one patient, a bright 16-year-old girl, who was diagnosed with ulcerative colitis, an inflammatory bowel disease. She had been admitted to the hospital with severe bleeding and was undergoing treatment. Dr. Lerner came into her room one day to visit and ask her if she had any questions. The girl asked Dr. Lerner what a colon was. "We've really failed explaining this to you," thought Dr. Lerner.
Exchanges like that were what made Dr. Lerner so interested in finding a more kid-friendly way to explain medical terminology. Although she had been thinking about the cartoon idea for years, it finally became a reality when she began working with her mentor, Dr. Bernadette Vitola, during training. The two of them produced the first movie to teach kids about upper endoscopies and colonoscopies. This cartoon was then published in English, Hungarian and Spanish on the respective gastroenterological society webpages. She was given an MCW development fund to really kickstart the project. "In order to do something like this, you have to have a really supportive organization like the Medical College of Wisconsin and group of leaders who believe in you," she says. "I am really fortunate to have been given this opportunity."
The first task was to pick an animation company. After looking at several options, Dr. Lerner was able to find a Milwaukee-based company, CI Design, to be her partner. Dr. Lerner was intimately involved in the production process, writing the scripts, providing artistic direction and, of course, medical expertise.
But when Dr. Lerner received the first draft of the cartoon, it was not quite right. So she invited the animation team into the surgical suite to see the equipment close up. That visit did the trick, and allowed the team to accurately illustrate the operative suite used for the procedures in the videos.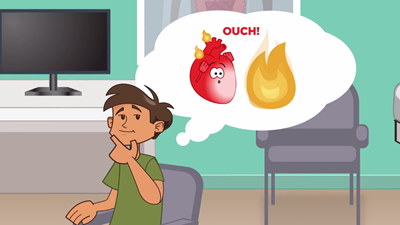 The team put a lot of work into making sure that the content and the characters resonated with the pediatric patients it is meant to serve. They tested several characters, and the patients' favorite was one the team wouldn't have picked: an endoscope come to life called Scopey. Scopey stars in many of the videos along with a young boy named David, who walks viewers through the procedure or condition. For example, in the colonoscopy video, David talks about how he preps for a colonoscopy, the procedure itself and even the popsicle he got in the recovery room.
Currently, the cartoons are available online at CartoonGI and are viewed by 1,500 people per month all across the world, from South Africa to Israel. One of the most fun aspects, Dr. Lerner says, is looking at the world map of where the cartoons have been watched. She's had several requests for translation. There are currently five cartoons with two more on the way.
Dr. Lerner is now conducting a randomized controlled trial that is testing the anxiety and adherence to instructions of a group of patients who have viewed the cartoon and a group of patients who have not viewed the cartoon. Dr. Lerner knows the cartoons resonate. She's had a patient come in for a colonoscopy and tell her he was excited to get his popsicle at the end.