Breast Cancer Survivor Credits Team of MCW Physicians with Saving Her Life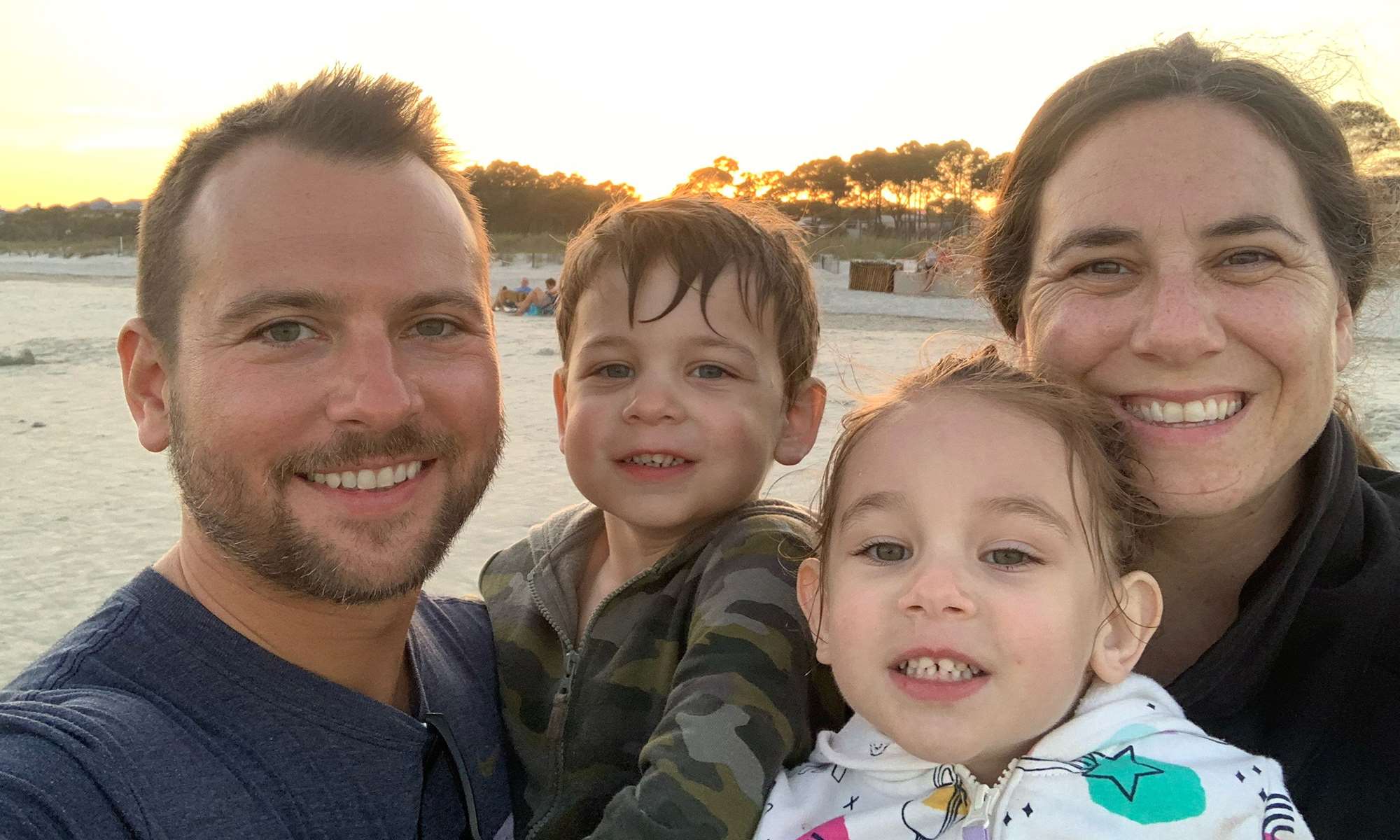 While it may take a village to raise a child, it often requires an exceptional team of talented, dedicated and compassionate healthcare providers to save a life.
Lauren Lanza can attest to this.
Six weeks after giving birth to baby Louie in March 2017, Lanza, then age 31 and a resident of Wauwatosa, Wisconsin, found a lump in her left breast. Her doctor, who was outside the Froedtert & the Medical College of Wisconsin health network, diagnosed a clogged milk duct from not nursing. But when Lanza became pregnant again several months later, the lump was still present – yet her doctor remained unconcerned.
Twenty-eight weeks into the pregnancy, in December 2017, and after the lump had further grown in size, Lanza finally had an ultrasound – which revealed a large mass. A biopsy confirmed it was malignant, and nearby nodes were involved. The doctor shared the news with Lanza in an offhanded and compassionless manner.
Dismayed at this lack of concern and caring from her physician – especially because Lanza had a family history of cancer – she reached out to a friend who recommended Joseph Bovi, MD, GME '07, professor of radiation oncology and neurosurgery at MCW and medical director of radiation oncology at Froedtert & the Medical College of Wisconsin. Dr. Bovi suggested that Lanza contact Amanda Kong, MD, MS '10, MCW professor and section chief of breast surgery. Within two days, in mid-January 2018, Lanza met with Dr. Kong.
"I was really scared, and Dr. Kong immediately helped calm my nerves," Lanza says. "She was very personable and talked with me like I was a human being and not a patient. She acknowledged that there were more tests to be done to confirm the diagnosis and shared with me a treatment path with two options. This made me feel much more at ease knowing what we needed to do to move forward."
Stage 3 breast cancer was confirmed, and Lanza began meeting with her MCW oncology team, which includes Lubna Chaudhary, MD, FEL '15, MCW assistant professor of medicine (hematology and oncology), Angela Halbach, NP, and "Nurse Patty."
Lanza immediately began two rounds of chemotherapy (with few side effects) before being induced to deliver at 36 weeks; baby Leni was born healthy on March 7, 2018. Lanza credits her high-risk OB team at MCW – led by Erika Peterson, MD, professor of obstetrics and gynecology and chief of maternal-fetal medicine, along with her nurse practitioner, Julia Houdek, NP – with keeping her safe and ensuring, through weekly monitoring, that the fetus was growing properly.
Concurrently, Lanza discovered that she is BRCA-positive – confirming that she has a mutation in one of the breast cancer genes (BRCA1 or BRCA2) and therefore a much higher risk of developing breast and ovarian cancer compared with someone who doesn't have the mutation.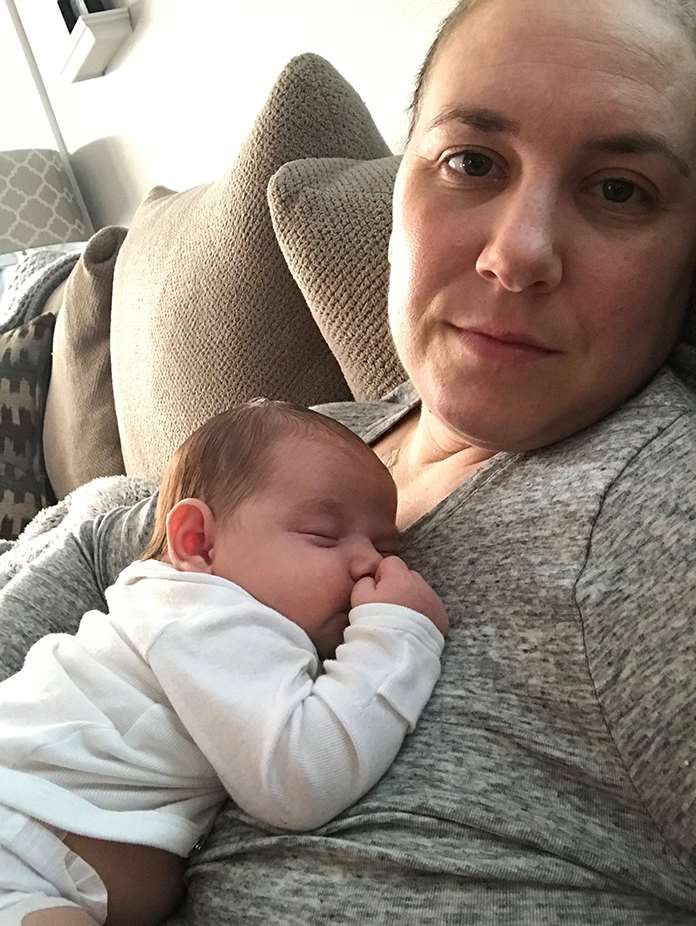 Lanza resumed chemotherapy about a month after giving birth but soon developed cold-like symptoms that sent her to the hospital; blood clots in her lungs were discovered, and she was placed on blood thinners. She continued through June 2018 with 12 rounds of chemo, followed by a double mastectomy performed by Dr. Kong in August and two additional rounds of chemo. Erin Doren, MD, MCW assistant professor of plastic surgery, performed Lanza's reconstructive surgery – which included placing expanders in her chest.
Lauren Lanza with baby Leni shortly after resuming chemotherapy for breast cancer in 2018 (pictured right).
In October, Lanza began five weeks of radiation, led by Adam Currey, MD '05, GME '10, associate professor of radiation oncology and director of the Radiation Oncology Medical Residency Program. Lanza also underwent physical therapy due to the removal of several lymph nodes from her left armpit. She also had to take anti-cancer drugs for a year, which caused significant side effects.
Because of her radiation therapy, Lanza's expanders had to remain in place for a full year; unfortunately, one of the expanders had to be removed within nine months due to an infection. Lanza finally received breast implants in the fall of 2019.
An additional MCW physician relationship arose in October 2020 when Lanza developed a hernia while dancing with her young son. She finally had surgery to repair the hernia in January 2021, which was performed by Rana Higgins, MD, FEL '16, assistant professor of surgery.
After a healthy spring this year, Lanza underwent a preventative oophorectomy (removal of her ovaries) in May due to her BRCA-positive status, which was performed by Camila Bomtempo, MD, MCW assistant professor of obstetrics and gynecology.
Lanza also continues to see Drs. Kong and Currey once a year (in February and September, respectively). "Lauren's case was incredibly complicated and required a well-orchestrated team of doctors with the highest level of communication to ensure the best outcome for mom and baby. Most importantly, though, was Lauren's attitude. Even when she was feeling ill and tired, she persevered knowing that every step of treatment was important for the success of her outcome," Dr. Kong shares.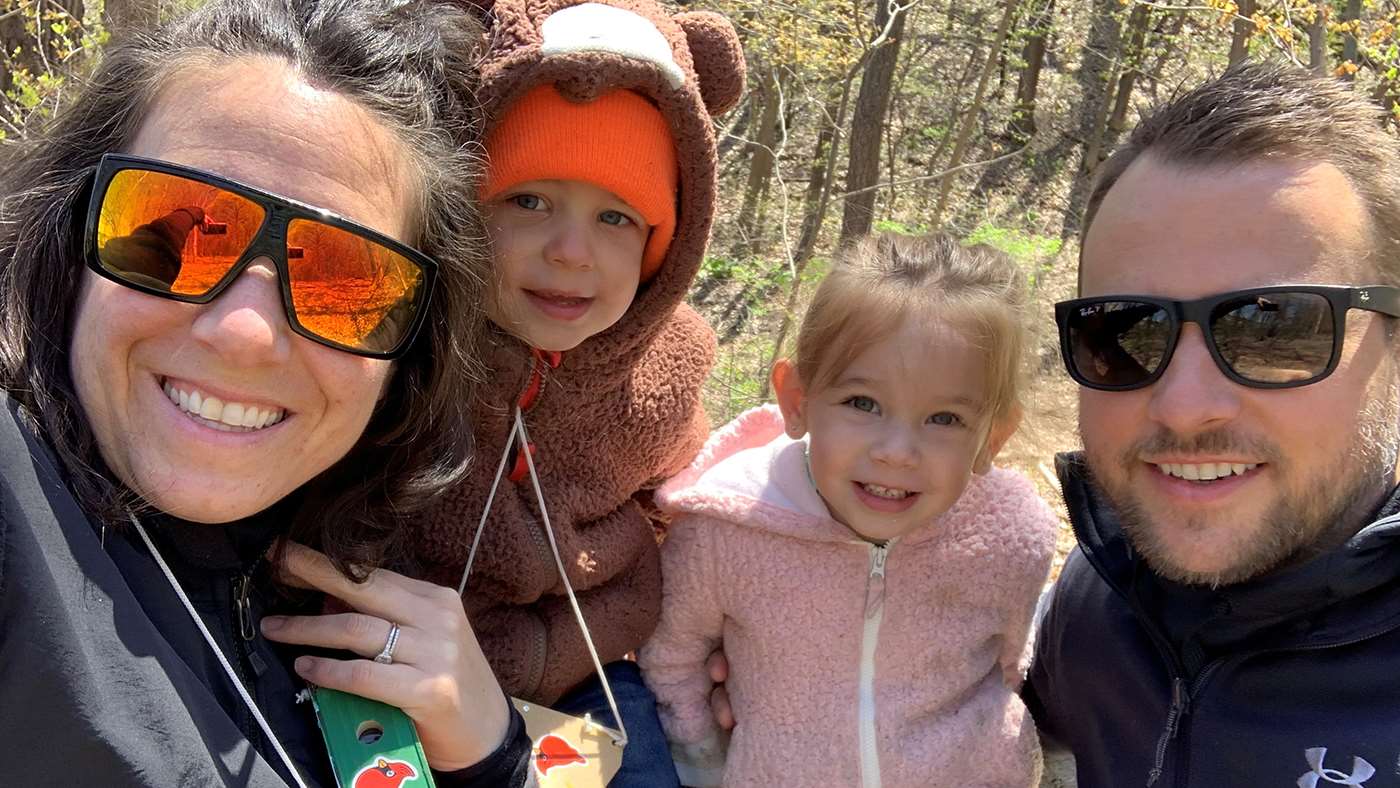 Breast cancer survivor Lauren Lanza with her husband, Luke Mytych, son Louie and daughter Leni, 2020.
"I am feeling great and could probably cry when talking about my care team. They saved my life, and changed my life. As I mentioned before, they care for you as a person and not as a patient. I would tell anyone who asks not to go anywhere else but Froedtert & the Medical College of Wisconsin for healthcare," Lanza adds.
Lanza, the consummate grateful patient, continues to live in Wauwatosa, Wisconsin, with her husband, Luke Mytych, son Louie (age 4) and daughter Leni (age 3).
– Sara L. Wilkins
Breast Surgery Program
The Froedtert and the Medical College of Wisconsin's world-class breast surgeons completed their fellowship training at:
Amanda L. Kong, MD, MS '10: The University of Texas, M.D. Anderson Cancer Center
Tina W.F. Yen, MD, MS '06: The University of Texas, M.D. Anderson Cancer Center
Caitlin R. Patten, MD '10: Carolinas Medical Center
Chandler S. Cortina, MD, MS '21: Northwestern University Feinberg School of Medicine
Shining a Spotlight on Women's Health Disparities
Results from an MCW study published in the Journal of Clinical Oncology this year identified a link between contemporary "redlining" (mortgage lending bias based on property location) and mortality after breast cancer diagnosis among women in the US.
Kirsten Beyer, PhD, MPH, MS '12, associate professor of epidemiology at MCW's Institute for Health & Equity and researcher at the MCW Cancer Center, says the results affirm the upstream effects of discrimination on persisting health disparities for individuals facing a cancer diagnosis.
"There is a wide gap for women of color diagnosed with breast cancer," says Dr. Beyer. "We're doing ongoing research to understand why so we can do our part to improve patient care and health outcomes for all people."
– Nikita Vilim