Designing Dreams
MCW student's passion project makes dreams reality for critically ill children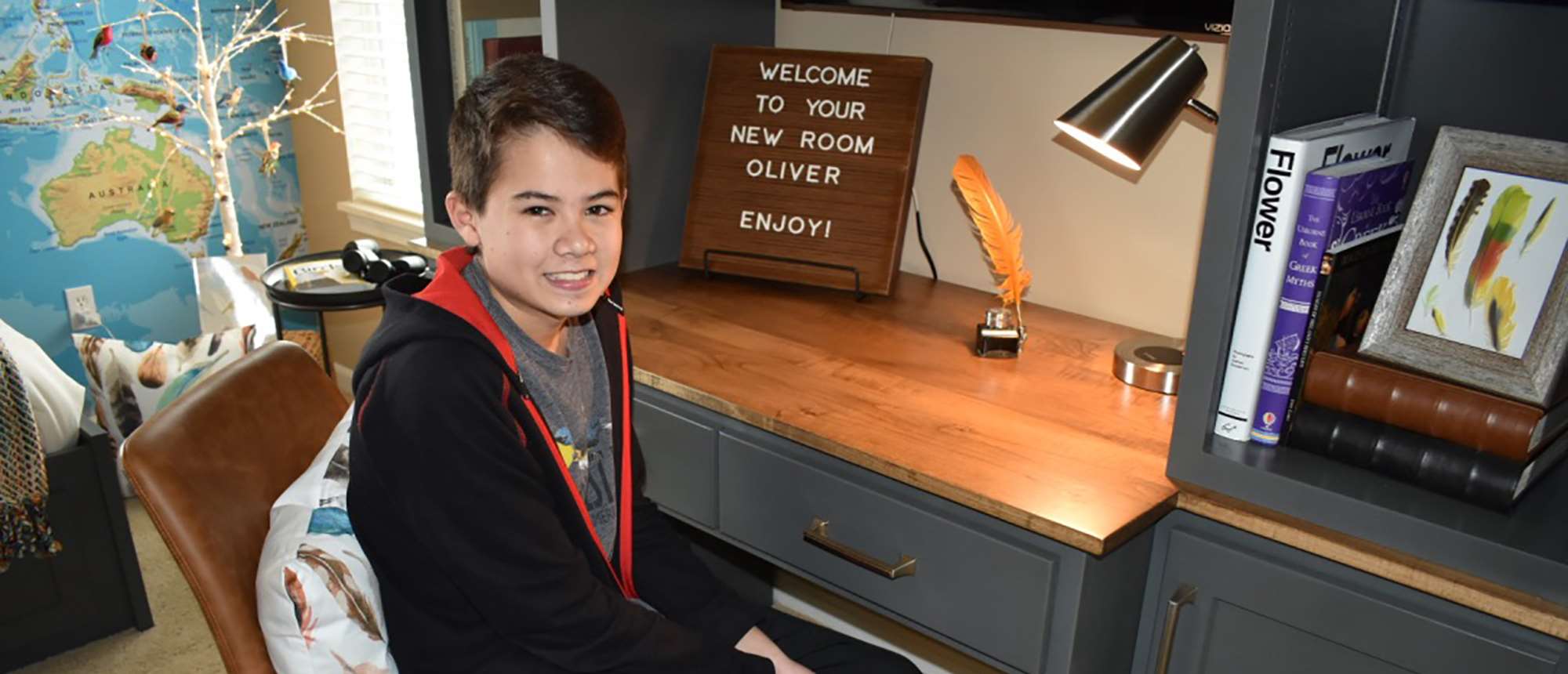 Stars and maps of the solar system sweep across the ceiling in a space-themed bedroom, while ballet bars, ballerina shoes and princess dresses adorn the walls of another. Another bedroom depicts characters from a galaxy far, far away.
All these bedrooms have been transformed in a room makeover project that helps make dreams come true for children battling cancer and other critical conditions. Lauren Curwick, a second-year medical student at the Medical College of Wisconsin (MCW), is the leader of the project, a nonprofit called Designing Dreams she founded in 2012 while still an undergraduate student in Minnesota. After earning her degree, Curwick decided to attend medical school so she could continue to help children as a clinician. But she says her interest in medicine began years before founding Designing Dreams or attending medical school.
"When I was 7 years old, I read a book about a girl with cancer, and I asked my mom, 'What kind of doctor is this?'" she recalls. "Since then, pediatric oncology has been one of my biggest interests."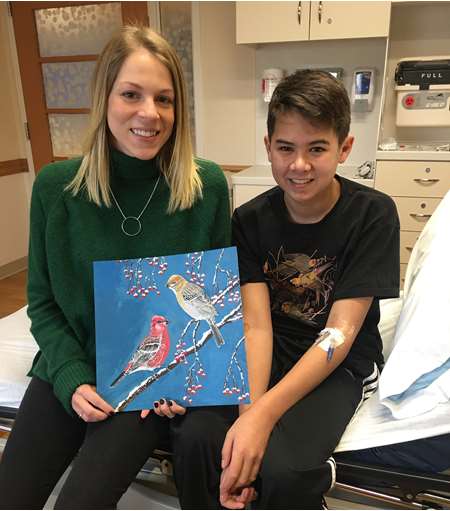 Even in undergrad, Curwick wanted to pursue this passion. She searched for volunteer opportunities through school that could make a positive impact for children battling cancer. Not finding a project that sparked her interest, she decided to create her own service opportunity. Through a conversation with her mother, an interior designer, Curwick was inspired to found Designing Dreams with the mission to inspire hope and happiness for children during the most difficult trial of their lives.
"Designing Dreams provides a positive space of healing for children on their journey to recovery through complete transformation and redesign of their bedrooms," Curwick explains. "Battling cancer or other serious illnesses are some of the hardest, most trying times for these kids and their families. Being with them to encourage them on their journey and give them a healing space of their own is what we love most about Designing Dreams."
Since founding Designing Dreams, Curwick's passion and leadership have inspired a team of volunteers and donors to join her in transforming the bedrooms and lives of 16 children battling cancer or other conditions. The room redesigns are volunteer-based and completely free to families, made possible by donations. Lauren's mother, Mardel Curwick, volunteers her time as director of design for each bedroom project.
"I love designing their space and watching as the vision for the room comes together," Mardel says. "The most rewarding part of my job is seeing the child's expression of joy."
The next room on their list is for a 14-year-old named Oliver from Kenosha, Wisconsin. Oliver was diagnosed with acute lymphoblastic leukemia (ALL) in 2011 when he was just 7 years old. Since then, he has battled his way through arduous treatments and endured the disappointment of multiple relapses. Oliver's mother, Bev, says that although her son has been brave, their journey through cancer has been difficult.
"After a second relapse following two years of treatment which included radiation to Oliver's brain, we were tired and discouraged," Bev explains. "Oliver was expressing that he was 'done,' and at age 13, he needed to have a voice and a choice. Those were not fun months."
Thankfully, a clinical trial became available that enrolled patients like Oliver, and he decided to give it a try. Since January 2018, Oliver's bone marrow and blood tests have not detected any disease.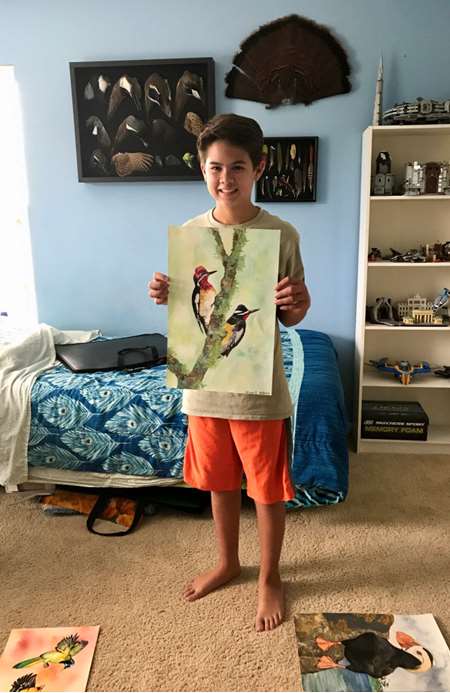 "It is hard to hope that this could be the miracle we have asked for," Bev says. "It takes courage to just live life. But Oliver is an extraordinarily brave boy, and I have learned this to be true of all kids with cancer."
This bravery is what Curwick says inspires her to encourage children in their fight. To design the perfect room, the Designing Dreams team learns about the person they are designing the room for, from their favorite colors to their interests and hobbies. While past rooms have featured cement floors transformed into hockey rinks and bedrooms into superhero hideouts, Oliver's room will be uniquely his. Oliver is passionate about nature and loves birds, rocks and minerals as well as drawing maps.
"We have zero idea what the room will look like, and that is one of the best parts," Bev says. "We are so curious and excited to see what Lauren and Designing Dreams cooks up. This is perfect timing for Oliver, who started high school this year and can't wait to spend more time in his own personal paradise."
Seeing the impact her work has on kids like Oliver helps motivate Curwick through the rigors of medical school. Designing Dreams is just the beginning of the ways she aspires to help children through their battles with illness.
"My experience with Designing Dreams has confirmed I'm on the right career track for me," Curwick says. Her time at MCW has given her more opportunities to pursue this goal. During her years at MCW so far, Curwick has become increasingly involved in research and quality improvement studies. She connected with Kristin Bingen, PhD, psychologist and MCW associate professor, who works with children with cancer and blood disorders at Children's Hospital of Wisconsin. After learning about Designing Dreams, Dr. Bingen and the larger psychosocial team began recommending patients who are eligible for Designing Dreams.
"When I first heard about Lauren's work, it sounded like a wonderful program. Now, my team has recommended several of our patients to participate," Dr. Bingen says. "I feel this is something any of our patients could benefit from. Lauren and her team do a spectacular job of getting to know families, tailoring the rooms to their interests and creating a personalized healing place just for them." Curwick and Dr. Bingen's larger psychosocial team are now discussing designing and publishing a potential study to evaluate psychosocial outcomes based on Designing Dreams as a clinical intervention.
"We know anecdotally this type of healing environment brings patients joy, but what is its hold over time and does it enhance a patient's ability to cope?" Dr. Bingen wonders. "Is there a reduction in stress or an increase in positive affect and optimism? How would this translate in a hospital setting? We're beginning to talk about designing a survey-based study with pre- and post-measures to answer these questions since there is not a lot of existing research on this topic."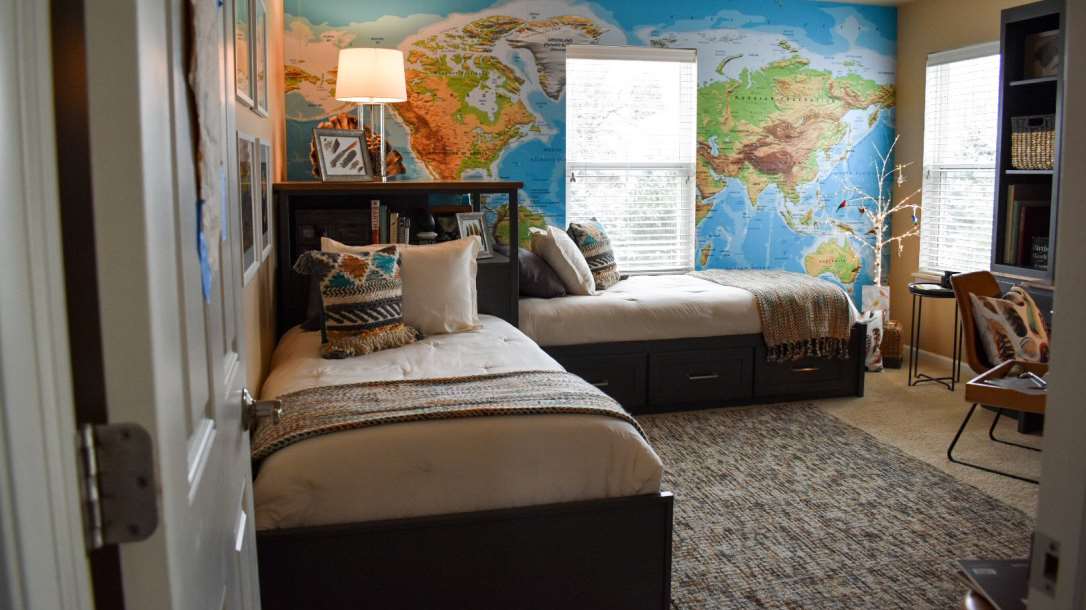 For moms and families of children like Oliver, the results of Curwick's work show it is already a proven concept.
"A remodeled bedroom is something so much more than just an incredible new bedroom for Oliver," Bev says. "It proves to us that we are not alone and that there are people, even strangers, who care about and see and applaud our journey."