Expanding the Skills and Abilities of Pharmacy Professionals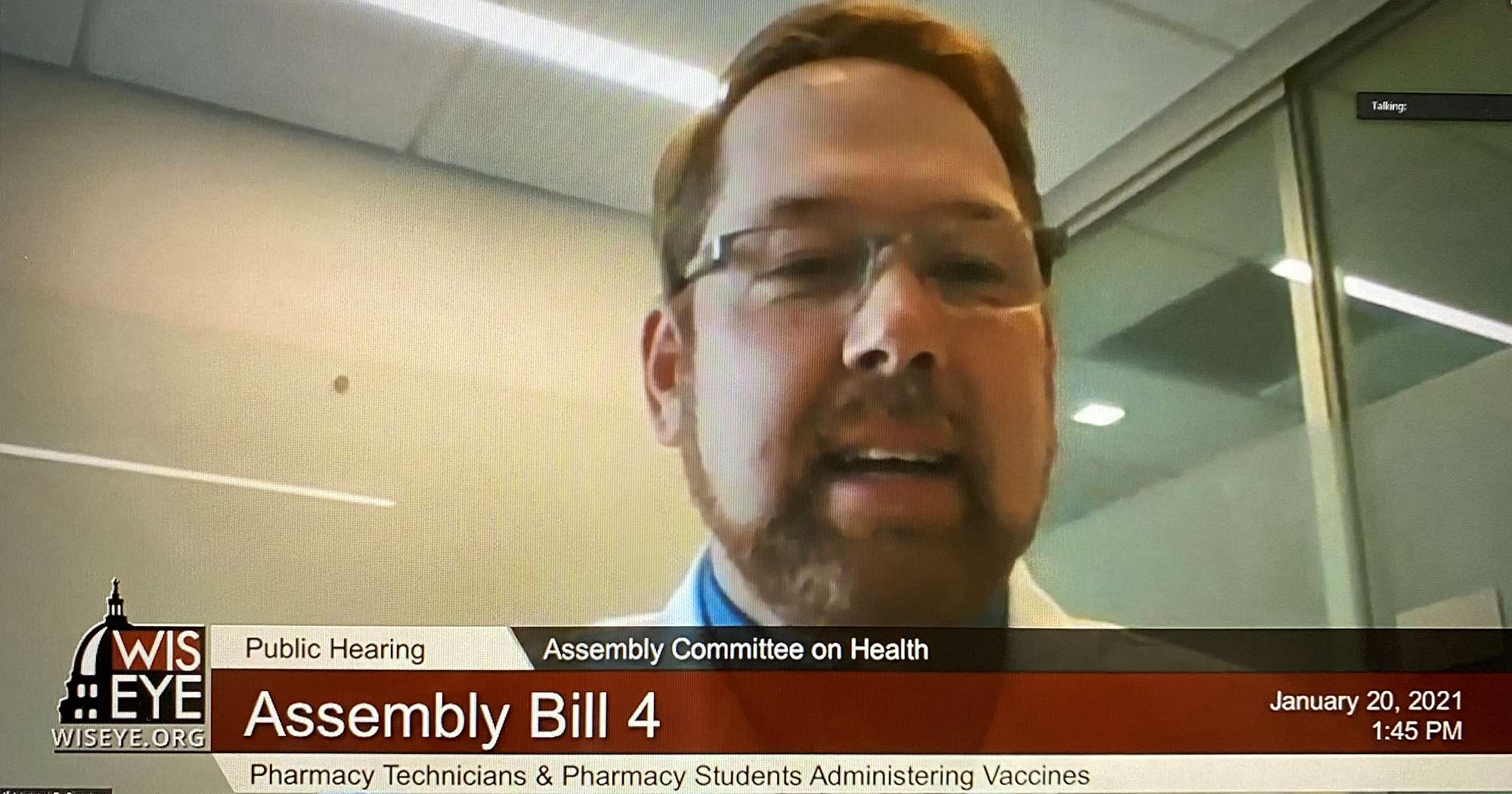 Faculty members in the MCW School of Pharmacy, including Dr. Michael DeBisschop, testified to the Wisconsin State Legislature in support of Wisconsin Act 3, which expands pharmacy professionals' ability to provide vaccinations.
The coronavirus pandemic presented challenges unlike anything faced in this country for generations and brought to light gaps and inequities in our health system. Millions of Americans lack adequate access to healthcare services. This limited access may continue to be exacerbated by COVID-19, physician shortages and inequitable reimbursement models that could strain the healthcare system into the future. Leveraging the role of pharmacists, the third-largest number of healthcare providers in the United States, is essential to the health and welfare of all communities.
"Pharmacists are highly accessible, yet vastly underutilized. The average person lives within five miles or less of the nearest community pharmacy, which places the community pharmacist in a unique position to help America close the gap on patient access and bring greater affordability to healthcare costs," says George E. MacKinnon III, PhD, MS, RPh, founding dean of the MCW School of Pharmacy. "More than 200 million Americans visit a community pharmacy within a six-month period each year. Thus, leveraging the pharmacist's unique expertise is essential and necessary."
The MCW School of Pharmacy, in collaboration with other Wisconsin pharmacy schools and the Pharmacy Society of Wisconsin, advocated for passage of legislation (2021 Wisconsin Act 3) that expands pharmacy professionals' ability to provide vaccinations. Members of the Pharmacy School faculty testified to the Wisconsin State Legislature in support of the expansion to back vaccination efforts.
On February 19, 2021, Wisconsin Act 3 was signed into law. The legislation allows first- and second-year student pharmacists to administer vaccinations recommended by the Advisory Committee on Immunization Practices (ACIP) and allows other healthcare providers the ability to supervise student pharmacists during vaccinations. Pharmacy professionals can now administer epinephrine and diphenhydramine to treat anaphylaxis. It also allows pharmacy technicians the ability to initiate and administer vaccines under pharmacist supervision.
"Taken together, these provisions will allow all pharmacy professionals (technicians, students and pharmacists) to be full partners in the vaccination effort and will help bring a quicker conclusion to the ongoing pandemic. These measures move the pharmacy profession forward and increase our capability to vaccinate the people of Wisconsin against COVID-19 and other serious infectious diseases that are preventable through immunizations," remarks Michael DeBisschop, PharmD, professor in the department of clinical sciences at the MCW School of Pharmacy.
In response to the passage of this legislation, the School of Pharmacy is now able to provide immunization training earlier in the Doctor of Pharmacy (PharmD) program. Students previously were certified through the American Pharmacists Association (APhA) Pharmacy-Based Immunization Delivery Certificate Program in Session 5 during the second year of the program, when they are the equivalency of a third-year student compared to a traditional program. Beginning with the incoming Class of 2024, pharmacy students will now complete the certification in their very first session – a full year earlier.
"The MCW School of Pharmacy has prepared us exceedingly well. We have been provided the necessary knowledge and skills to administer not only vaccinations, but intramuscular and subcutaneous medications. Having worked the influenza clinics in September 2020 and now the COVID-19 clinics, giving vaccinations is something I feel we as pharmacy students can do anywhere there is a need," notes Jackson Straughan, MCW pharmacy student.
New Community-Based Residency Programs
For MCW School of Pharmacy Class of 2021 graduate Jessica Barazowski, PharmD '21, a pharmacy career is a seamless combination of her interests.
"After getting my bachelor's degree, I still wanted to do more. I was strongly considering pursuing a career in organic chemistry but had always had an interest in medicine. The job I was working at the time trained me on their pharmacy station (at a veterinary clinic), and it was like a light-bulb moment – medications are organic compounds and pharmacy is a medical profession. It seemed like the perfect marriage between my interests," says Dr. Barazowski.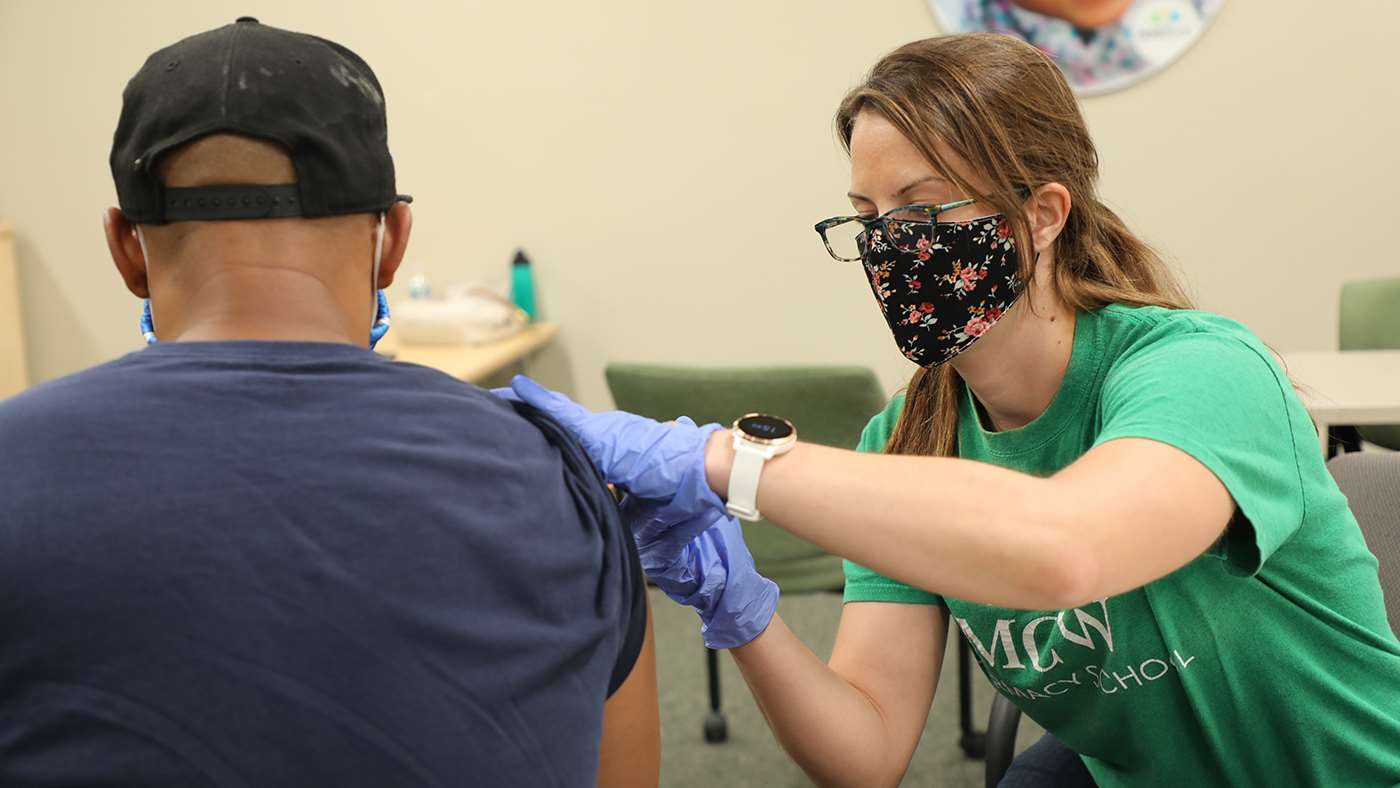 Dr. Jessica Barazowski, a first-year resident through the MCW School of Pharmacy's new community-based residency program, administers a COVID-19 vaccination at a local clinic.
She will be continuing to pursue her interests in chemistry and medicine as a Post-Graduate Year 1 (PGY-1) resident through the MCW School of Pharmacy's new community-based residency program, developed in partnership with several pharmacies in southeastern Wisconsin: Evergreen Pharmacy in West Allis, Good Value Pharmacy in Kenosha and Racine, and Welltopia Pharmacy in Thiensville. The program will offer intensive patient care and faculty development experiences that will prepare residents as community-based primary care pharmacists and academic leaders who will ensure access to high-quality, innovative primary care services, reduce health disparities and promote community wellness.
"Being an MCW School of Pharmacy graduate, I knew that an MCW residency would be equally as challenging and rewarding. I was also drawn to the fact that, in addition to offering a teaching certificate, the program has an academic component that provides the opportunity to gain more experience with teaching and precepting," shares Dr. Barazowski.
Through the one-year program, residents will participate in comprehensive patient care including medication therapy management, physical assessment and immunization and other injectable medication administration. They will have the opportunity to collaborate directly with interprofessional healthcare providers and scientists with expertise in population health management, patient-centered care and chronic disease self-management. Residents also will receive academic experience through didactic, practical and experiential education. Their time will be split between the clinical setting at one of the partnering pharmacies and the academic environment at MCW.
Dr. Barazowski will fill the residency position at Good Value Pharmacy in Kenosha. Two other pharmacists from the Midwest also matched with the residency program for the 2021-2022 year: Brendan Lehman, PharmD (Concordia University Wisconsin) with Evergreen Pharmacy and Alaura Meister, PharmD (Cedarville University in Ohio) with the position at Welltopia. These new pharmacists participated in the annual post-graduate pharmacy match program sponsored by the American Society of Health-System Pharmacists earlier this year.
A pharmacy residency is one of the post-graduate training options for students once they have earned their PharmD degree. First-year residencies provide additional, in-depth pharmacy practice experiences and offer graduates the opportunity to specialize in areas such as emergency medicine, pediatrics, cardiology, pharmacogenomics, oncology, psychiatry and more in subsequent years. In the US upon graduation, PharmD graduates are deemed to be "practice-ready" per ACPE Accreditation Standards. Thus, postgraduate training is not required in all sectors of practice.
"The goal of the program is to create high-functioning community-based practitioners who will be instrumental in addressing social and economic determinants of health in our communities and delivering optimal care," shares Sara Revolinski, PharmD, residency program director and director of experiential education and professional labs with the MCW's School of Pharmacy.
As access to high-quality and innovative primary care services remains critical across the country, MCW continues to make strides in preparing healthcare professionals to enter the workforce with the experience needed to begin reducing health disparities and promote community wellness in Wisconsin and beyond. The MCW School of Pharmacy Class of 2021 achieved a 75 percent match rate for post-graduate training, surpassing the 2021 national average. More than 20 members of the class will pursue post-graduate training through residencies and fellowships after graduation. Four members of the School's inaugural Class of 2020 are pursuing second-year residencies specializing in ambulatory care, internal medicine and infectious disease.
– Michelle Schaefer