Finding Her Place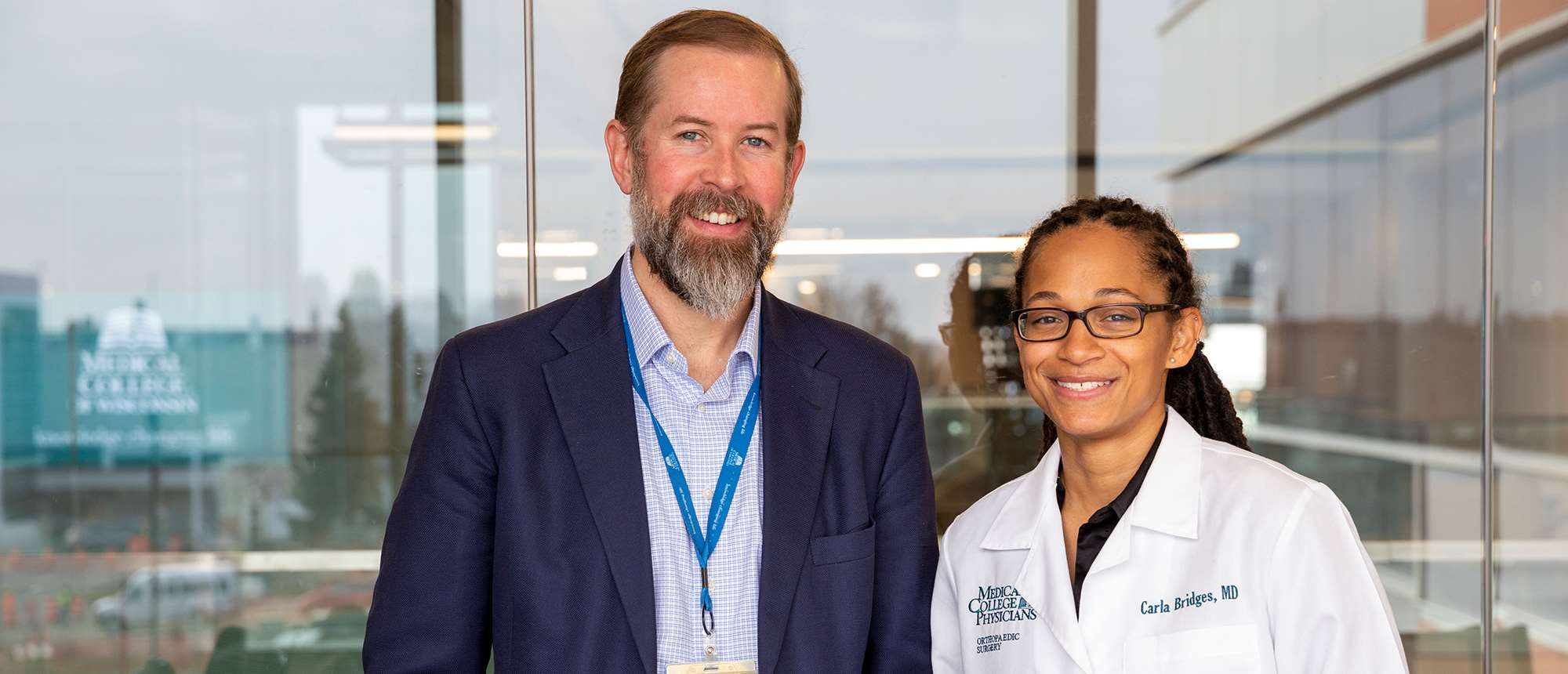 For a time, Carla Bridges, MD, a fifth-year orthopaedic surgery resident at the Medical College of Wisconsin (MCW) and native of Louisiana, wasn't sure she was in the right place.
For most of her life, whether it was growing up in Baton Rouge, completing her undergrad at the University of South Florida or attending Morehouse School of Medicine in Atlanta, she was surrounded with diversity. But when she moved to Milwaukee to begin her five-year program at MCW, she became the first African-American female orthopaedic surgery resident there, in a Caucasian and male-dominated field. She was also in Milwaukee, one of the most segregated cities in the country.
"One would think the most segregated city in the United States is located in the south. Soon after I moved to the Midwest, I surprisingly discovered that Milwaukee actually holds that title. So, not only did I move to the most segregated city in the US, I also started residency in a program that lacked diversity in many ways," Dr. Bridges recalls.
She admits that she struggled to find her place.
"Initially, I felt lost and did not know who to talk to. I carried the weight of my diversity and inclusion concerns on top of handling the duties of a junior resident while navigating a field of medicine that is dominated by white men."
She had few options, she believed. She could keep pushing through her feelings or she could search for a different residency, which she worried would disappoint her family, friends, others who looked up to her, and ultimately herself.
Or she could reach out to her program director to discuss her concerns. She approached her department to discuss what she was going through, and leaders suggested she find a mentor.
One name stood out to her: Joseph Michael Schwab, MD, assistant professor of orthopaedic surgery. He appealed to Dr. Bridges for several reasons, not the least of which was the fact that he had brought in prominent African American orthopaedic surgeon Scott E. Porter, MD, to speak at MCW about the importance of inclusion and diversity in the field of orthopaedics. So she reached out to him and scheduled a meeting.
The two, at least on paper, seemed an unlikely mentor-mentee match. "We couldn't be much more opposite," he says. Dr. Schwab is a white man whose father had been a chair of the Department of Orthopaedic Surgery at MCW, while Dr. Bridges is one of a small, but growing group of residents of color in the field.
The first time they met, Dr. Schwab laid out something of a contract outlining formal rules and expectations that would guide their mentoring relationship.
"We were meeting with a purpose," he recalls.
And while their monthly visits opened opportunities for Dr. Bridges to ask the questions she had been reluctant to ask in the past, it also allowed her and Dr. Schwab to get to know each other.
"He created an environment where I felt safe opening up to discuss concerns of mine and vent about my experience. He recommended books and podcasts to read and listen to that covered topics related to what I was experiencing," Dr. Bridges says. "Most importantly, he helped me to regain my focus on the reason why I came to Milwaukee in the first place, to become an orthopaedic surgeon."
And while she worked to learn the ins and outs of orthopaedic surgery, Dr. Schwab was able to gain a perspective he had never been privy to.
Their experience of mentoring and diversity was so valuable that they were invited to share it during a panel discussion at the Accreditation Council for Graduate Medical Education Conference in Orlando in March.
"It turned out to be a really nice validation of our mentoring relationship," Dr. Schwab says.
That discussion also helped reinforce their shared belief of the importance of increasing diversity, inclusion and equity in the field of orthopaedics.
"Black patients rarely see physicians that resemble them, and it has been shown that a diverse physician workforce can lead to better communication and trust amongst the underserved population and their doctor's," Dr. Bridges says. "Ultimately, better treatment and long-term results can be seen within this patient population by continuing to make a concerted effort to improve the lack of diversity within the physician workforce in Milwaukee."
In Dr. Bridges, Dr. Schwab sees an individual who will lead that charge.
"My belief is that she's going to be a proselytizer of diversity and inclusion in orthopaedics," he says.
As for now, Dr. Bridges recently accepted a pediatric orthopaedic fellowship position at Shriner's Hospital for Children in Portland, Oregon. She is in the process of completing her final year of residency at MCW. This stage of her life could have all ended so differently had she not found the courage to open up to her department leaders and trust in an unconventional mentor-mentee relationship with Dr. Schwab.