Finding the Delicate Balance to Promote Safety and the Economy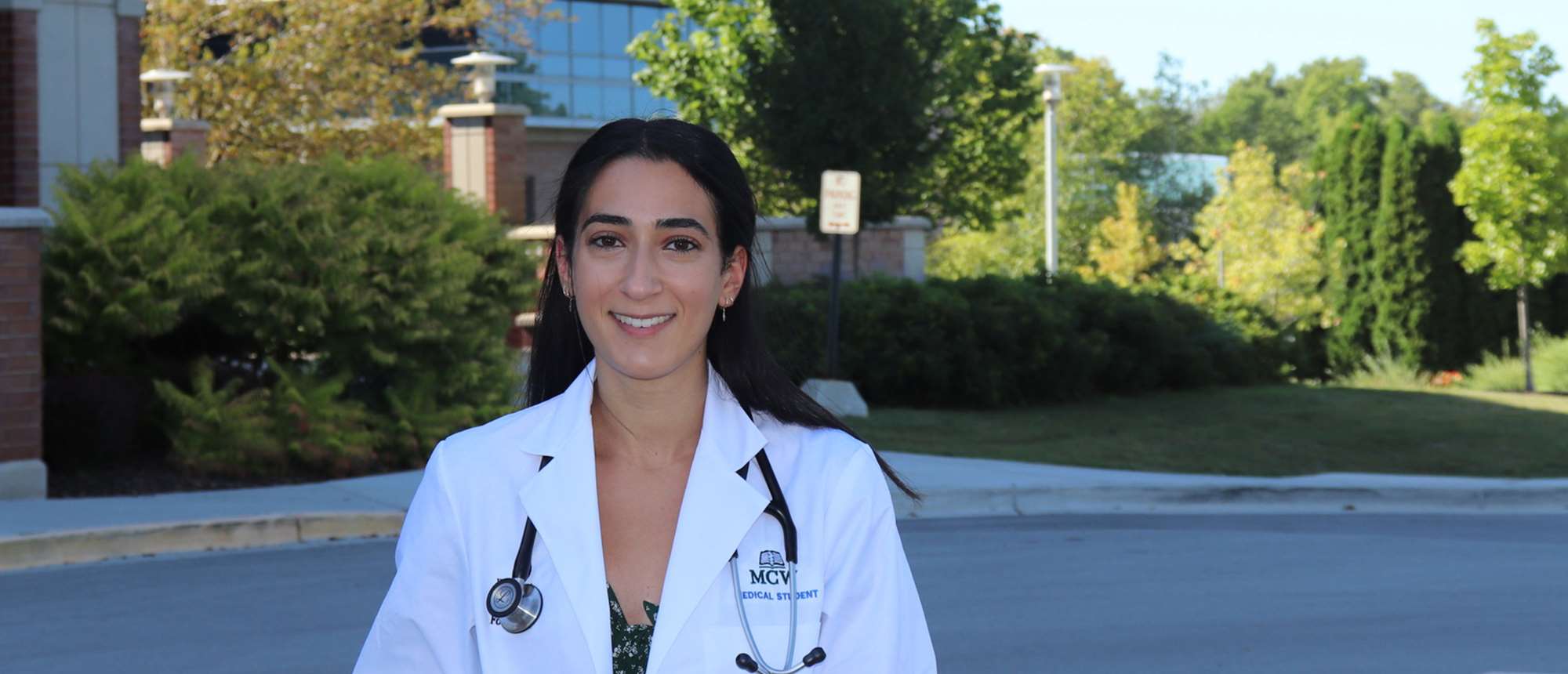 It's a question people around the world have grappled with since the pandemic began: How do you balance the need to reduce COVID-19 transmission while still sustaining the economy? It's a challenge with no easy solution, with COVID-19 devastating many small businesses, which often rely on walk-in traffic and survive on thin margins.
A team of researchers based in UCLA, which included now first-year Medical College of Wisconsin (MCW) medical student Sophia Neman, sought to examine that question. What they learned could help officials find that elusive balance between saving lives and saving the economy.
Using a network intervention approach, the team modeled and simulated two different exposure reduction strategies to learn how effective each was in protecting against COVID-19 transmission.
"We wanted to look at how we could impose an intervention on communities to lessen the amount of people who would be in a given space at a given time," says Neman, who joined the study around its halfway point and helped with the analysis and writing.
Separated into groups, one strategy involved simulating people engaging in activities such as going to work and shopping at the grocery store, while limiting their interactions to others in the same group. That group was split into subgroups with one shopping in the morning and one in the afternoon.
The second strategy that was simulated balanced an equal number of group members within the same sector. For example, each shopping experience that was simulated had the exact same amount of customers at each store. Both strategies, the study found, proved effective at reducing COVID-19 transmission.
"If you had the two strategies combined, you could significantly stop the spread of transmission," Neman says.
Aside from its possible implications for the future, another aspect that stood out for Neman was the fact that these practices, in some form or another, were already being used in many places.
"I think people, whether they knew it or not, were doing this," she says. "MCW is doing a really good job at it, and it's nice to have research backing something our school came up with on their own."
MCW implemented aspects of both strategies, according to Neman. She said her cohort is split into subgroups on campus, with some students attending classes in the morning and some in the afternoon. Students also attend classes on different days while also taking classes online.
Neman is thankful that she has been able to have a semi-normal experience at medical school, which can be a rough transition for many.
"I think this school has been really, really strong in making sure that we can still do the things we need to do while addressing the pandemic," Neman says, who graduated with a degree in sociology from UCLA in 2019.
Her experience at MCW is not without its limitations, such as reduced shadowing opportunities and time on campus, and not being able to interact with student groups and the community as much as she'd like. But Neman is grateful for the interactions she does have. And while MCW serves as a great microcosm of how effective these strategies can be in sustaining health and the economy, the bigger challenge, she says, is enforcement of these measures in all settings. Enforcing existing COVID-19 transmission reduction protocols and having people buy in to these strategies is a struggle that has played itself out in various forms across the world, including Wisconsin, since the pandemic began.
"You need to control where people go at given times of the day," she says. "Having people who live in Wisconsin be comfortable with that is a difficult thing to get people to adjust to."
As far as where the study, which was published in the Proceedings of the National Academy of Sciences, goes from here, next steps could include examining new variables, such as the impact of vaccinations on transmission, Neman says. She is also hopeful that future studies will be used to develop a preemptive strategy for future pandemics.
"Just to have something in the toolbox ready and having the mechanisms in place to enact them when necessary if something like this were to happen again," she says.
Neman says the study has already impacted her future. It opened her eyes to how important conducting research that has political implications can be. She was also able to examine how community-level factors influence our everyday lives. She envisions herself addressing these issues during her career in medicine and believes she's in the right place to help her prepare for that future.
"Something I realized about MCW was that they prioritize giving students the space to explore their interests outside of what they might get in their didactic medical training." Neman says. "I'm loving it; I'm really happy."