First Class of MCW-Green Bay Students Reflect on Past Three Years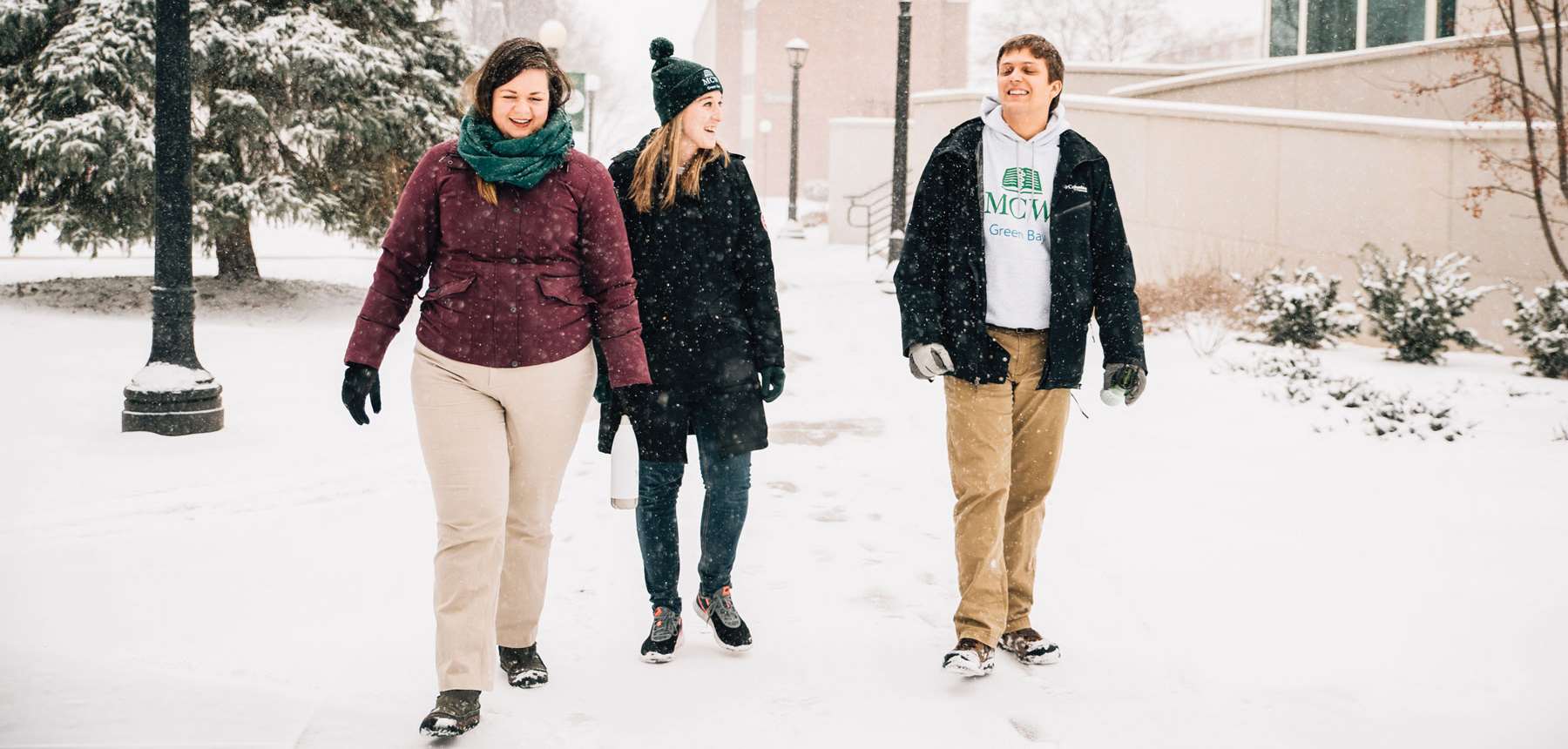 Even though they had done their due diligence when applying and interviewing for medical schools, the inaugural class of students at the Medical College of Wisconsin-Green Bay didn't – and couldn't – have known exactly what they were getting into.
A three-year program structured to reduce student debt and allow quicker entry into the physician workforce. Classrooms and labs housed at St. Norbert College in DePere, Wisconsin. Lectures via video conferencing from the faculty at MCW-Milwaukee, and in-person instruction from faculty associated with St. Norbert, Bellin College, the University of Wisconsin-Green Bay and other MCW academic partners. Clinical rotations at hospitals and healthcare facilities across the Green Bay community. Those were the facts. But what would the experience be like?
"It was hard to know what to expect coming to a brand new medical campus," recalls Wausau, Wisconsin, native Andre Theuerkauf. "I knew MCW had a reputation as a great training facility, but there were still unknowns regarding MCW-Green Bay."
Yet, like his classmates, Theuerkauf was willing to take the chance in order to be a part of what he describes as "the innovative three-year curriculum that gives students early and continued clinical practice."
This concept was one that appealed to many already living in the community, including Martha Grace Courtright, a Louisiana transplant.
"When my husband and I moved to Wisconsin for his job, I knew that MCW was planning to open the two regional campuses," she says. "I am the daughter of two family medicine doctors and was already really interested in doing family medicine myself. I am also a nontraditional student and didn't go straight from college to medical school, so by this time I was ready to be doing what I felt called to. When I heard about the accelerated curriculum concept with a focus on primary care, it seemed like the school had been designed for me and my goals."
While the innovative curriculum caused them to apply, the students agree that the people they met during the interview process solidified their decision to attend MCW-Green Bay.
"My interview day at MCW-Green Bay really 'sealed the deal' on making this my number one choice," says Allison Meyer (recipient of the Dr. Alvin and Helen Brusky Memorial Endowed Scholarship), who grew up in a small town in Indiana. "I felt like the interview panel and staff really wanted to get to know me as a person, and they were genuinely interested in the goals I wanted to accomplish."
Adds Theuerkauf, "From the moment I walked into my interview at MCW-Green Bay, I was met with an excited, enthusiastic and friendly environment that has only grown stronger with age."
That growth, however, didn't come without setbacks.
"Coming in as the inaugural class, there were growing pains as everyone was trying to figure out how things were going to operate," Courtright shares. "There had been so much work and preparation for our start, but things are always going to happen that are unpredictable."
Even with the unavoidable challenges of being first, faculty and staff banded together with the students to make their three years a success.
"One of the large challenges was not having the senior medical students a year above being able to give advice about clerkships or board exams," says Theuerkauf. "This obviously would lead to some anxiety, but with the aid of our supportive staff, my classmates helped each other through the more trying days of medical school."
Meyer agrees. "I expected medical school to be challenging. The phrase 'trying to drink out of a firehose' may have been said a few times during orientation," she laughs. "But what I didn't expect is the amount of support I had around me as I have been going through this process. I knew I would have the support of my family and friends back home in Indiana. I just didn't expect how much support my fellow classmates, the staff, the faculty and the community would give me."
Experiencing firsts and facing obstacles together ultimately created a very tight group in Green Bay. Meyer, Theuerkauf and Courtright agree that the relationships they each forged were the best part of the last three years.
"I could not have asked for a more dedicated, tightknit and fun group of people to go through medical school with," Theuerkauf says. "Our collective positive attitudes and determination made even the most challenging times memorable."
And then there were his teachers in the field – the reason he was attracted to MCW-Green Bay in the first place. "The Green Bay area physicians were all so excited to have medical students. Their enthusiasm showed and positively impacted the caliber of instruction we received," Theuerkauf notes.
Meyer echoes those sentiments, as does Courtright. "The best part of these past three years is all the relationships I have made with fellow students, preceptors, staff and people in the community," Meyer says. "I think of my classmates as my family."
Says Courtright, "First, I have amazing classmates. We grew quite close the first year because we were the only students around. Second, the faculty and staff are unbelievably supportive. They have been a shoulder to cry on, a sounding board for existential crises, encouragers, advocates and cheerleaders during my years here. I am so unbelievably grateful for the support I have gotten and the relationships I have developed."
While they have only a few weeks left to wait before finding out what's next – Match Day is March 16 – they each have goals to serve the kind of community they come from and have learned in. Courtright plans to practice full-spectrum family medicine in a smaller community, Meyer wants to open a general pediatric practice in a rural community one day, and Theuerkauf is interested in working with the medically underserved through internal medicine as well as public health and policy.
And they all feel prepared, thanks to the faculty, staff and their classmates at MCW-Green Bay.
"Whether being in the clinics and hospitals, or in the classroom, I have had the opportunities to have one-on-one attention with faculty, which has greatly expanded my knowledge," concludes Meyer. "And I know that through my time here, I have made lasting relationships with classmates, faculty and staff that I will carry with me going forward."
As warmly expressed by Matt Hunsaker, MD, founding campus dean of MCW-Green Bay at the 2015 White Coat Ceremony honoring the inaugural class, "We have chosen you and you have chosen us, and we are excited to be building the future together…I am confident that you are the embodiment of our hopes for the next generation of physicians."
Strong Support for Scholarships
Thanks to donors, MCW-Green Bay exceeded the Green Bay Packers Foundation's matching gift challenge to build scholarship funds for our local medical students. This outstanding opportunity began to build the scholarship endowment for MCW's regional campus and will be a permanent resource to benefit Titletown's medical students now and in the future. Donations were received from MCW alumni, physicians, community members and other foundations. Since July 2015, nearly $1 million has been designated to scholarships for the MCW-Green Bay medical students.
MCW is grateful to donors who established the following scholarship funds to support MCW-Green Bay medical students:
• Dr. Alvin and Helen Brusky Memorial Endowed Scholarship • Bernie and Alyce Dahlin Endowed Scholarship • Friends of MCW Regional Campus Scholarship • Green Bay Packers Foundation & MCW-Green Bay Champions Scholarship • Dr. Wm. David Jones and Mrs. Mary L. Jones Endowed Scholarship • Janet and Charlie Lieb Endowed Scholarship • MCW-Green Bay Scholarship • Helen and George Medich and Medich Family Endowed Scholarship • William Randolph Hearst Scholarships • Richardson Family Endowed Scholarship • Drs. Schmidt Endowed Scholarship • Larry and Rosie Sur Endowed Scholarship • Larry L. and Lois C. Weyers Endowed Scholarship •