From Geometry to Genetics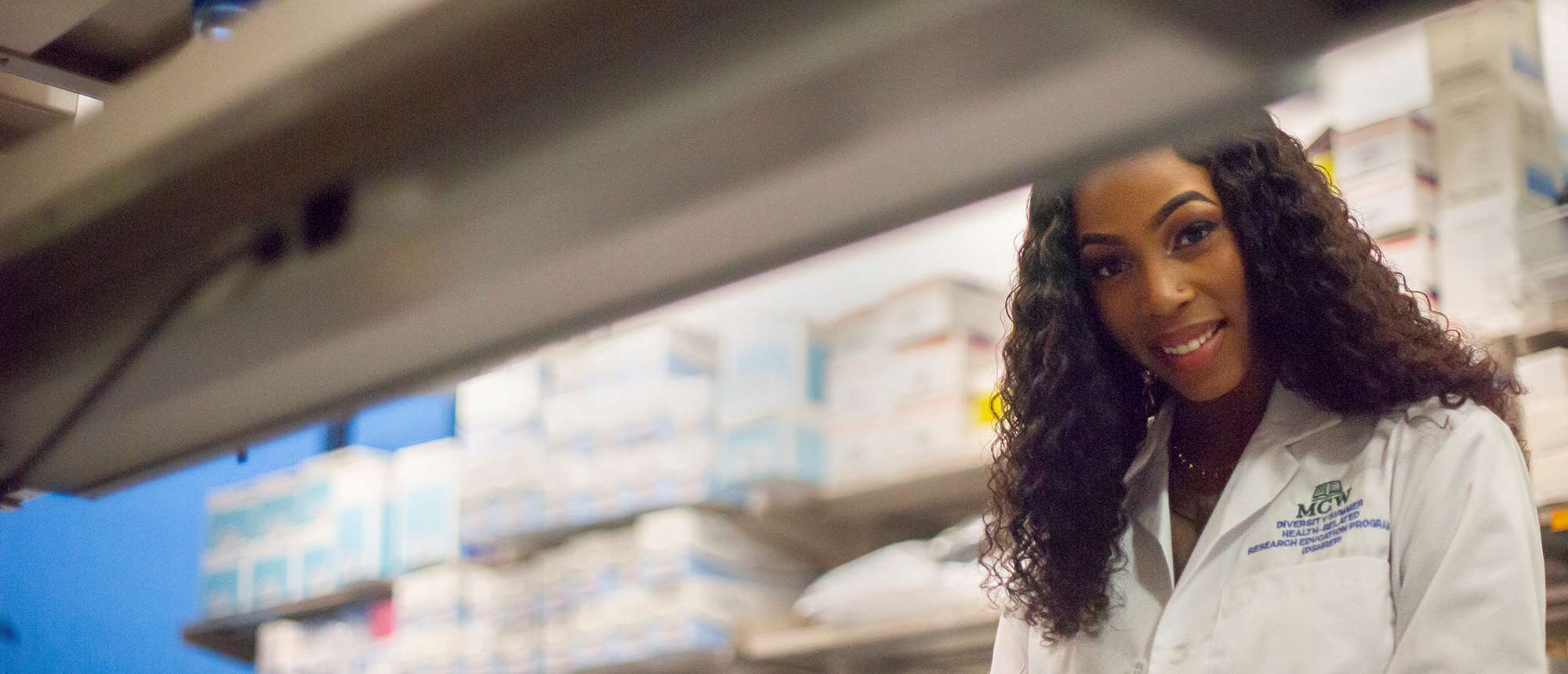 Miracle Powell has spent the last several summers conducting biomedical research and learning about clinical medicine at the Medical College of Wisconsin.
"In the last few summers, I have been able to work in several labs on a variety of complex medical research projects," she notes. "I studied angiotensin II, a hormone that can cause heart failure. In another lab, I worked on researching the link between the BTG2 gene and kidney function with the goal of studying genetic predisposition to hypertension." Someday, Powell hopes her research experience will enable her to lead studies on genetic components of hypertension in African Americans.
But first, Powell wants to graduate college.
Powell was a student at Rufus King High School during most of the time she spent in MCW's labs working alongside medical doctors, researchers and graduate students as she participated in MCW's Apprenticeship in Medicine (AIM) and Research Opportunity for Academic Development in Science (ROADS) programs. The programs are designed to provide high school students from underrepresented backgrounds in Milwaukee Public Schools (MPS) with meaningful experiences in laboratory and clinical settings.
As a college student this past summer, Powell recently completed the Diversity Summer Health-Related Research Education Program (DSHREP) to continue her research. The program series stimulates students' interest in science, medicine and biomedical research. Powell's mentor, Jean Mallett, a program manager in the MCW Office of Student Inclusion and Academic Enrichment, says she knew instantly that Powell would succeed in the program series.
"She has such an intense desire to learn and accomplish what others might view as daunting," Mallett notes. "She proved to be so committed to her development in AIM that I knew she should come back the following year in ROADS and then this past summer in DSHREP. She wants to succeed, and she knows that there are people within her circle that will help connect dots for her."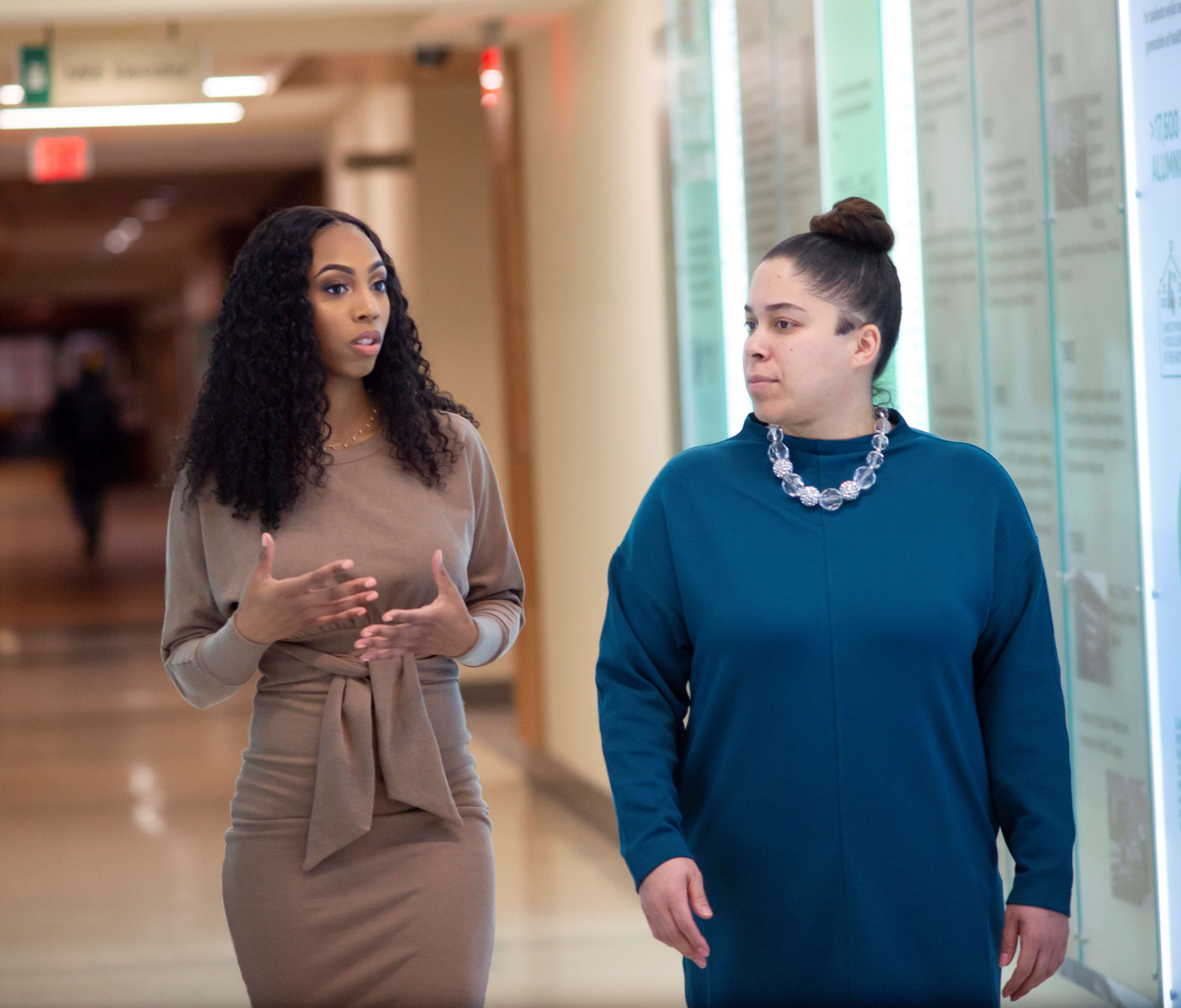 By offering these programs to students from backgrounds that are historically underrepresented in biomedical science, MCW's Office of Student Inclusion and Academic Enrichment aims to promote diversity in the medical field and provide a gateway to clinical careers.
"I have always been interested in science, but having the opportunity to work in a lab opened up my curiosity and scientific interest even more. ROADS opened up a whole new world for me," she reflects. "I love that I get to work with cells, tissues and molecules to see the bridge between research and medicine up close. I have seen that the clinic is about making a diagnosis, and the bench is figuring out why it happens in the first place."
Powell says having the opportunities to work alongside clinicians and researchers has solidified her desire to serve others as a future physician-researcher.
"I always thought I might be interested in medicine, but after I graduated from AIM, I knew for certain," she notes. "The program opened my eyes to so many new things at a young age because it was a hands-on experience. It was exciting to work on real research and know that what we were doing could possibly lead to a diagnosis or treatment."
Powell says being surrounded by doctors and researchers provided her with mentors, role models and plenty of guidance and advice to help her achieve her goals.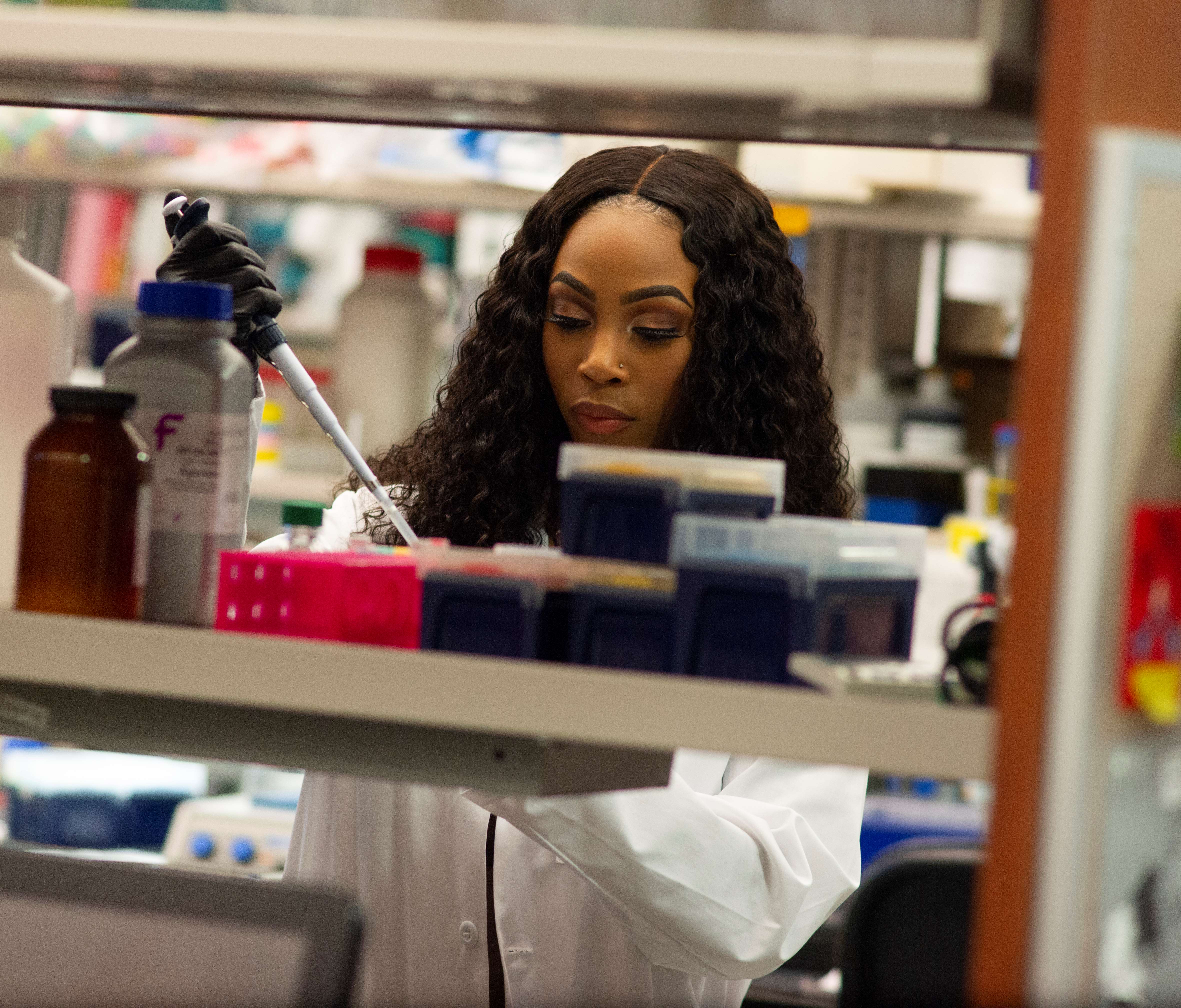 "It was such a valuable opportunity for me to have at such a young age," she reflects. "I have had so much exposure to medicine starting from when I was only 16 years old. I got to see very ill patients and I realized I want to be the person who can help them one day."
Among Powell's goals in patient care is to help promote health equity in underserved Milwaukee neighborhoods.
"I think it is important to come back to the community you came from to help," she says. "Growing up in the types of neighborhoods I did and seeing overpopulated, overcrowded and disadvantaged clinics and hospitals gives me perspective on the need for more physicians and clinics. As an African-American female, not a lot of physicians look like me. I hope to be an inspiration and a leader in my community."
Powell's mentor has no doubt that Powell will someday accomplish her goals.
"We have become very close during our three summers, and I hope to see her back within our programming and ultimately as a medical student," Mallett says. "I am confident Miracle will become a physician. I predict she will be a patient advocate who partners with her patients regarding their care and healing."
Today, Powell is attending the University of Houston studying psychology with a minor in chemistry and plans to attend medical school someday. She has advice for younger students considering going into medicine or MCW's summer programs.
"Take advantage of opportunities, and do not let challenges and detours stop you from pursuing your goals," Powell says. "I had a lot of different obstacles to overcome, but if you are passionate, you keep persevering and you remember your goals, you will overcome any challenge."