From March 2020 to Match 2021: Finishing Medical School During COVID-19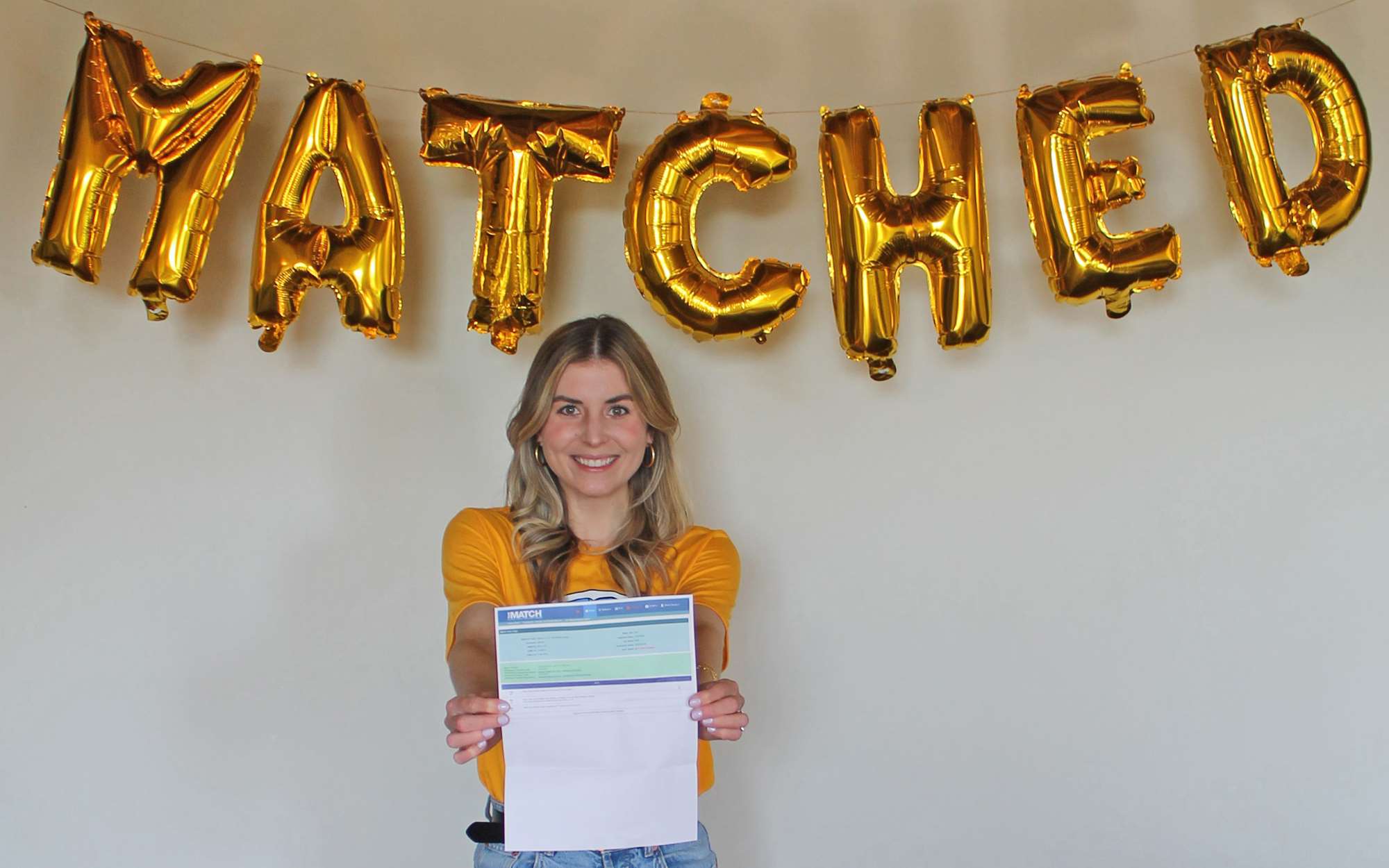 On March 19, Olivia Davies learned she had matched at Massachusetts General Hospital for her Internal Medicine preliminary year and Harvard-Combined Dermatology for her Advanced Residency.
I remember the moment the email arrived in March 2020: "Students: Due to the ongoing COVID-19 pandemic, we regrettably are suspending all patient care during clinical rotations starting tonight, Tuesday, March 17, at 5 pm through at least March 31."
The email went on, sharing logistics and apologies, but I kept coming back to the first line. I don't know how long I would have sat there if not for the stream of incoming texts from friends similarly stunned by the news: "Did you see?" and "What does this mean?" At the time, it felt like an unsettling mix between a childhood snow day and the start of an apocalyptic movie.
March 31, 2020, came and went without a return to campus. Away rotations for fourth-year medical students were called off, Step2 Board exams postponed, academic conferences hectically canceled – all while our hospital case numbers were exponentially rising. It seemed as though my ability to continue to learn and contribute was indefinitely on hold.
Yet I discovered that with the chaos came unexpected opportunities for growth and innovation. One of the first moments during which I recall regaining my footing was when I excitedly boxed up 700 home-assembled masks for the #MaskUpMKE campaign. My apartment was a flurry of circular hole-punch remnants, each a reminder that our remote learning status did not have to mean that we were relegated to the sidelines.
During April 2020, I worked closely with my preceptors to fine-tune a triage plan for telemedicine outreach to elderly at-risk populations, and in May, I finally returned to the wards. Carrying a quart-size container in which to store my N95 mask, a stethoscope and plastic goggles, I felt a palpable change. Jokes fell flat and the ability to mouth words of encouragement during quizzing on hospital rounds was lost. But we adapted. Thumbs-up signs and crinkled eye lines became social currency, and we traded knowing looks as we began to shake off the cobwebs and remember the way it had been.
Summer 2020 brought applications to residency and tips on how to set up the optimal home interview space. And soon, our makeshift kitchen table became a sprawl of keyboards, chargers, ethernet cables and lamps. Pre-interview plotting with my fiancé was the closest we got to airline travel; "You are now free to move about the cabin," I would text, jokingly. And he would, frantically grabbing snacks and coffee during my five-minute breaks, before throwing me a thumbs-up and ducking back into the other room.
Looking back through this past year, I can't help but appreciate the gained insight: stark inequities no longer allowed to be ignored, cherished slow moments at home with my fiancé, chances to step up and reach out to the Milwaukee community, quiet nights reading books and early mornings doing the crossword. Here's to a brighter 2021 and continuing to seek opportunity in the face of challenge.
– Olivia Davies