From Student to Patient to Doctor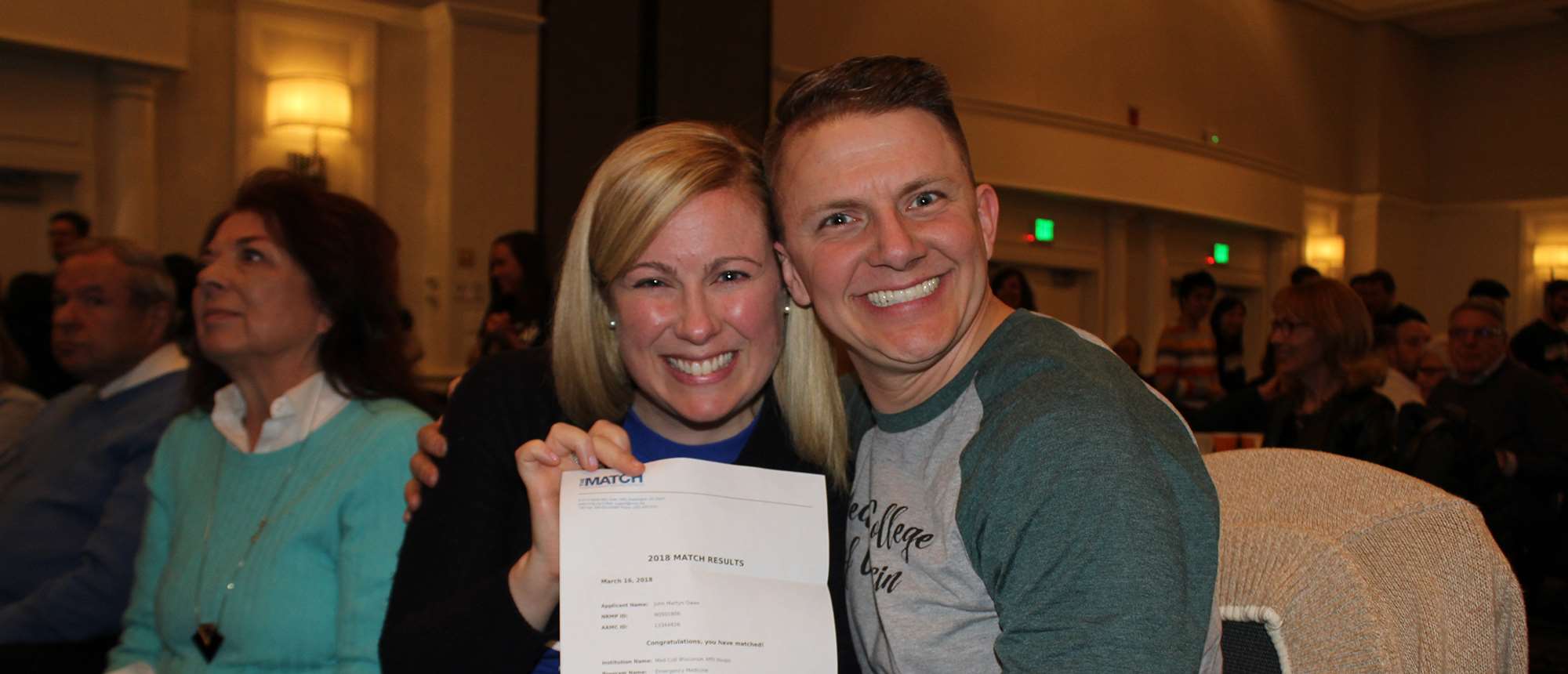 When Medical College of Wisconsin (MCW) fourth-year medical student John Owen ranked his final list of emergency medicine residency programs where he hoped to match, MCW's program, with Froedtert & MCW Froedtert Hospital emergency department (ED) as its primary training site, was at the very top. The months leading up to Match Day – when fourth-year medical students across the U.S. find out where they matched for their postgraduate specialty training – are typically stressful ones for most students. But for John and his wife, Julie Owen, MD, the road to Match Day on March 16, 2018, was full of additional obstacles.
In the decade prior to his fourth year of medical school, John served in almost every clinical caregiver role in the Froedtert Hospital ED. John began there as an admitting registrar and then worked as an ED tech while he attended nursing school. He became an RN in the same department, a role he served until he was accepted to MCW as a medical student just as his wife graduated from MCW and matched into her psychiatry residency.
But less than three years later, John's role reversed. The ED where he once worked was suddenly the department where he became a patient.
"On the last day of my surgery rotation during my third year of medical school, I experienced what I later learned was a grand mal seizure," John recalls. According to his colleagues present, he lost consciousness and had violent muscle contractions for several minutes. John was rushed to the Froedtert Hospital ED, where his former colleagues began treating him immediately. John had no other symptoms indicating epilepsy or neurological conditions, so his care team recommended he have an MRI. John's wife, Dr. Julie Owen, was at work when John called and asked her to meet him at the hospital so they could be together when they heard the results. It was March 16, 2016.
"John had just started his pediatric rotation and received news from his doctor that John should come over to Froedtert Hospital on his lunch break to talk over his MRI results," Dr. Julie Owen remembers. "That's one of the big 'tells' of medicine, right? Good news they deliver over the phone; bad news constitutes a meeting. I remember so distinctly as I walked briskly through the parking garage to meet him for the appointment thinking, 'Our lives are going to change today.'" John's neurologist, MCW Associate Professor Chad Carlson, MD, met them to discuss the results.
"When he first pulled up the image and I saw the tumor in my brain, I remember my first thought was, 'Damn, that's big,'" John says. "I couldn't process what he was telling me; I just heard Julie start to cry and felt her squeeze my hand. The first words out of my mouth to Dr. Carlson were, 'Am I still going to be able to be a doctor?' Looking back, I should have asked more, but Julie and I had both worked so hard for this goal. I wondered if I could still do what we had been working so hard for me to do."
John and his wife say the rest of the day as a blur. Over the next few hours, they met with his care team, including neurosurgeon Wade Mueller, MD, and neuro-oncology subspecialist Jennifer Connelly, MD, both MCW faculty, to discuss a plan. Together, they decided John should have surgery to remove what they determined to be a moderately aggressive brain tumor as soon as possible. John had to drop his pediatric rotation for his surgery, post-op recovery and six weeks of radiation. Afterward, his re-entry into clinical rotations coincided with the initiation of chemotherapy. John's care team enrolled him in a randomized clinical trial for chemotherapy treatment, and he took a three-drug regimen from July through November 2016.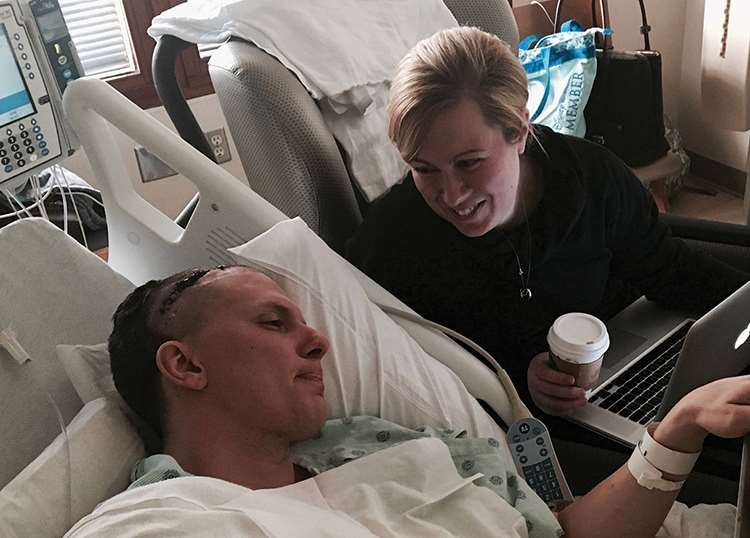 "When I re-entered my rotations in July, I was experiencing nausea and profound fatigue from chemotherapy. After morning rounds, I was completely spent," John says. "During my rotations and all the way through November, I would often be sick while I was working, then go home and try to get as much rest as I could get." John never took a day off, but he was rushed to the EM twice to receive anti-nausea medications and IV fluids. John says MCW's student support and his goal to work as an ED physician helped him push through the difficulties of balancing treatment and his clinical rotations.
"Through it all, MCW's program was extremely supportive and gave me as much time as possible," he says. John worked to maintain high grades and board scores, and continued to work part time as an ED nurse so he could be competitive for the ED residency match, but the typical stressors of medical school combined with his difficult recovery period were often overwhelming. Then, John learned he had not passed his second round of board exams.
"It was a horrible blow," he says. John ultimately had to extend his medical school training by one year because of the treatment, but has no regrets. He was determined to match in an ED residency, so he applied to many schools but ultimately received only five interviews. He and Dr. Julie Owen discussed a backup plan in case he did not match.
"My biggest fear was that I would not match. It was very stressful," John said. "But we decided, 'No, this is what I came to medical school to do. It's ED or bust.' I guess you could say we bet the farm on matching."
The Owens describe the weeks before Match Day as stressful and emotional. Both hoped to stay in Milwaukee and pursue their medical careers together in the city and medical center that had become like a second home.
"We have had every major milestone of our married life here at MCW," Dr. Julie Owen says. "I completed my medical training here, and now John finished medical school here also. Through it all, there were many people who have been intimately involved in all of it, from the MCW department of students affairs to the department of psychiatry. We've experienced everything together here from the birth of our son to John's diagnosis and treatment, to all our training. Leading up to Match Day, it felt like we had been living in survival mode for the last few years and were finally ready to look forward to the future."
John was relieved when he received an email the Monday prior to Match Day notifying him he had matched in an ED residency. But he still did not know which program had accepted him. On March 16, exactly two years after receiving John's diagnosis, they gathered with the rest of his classmates to find out if he had matched to his top choice.
"I opened the envelope, and without me having to say anything, Julie knew by the look on my face we had matched here," John says. "To look at that paper and see I had matched at the Froedtert & MCW ED and accomplished our dream was surreal. I felt like a 60-pound weight was finally lifted off our backs."
John says he looks forward to serving his role as a physician in the ED that has become an important place in his life: "Matching into the ED here feels like I'm staying home. This ED was my first introduction to patient care. They taught me everything, from how to put in IVs to making me proficient in Foley catheters. I have learned everything I know about taking care of patients from these people, and I feel honored to be able to continue treating patients here as a physician."