Going Places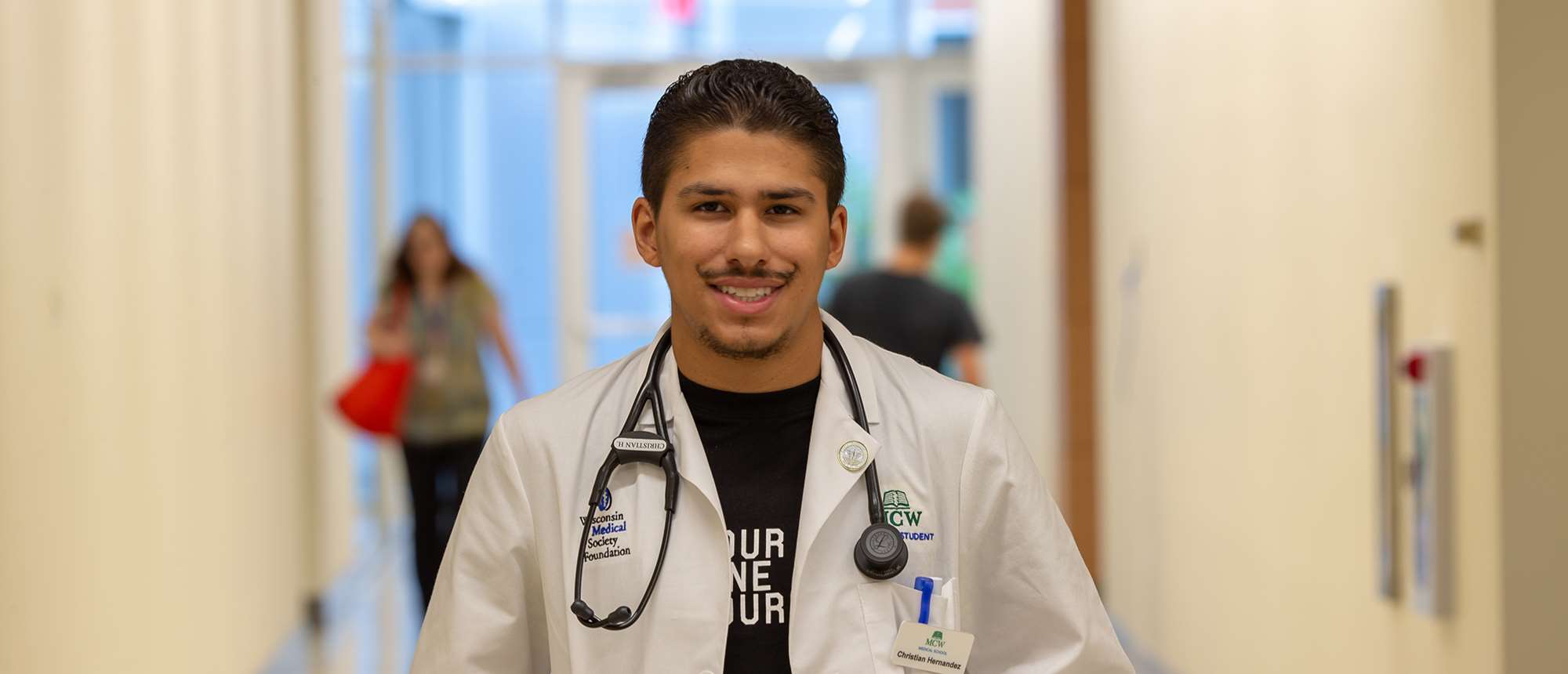 Although he spent most of this past summer 4,000 miles from Milwaukee in a rural village in Panama, Christian Hernandez, a second-year medical student at the Medical College of Wisconsin (MCW), felt right at home.
"I never felt like I didn't belong; I was welcomed everywhere I went," Hernandez says.
Hernandez was in the Central American country of 4 million residents participating in the Dr. Elaine Kohler Summer Academy of Global Health Research, a signature program of the MCW Office of Global Health funded by the John Michael Kohler Family Foundation. He conducted research on the disease leishmaniasis, commonly referred to as "lesh," under the guidance of Nathan Gundacker, MD, assistant professor of medicine (infectious diseases) at MCW who has a collaboration with the Gorgas Memorial Institute for Health Studies in Panama.
Lesh is treated by a series of 40 shots, administered over 20 days, Hernandez says. Such a long and painful treatment method presented major obstacles for locals, who sometimes had to walk two or three hours to treatment centers.
Hernandez was there examining treatment protocols, including whether locals were following through with the shots, as well as learning how the clinic functions.
"The work Christian was able to do in Panama contributed greatly to the body of knowledge on the local epidemiology of leishmaniasis," says Dr. Gundacker. "Christian exemplified what an ambassador of MCW should be when in the community. He was adored by everyone in the rural Panama clinic and had an incredible ability to develop a rapport with patients and clinic staff."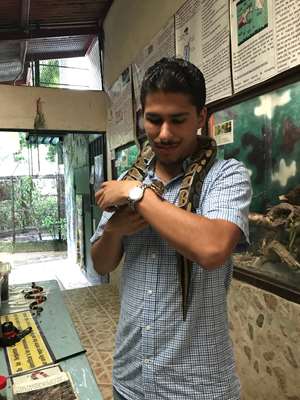 Hernandez also conducted research on perceptions of venomous bites, most from the "equis" snake, one of the largest and most deadly in Central America. His research guide on that project was the town's "serpentario," Mario Urriola, a local biologist known for his expertise on snakes.
"He taught me about the deforestation that is occurring in Central America and how he sees his role in rescuing animals from this process. It was a life-changing experience for me," says Hernandez, who also researched scorpion stings.
The experience was something Hernandez would have a hard time imagining back when he was a freshman at the University of Wisconsin-Madison, struggling both in school and to find his place in an unfamiliar setting.
"Being first-generation from a family of immigrants, you recognize the sacrifices your family made to get you there. There's significant pressure to not fail," reflects Hernandez.
Hernandez, who grew up on Milwaukee's South Side, was underrepresented as a Latino student at the school. And he was studying biology, which reduced the pool of students with similar backgrounds to him even more.
He was able to break that isolation, he says, by creating academic spaces, finding mentors and joining the Latino Medical Student Association while still an undergrad. Today, Hernandez serves on the organization's Midwest Executive Board and as the Co-President of the MCW chapter.
Along the way, Hernandez has worked with groups of men in Milwaukee on issues regarding gender-based violence. He developed a curriculum for violence prevention as part of a project he proposed to the National Medical Fellowships Diverse Medical Scholars Program. The United Health Foundation funds this project. He also has kept busy by mentoring students in MCW's StEP-UP (Student Enrichment Program for Underrepresented Professions), a competitive academic-year program that's geared toward underrepresented youth, many from Milwaukee.
"I like to remind them that although they may not see many people that look like them in the field, we are here, and they can make it too," he says.
Hernandez's family works in the field as well. His brother Ruben is a registered nurse at Froedtert, and his father, whom Hernandez convinced to go back to school while he was an undergrad, is a licensed practical nurse. But it was his mother, who worked as a custodian at St. Luke's Medical Center in Milwaukee, who first introduced Hernandez to the medical field, albeit in a nontraditional way.
"I remember spending nights on the hospital floors as my mother worked third shift to be able to care for us during the day while my father worked in a factory making brake parts. It was the first time I was exposed to the medical field," recalls Hernandez.
The busy Hernandez also has been working with a group of students and faculty at MCW to launch a series of four events celebrating Latino culture. Their first event was held in September to celebrate Hispanic Heritage Month. The group is also coordinating a program on domestic violence awareness and its intersection on immigrant and refugee health at an event in early October.
Another purpose of the events, which will be held on campus, is to increase awareness of the diversity and culture of Latinos, and for those who are Latino, to help them gain an increased sense of belonging and recognize they have a family here, Hernandez explains.
"Christian's work in Panama and here in Milwaukee is unequaled, and I truly enjoyed my time with Christian and think he has a bright future in medicine," says Dr. Gundacker.
For Hernandez, that goal is to practice either emergency or family medicine. And he knows he's found his place, whether it's with his community on the South Side of Milwaukee, on campus, or other places near and far, including Panama.
"The work I do keeps me motivated. It gives me the opportunity to become a part of something bigger and to help create academic spaces where people can express themselves, and feel welcome and accepted like the people of Panama accepted me," he says.