Innovative Program Helps COVID-19 Patients Find Comfort with Music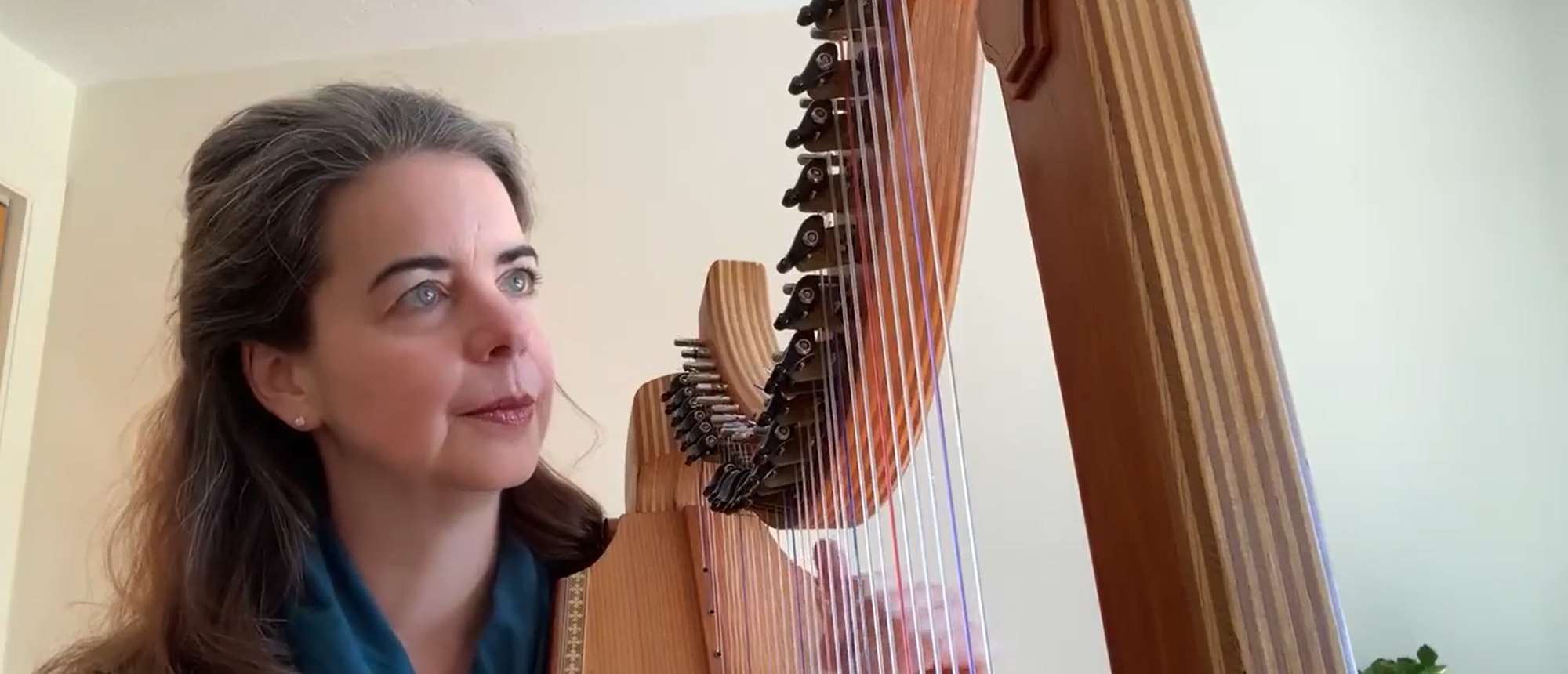 Like many medical professionals and others in the early stages of the pandemic, Jennifer Mackinnon, MD, an internal medicine physician at Froedtert & the Medical College of Wisconsin Froedtert Hospital, experienced feelings of helplessness for those who were suffering from COVID-19.
"I felt like I couldn't do enough," says Dr. Mackinnon (pictured right), who is also an associate professor at MCW. "It was really affecting me when I was thinking about patients in the ICU all alone because they couldn't see their loved ones."
She pondered ways to help them, knowing COVID-19 had pushed activities that were typically done in person to online settings.
"I was thinking there has to be a way to use music to offset some of this virtually," she says.
So Dr. Mackinnon, who earned a master's degree in harp performance from Northwestern University before entering medical school, tweeted Jennifer Hollis, a well-known music-thanatologist based in Boston. She asked Hollis if she could help bring music to COVID-19 patients. Hollis, who, like other music-thanatologists, plays harp and sings at the bedside of patients to provide end-of-life-support for them and their families, saw Dr. Mackinnon's tweet as a sign.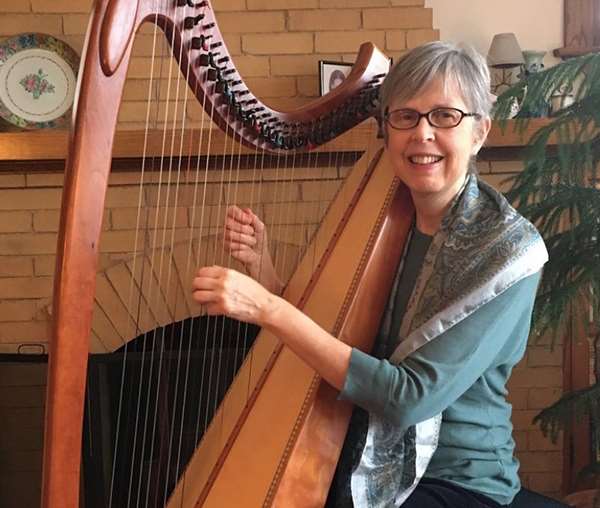 "This is how we can move forward," says Hollis, adding that at the time harpists and music thanatologists had limited opportunities to play with concert halls and hospitals closed to visitors due to the pandemic.
"So I reached out to the community of harpists I know and invited everyone to start talking," Hollis says.
A group of music-thanatologists and other therapeutic musicians based across the country, and some internationally, came on board, and plans to play for COVID-19 patients were set into motion in April 2020.
They called the program Harps of Comfort, and it is now a fiscally sponsored project of Community Initiatives. Their goal was to offer live music, via WebEx or Zoom, to COVID-19 patients, their loved ones and frontline caregivers. They decided to play for COVID-19 patients in Froedtert's Cardiovascular Intensive Care Unit (CVICU), many of whom were in isolation, on ventilators or even on extracorporeal membrane oxygenation (ECMO) machines. Since September, they've played 125 sessions. Funded by donations, Harps of Comfort offers music at no cost to patients.
Jennifer Popies, MSN, RN, CCRN, ACNS-BC, the clinical nurse specialist for Froedtert's CVICU, worked with bedside nurses to help select patients for those sessions and to secure permission from patients and their families.
Popies views the music sessions as another level of care for patients.
"It's a way to offer comfort and symptom management in a different way," says Popies, who brings a charged iPad to front line RNs for set up at the patient's bedside so that the harpists and patients can see each other. "Their breathing patterns are eased; some patients that otherwise were awake and restless have been able to fall asleep while they're being played for."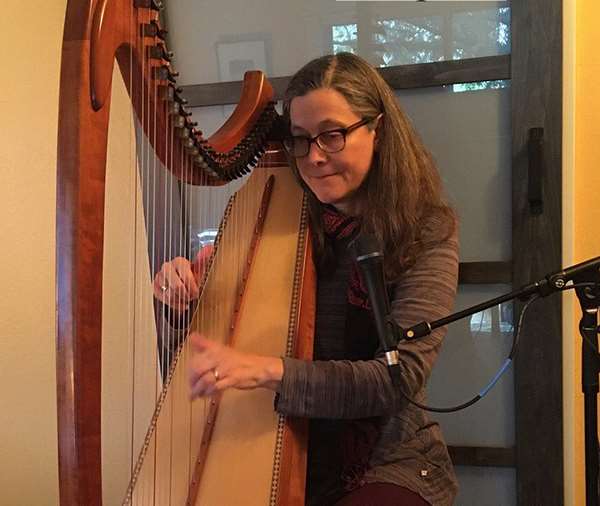 Monday to Friday, noon to 5 p.m., the palliative musicians are available to play for patients, who now have something to look forward to on most afternoons.
"Those that are awake get used to it and get excited," Popies says. "We have had family members of other patients who require sedation still say they saw it lower their loved ones' blood pressure, improve their breathing – anything that helps to ease the suffering of their loved ones."
Sadly, there has been some heartbreak along the way, as several of the patients who received music sessions did not survive their illness.
"When I break the news to the harpist, there's been tears on the other end of the phone," Popies says. "They also reassure me, 'We know this happens. This is the work we do. We're grieving also.'"
Others progress in their recovery to the point where they no longer need the sessions, she notes.
The group hopes to eventually conduct research on the benefits of the program and has submitted an abstract to present on the project in the fall. Harps of Comfort also hopes to expand the program and bring the sessions to a broader audience. They have presented to a hospital team in Montana and will also potentially play for residents of some nursing homes.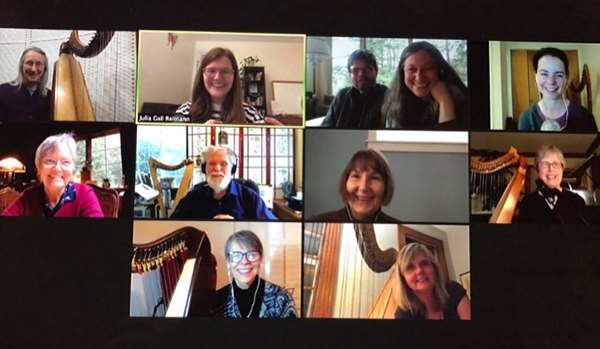 The idea is to bring music, which Hollis, Popies and Dr. Mackinnon know has the power to heal and bring comfort, to as many people as possible using tools they've learned during the pandemic.
"It actually doesn't matter where the patient is. We can support them and provide music no matter where they are," Hollis says.
Using music as a tool to heal is something Dr. Mackinnon became familiar with long ago. Dr. Mackinnon, whose father was a physician, learned to play the harp as a child, and she remembers her father having her sister and her play concerts for his elderly patients who were alone.
"They loved it," Dr. Mackinnon recalls. "They would talk about that until the day he retired."