MCW School of Pharmacy Trailblazers Graduate During Unprecedented Times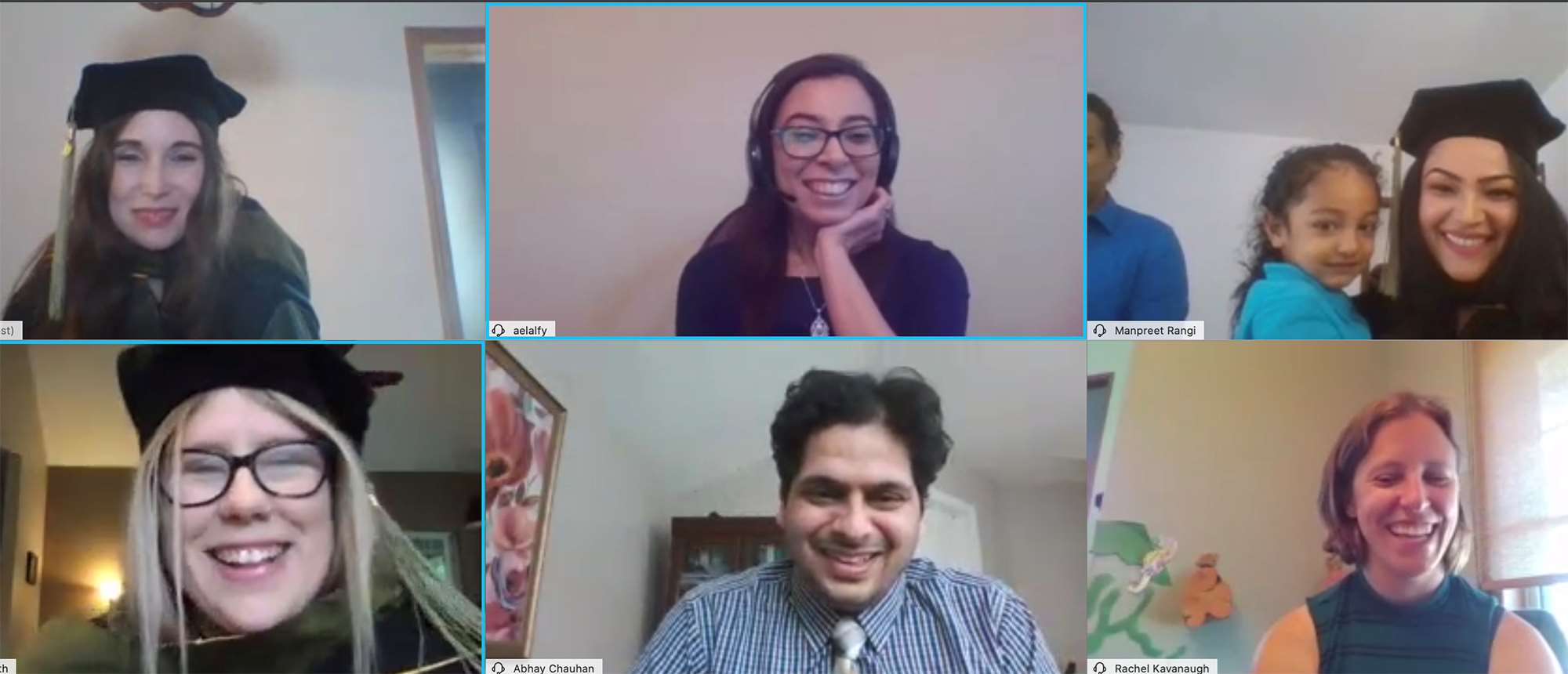 MCW School of Pharmacy graduates and faculty celebrate during a virtual hooding ceremony in May 2020. (Top row, l-r) Shawnee Klatt, PharmD; Abir T. El-Alfy, PhD, MS; Manpreet Rangi, PharmD. (Bottom row, l-r) Lauren Farnsworth, PharmD; Abhay Singh Chauhan, PhD, MPharm, BPharm; Rachel Kavanaugh, PharmD.
The MCW School of Pharmacy's Inaugural Class of 2020 graduated with their Doctor of Pharmacy (PharmD) degrees and are stepping forward to serve the community in a variety of different practice areas in the midst of the COVID-19 pandemic. Although unable to hold traditional in-person gatherings, MCW hosted multiple virtual ceremonies to honor its first 41 PharmD graduates.
The MCW School of Pharmacy held small group hooding ceremonies online during the afternoon of Thursday, May 21. The founding dean of the MCW School of Pharmacy, George E. MacKinnon III, PhD, MS, RPh, FASHP, shared remarks with the students before they hooded themselves, or were hooded by an individual with whom they live, and then recited the Oath of a Pharmacist.
"The MCW School of Pharmacy has grown since its inception in 2017. I am proud to see the hard work and dedication of all of the faculty and staff come to fruition with the commencement of our first graduates. The members of the Inaugural Class of 2020 have already accomplished much as the pioneering class of our innovative program," says Dr. MacKinnon.
On the night of May 21, the MCW School of Pharmacy held a virtual Celebration of the Inaugural Class event. MCW leadership, faculty and students delivered speeches to the graduates and their family and friends. John R. Raymond, Sr., MD, president and CEO of MCW, shared his gratitude to the class for helping to advance pharmacy education. "You are our hope for a bright and promising future in the profession of pharmacy, and I am deeply grateful to you and very proud of your accomplishments," he remarked.
"To be part of the inaugural class was a great experience. It's rare to be part of the beginning of something so big. I am proud of the foundation that my class was able to set at MCW, and I am excited to see the program grow and succeed in the future," says Gary Karagodsky, PharmD '20, who will be starting a residency program with a focus in ambulatory care at Marshfield Health System in Marshfield, Wisconsin.
On Friday, May 22, 2020, MCW held a Commencement Ceremony for the graduates of all its schools. Dr. MacKinnon reminded the pharmacy students of the unique route they have taken as the first to experience the School of Pharmacy's innovative curriculum. "The path you have taken has not been journeyed upon by others," he said. "You accomplished what less than 10 percent of all pharmacy graduates will have done this year, or in the world: completing your PharmD degree in three years as opposed to four years. You completed more Introductory Pharmacy Practice Experience hours than any other PharmD program in the country. You were concurrently enrolled in a two-year course called Scholarly Pathways with medical students that is not replicated in any other medical school or pharmacy school in the United States, and for that matter, the world."
The MCW School of Pharmacy Inaugural Class are trailblazers who have paved the way for the classes that follow them. "Being part of the inaugural class is definitely an honor and something that has prepared me to step up to be a leader and a pharmacist of the future," says Alexander Thorp, PharmD, who will be the first pharmacy resident at the University of Illinois-Chicago, Rockford campus. The pioneers of the Inaugural Class also will be the first graduates to embark on their careers during the midst of a worldwide pandemic and will help define their profession's expanding role in healthcare.
Erik Everton, PharmD '20, who will be moving on to a Clinical Science & Study Management Fellowship with the Rutgers Pharmaceutical Industry Fellowship Program and Merck in New Jersey, shares, "The role of the pharmacist has been described as diverse and continuously evolving. This pandemic has done nothing short of show how true that is. There are testing sites to get the accuracy of COVID-19 cases run by pharmacists, there are ICUs and emergency departments where COVID-19 patients come in and are given care by pharmacists, and there are pharmacists working on the production of a vaccine to end this pandemic and return life to a comfortable state."
He adds, "These are just a few places where pharmacists are diverse and crucial for getting us through this. These examples do not include many other pharmacists who are working the front lines to ensure continued health of their communities across the country."
Emily Hansen, PharmD '20, is unsure of how the COVID precautions will impact her residency but feels prepared due to her MCW experience. "MCW prepared me to take healthcare situations in stride and to adapt my learning to the experience presented. I was exposed to telehealth during my didactic work, so I was able to transition into this method of learning easily," notes Dr. Hansen, who will be starting a residency with a focus in pediatrics at Children's Wisconsin.
Arslan Aslam, PharmD '20, who is beginning a health-system pharmacy administration and leadership residency at Advocate Lutheran Hospital in Park Ridge, Ill., agrees that MCW has prepared his class well. "I know the Class of 2020 will represent MCW well as we enter this next phase and become pharmacists of the future," he says.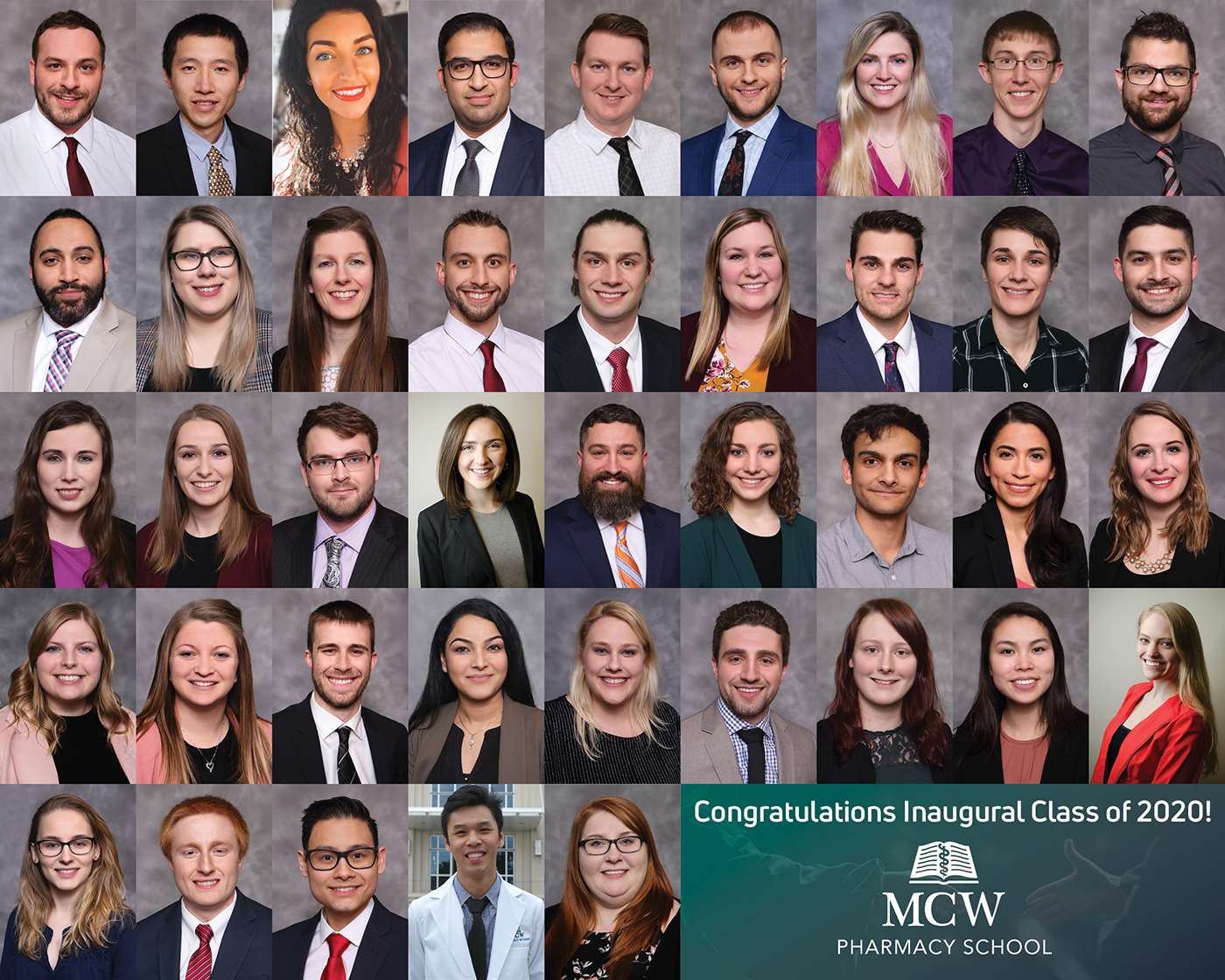 Where are Graduating MCW Pharmacy Students Going?
72% postgraduate training match rate*
21 students (51% of the class) are continuing on with postgraduate training in the following states:
Wisconsin – 11
Illinois – 4
New York – 2
Arizona – 1
Florida – 1
North Carolina – 1
New Jersey – 1
20 students are pursuing employment opportunities.
*The American Society of Health System Pharmacists reported a 63% national average match rate for pharmacy schools in 2020
– Michelle Schaefer