MCW Students Use Television to Address Health Disparities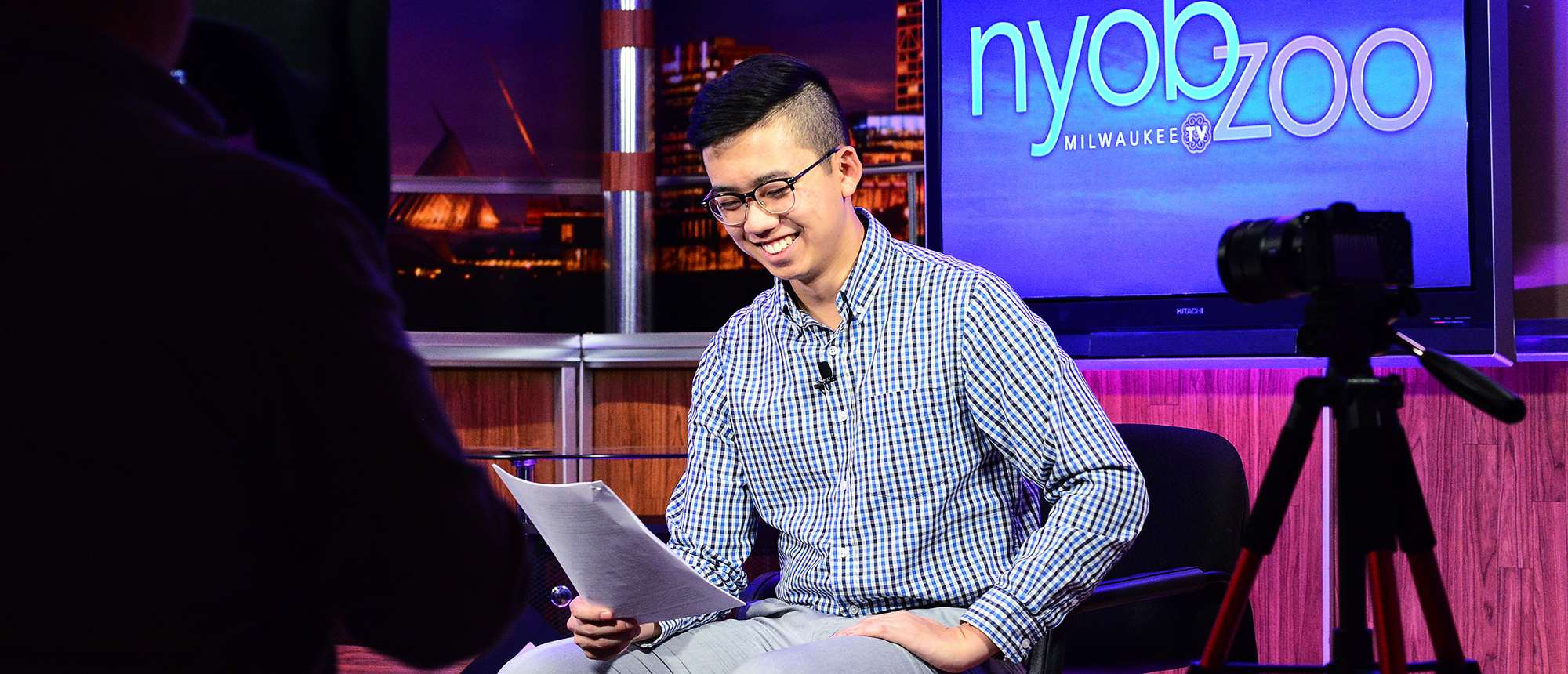 Students in the Medical College of Wisconsin (MCW) chapter of the Asian Pacific American Medical Student Association (APAMSA) are partnering with a Milwaukee-based television program to address health disparities in Milwaukee's local Hmong community. Students discuss health topics during a segment on WMLW-TV's monthly Nyob Zoo Milwaukee TV, a local program targeting the Hmong population in Wisconsin that airs every last Sunday of the month. So far, the health segment has received over 24,000 live household viewers in southeastern Wisconsin and northern Illinois and over 50,000 views on social media. MCW APAMSA students hope the segment will help improve health education in local underserved Hmong communities.
"APAMSA is a national organization whose members are interested in addressing Asian American health disparities and helping our medical colleagues understand how to best care for these communities in a culturally sensitive manner," says medical student James Wu, former executive board member of MCW's APAMSA chapter. "The Hmong population is the largest Asian minority group here in Milwaukee, and Wisconsin has the third-largest Hmong population in the United States after California and Minnesota. Because of social barriers, the Hmong population lacks a strong relationship with the medical community. As immigrants, they may not be aware of available resources and how to navigate the medical system. Increased health literacy and improved health outcomes in the Hmong population are extremely important for our local MCW APAMSA chapter to help address."
Wu lists language barriers, delayed seeking of regular or preventative medical care due to cultural beliefs about health and lack of proper health management for chronic diseases as some of the issues the Hmong population faces. Because of this, Hmong Americans throughout the U.S. have higher instances of cancer, diabetes, hepatitis, hypertension and gout compared to other minority populations.
"APAMSA's partnership with the television program is a perfect opportunity for us to provide education tailored for the Hmong community on healthy practices," Wu says. "A big problem with health care and policy in the U.S. is that Asian communities are homogenized as one group. Hmong are lumped together with other East Asian communities who may have higher average incomes and better health outcomes. In fact, they have lower than average health outcomes. The issues they face are often overlooked."
MCW's APAMSA chapter has been working to address these issues for more than a decade. In 2010, MCW APAMSA secured a $30,000 grant from the Association of American Medical Colleges to fund the creation of the Hmong Health Education Program. This education program included free health screenings at the local Hmong Pai Phongsavan Market, interactive sessions at MCW with local middle and high school students from the Hmong American Peace Academy to inspire Hmong students interested in medicine and science, and a radio segment on Hmong ABC Milwaukee Radio exploring relevant health topics with a live Hmong translation.
"The grant gave us the opportunity to create projects and partnerships in the Hmong community," Wu says. "Now, it's about continuing those relationships and engaging our community."
When the radio show ended after a nine-year partnership, APAMSA students sought a new channel to continue the engagement.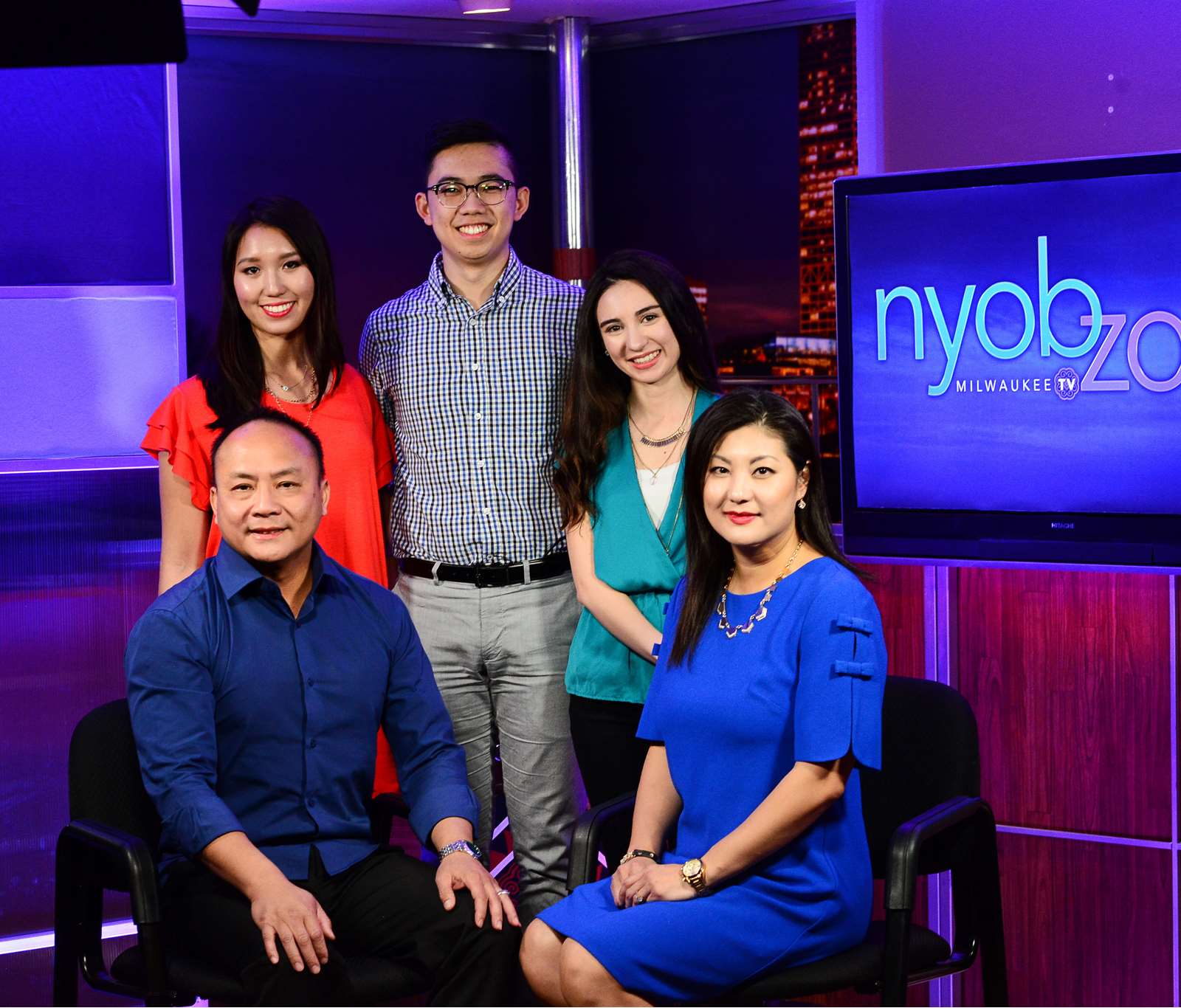 "We did not want to lose the relationships we had created in the community via media engagement, so we pitched a similar health segment to Nyob Zoo Milwaukee TV, and fortunately, the producers shared our passion and excitement for the project," Wu explains. "Nyob Zoo Milwaukee TV was created by Thay Yang (CEO) and Dawn Yang (General Manager) to give Hmong people a positive presence and voice in the community, and the health segment fit within their vision."
MCW APAMSA members identified relevant health topics that affect the Hmong population and developed scripts for the television segments. So far, five segments have aired addressing common questions about high blood pressure, hepatitis B, alcohol abuse, depression and diabetes. Five additional segments are planned for 2019-2020, this time sponsored by Froedtert & MCW.
"The response has been very positive," Wu says. "The producers love the segments, and word about the program has spread among the audience because of the close-knit nature of the Hmong."
MCW's APAMSA chapter has worked hard to be active members of the Hmong community in Wisconsin. Building off the great foundation laid by the 2010 AMA Grant and those initial partnerships, MCW APAMSA has been able to partner with more Hmong community organizations and expand its ability to serve the Hmong community. The members attend local Hmong health conferences and partner with local organizations including the Hmong American Peace Academy, the Milwaukee Consortium for Hmong Health, the Southeast Asian Educational Development of Wisconsin organization, and the Hmong American Friendship Association to provide community health education and free health screenings.
Additionally, the association has worked to increase cultural awareness and help train more culturally competent health care professionals through events at MCW like their annual AAPI Cultural Awareness Fair.
Because of this work, the national APAMSA organization has recognized the MCW chapter with five Chapter of the Year awards. Wu says the motivation behind all of their efforts comes down to one priority: better health outcomes for patients.
"We are studying to become medical professionals because we care about community health," he notes. "Ultimately, the community we are educating now as medical students will become the community we'll be serving in the coming years as physicians. The Hmong community faces many health barriers, but if we can reach them earlier, we are hopeful it will lead to better health outcomes."