Pairing Up to Improve Care
A new program has teamed Medical College of Wisconsin medical students with veterans during the pandemic.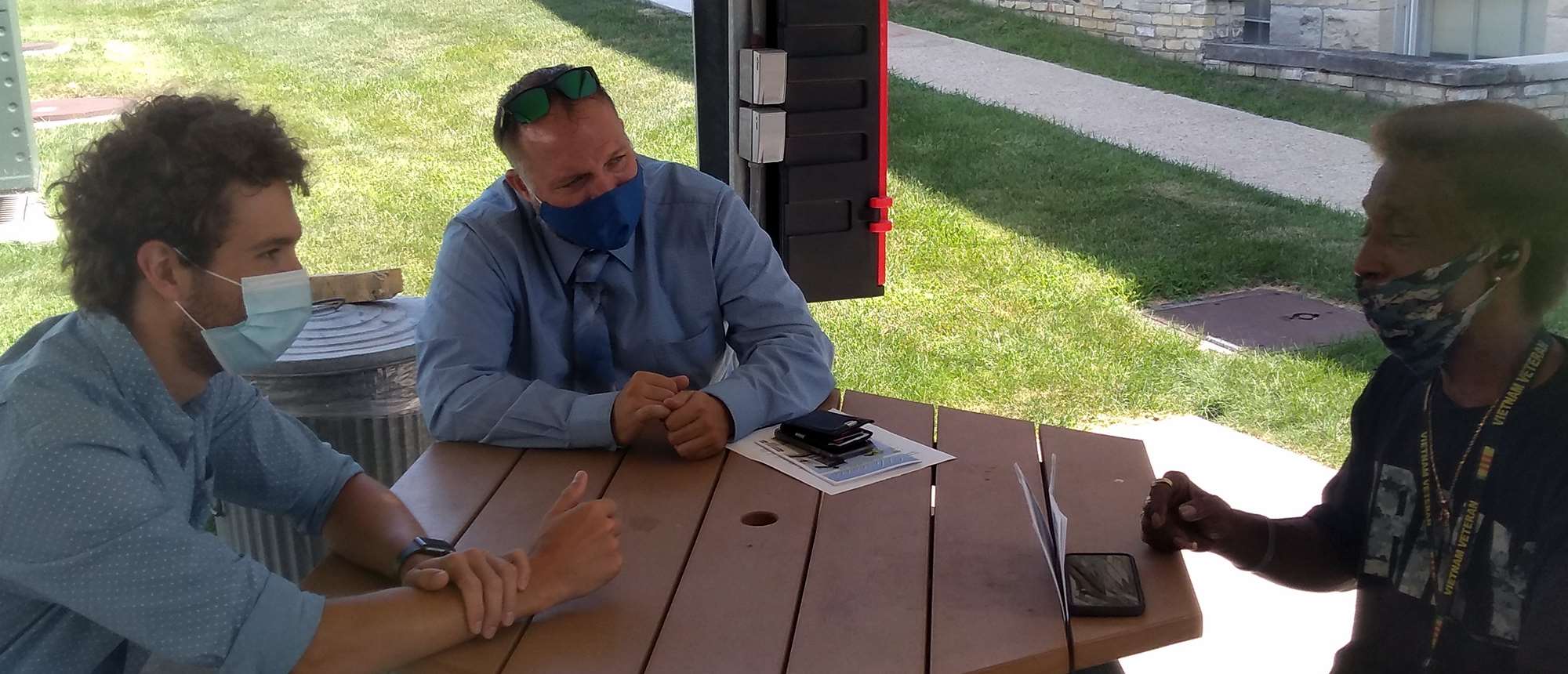 With many in-person rotations, vital to the professional development of third-year medical students, shut down due to the COVID-19 pandemic, members of the Medical College of Wisconsin's Department of Psychiatry and Behavioral Medicine wanted to find a new avenue for students to gain that invaluable experience. So they turned to Michael McBride, MD, MS, local recovery coordinator at the Clement J. Zablocki VA Medical Center in Milwaukee, and a group of veterans to help fill that void.
"This is a critical time in their development," Dr. McBride says of the students completing their psychiatry clerkships. "It's when they learn to ask difficult questions about suicide, homicide, sexual history — awkward questions. But the primary thing they learn is how to build rapport."
Dr. McBride, a commander in the US Navy Reserves, reached out for help to the Veteran's Advisory Council, a group he's worked with for many years. The council also had faced challenges due to the pandemic, which impacted many veterans' ability to seek care and increased isolation, and the members were looking for ways to stay active. When approached about the possibility of taking the lead in a program that would help train students' transition from the classroom to the field, they were eager to get involved.
Prosper Pfannerstill, a veteran and member of the Veteran's Advisory Council, says their group was created to improve the quality of life for potentially suicidal veterans. They're passionate about the care of fellow veterans and knew that helping students learn to work with them would eventually improve their care and that of others.
"We all have a sense that we're helping prepare the doctors of the future," Pfannerstill says. "So selfishly, we're preparing them so they can take care of us, but so they can be better prepared to do so. Honestly it's not just veterans; we're trying to improve everyone's care."
Veterans are an ideal population to help train future psychiatrists because many students will have them as patients once they are in the field. In fact, says Dr. McBride, more than 70 percent of all medical students nationwide will get the bulk of their training in Veterans Affairs hospitals. It's also a population that brings a unique set of challenges. According to numerous national studies, military veterans and active-duty personnel suffer from higher rates of post-traumatic stress disorder (PTSD) than the general population and are also more likely to commit suicide.
Aside from providing experience for the students in addressing the tough and unique challenges they face, veterans are also great trainers, Dr. McBride says.
"They have a very strong passion for what makes a good clinician and what does not," he notes. "The vets give the students feedback on what they can improve on."
One thing that wasn't expected during the veteran-facilitated three-hour weekly sessions was the commonalities the groups shared, Pfannerstill says.
"The independence, the stresses of being a doctor compared to the stresses of bootcamp and going and seeing combat, things like that," he notes. "The horrific things that people will potentially be faced with and taking on a very difficult task."
Finding those similarities and talking about their experiences, whether it was vets talking about their combat experience or students discussing the stress of their training, helped both groups immensely.
"Initially we all thought that we were there for them, and it ended up being therapy for us too," Pfannerstill says.
Armaan Zare, a third-year medical student at MCW, says he learned a great deal during his time in the program, including that caring for veterans requires a keen eye, more effort and, most of all, understanding.
"They've gone through a lot," Zare says. "A lot of patients would benefit from having a clinician who can express empathy, who can share burden; basically, have a high-quality conversation and go beyond."
For Zare, that meant he needed to sharpen his interpersonal skills and be a good listener.
"It's not every day that they can open up and talk about these very difficult subjects. They have important feelings and have likely harbored their feelings for years," he says. "To have a clinician from a younger generation express an interest that can incite a desire to talk more is really special."
Oftentimes, says Pfannerstill, the conversations between medical students and the veterans were eye-opening.
"I've been in that group where a veteran says, 'Nobody has ever said what this student has said to me,'" Pfannerstill explains. "That's a hell of a walk-away for somebody who's a third-year medical student to be having that kind of impact on somebody's life."
Since the program began in July 2020, about 120 students have participated, according to Dr. McBride. Sessions were all conducted following CDC guidelines, first outdoors and then in the cafeteria of one of the outpatient buildings at the VA on West National Avenue.
Organizers are now preparing for a new group of clerkship students who will make their first entry into the clinical world for the 2021-2022 academic year. One goal of the program, which will begin in July, is to measure empathy, something that wasn't always considered when treating veterans in the past.
"The reputation was you could go to the VA and do whatever you wanted to veterans," Dr. McBride says. "It was very dehumanizing."
That standard of care is what pushed veterans including Pfannerstill and others to push for better care, and why programs like MCW's could become models of how to improve training for students and care for others.
"We're proud of what both the students have done and the veterans," Dr. McBride says. "It's really neat to sit back and watch a student and a veteran really get close and talk about what it means to take care of someone."