Pharmacy School Provides New Opportunities for Marine Veteran
Inez Pabian knew at a young age that she needed to create her own destiny and take on a large challenge in order to leave the economically challenged LA neighborhood she called home. Taking a giant leap of faith, the now first-year pharmacy student at the Medical College of Wisconsin (MCW) enlisted in the Marine Corps at the age of 17.
"Growing up, I didn't have much discipline, and education wasn't a priority or focus in my family or in my neighborhood," Pabian shares. "I decided to enlist in the Marines after high school because I felt it was the best option to better myself and my family. I loved everything that the Marine Corps represented, and I also wanted a challenge. I wanted to prove to myself that I could do it."
Pabian's older brother had enlisted in the Army a year prior to her leaving for Parris Island, South Carolina, to complete her basic training. "For both of us, watching the images of the World Trade Center attack had a great impact on us, as it did for many," she reflects. "This was our way to contribute to our country's ongoing efforts in the Middle East."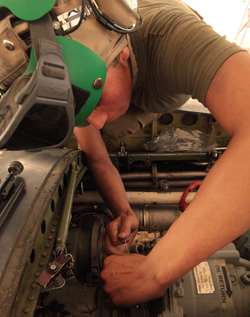 Her five years of service took place primarily in Yuma, Arizona, at the Marine Corps Air Station.
"I was assigned to work as an avionics technician," Pabian explains. "This involved troubleshooting and repairing electrical systems on the AV-8B Harrier Jet." Additionally, she deployed overseas, first with the 11th Marine Expeditionary Unit in the Arabian Gulf and later to Kandahar, Afghanistan.
"Deploying to Afghanistan was very meaningful to me," Pabian says. "Not only was this the culmination of all of the training we received over the previous years, but it also meant a lot to me that I was part of a unit that essentially prepared the jets that provided air support to Marines on the ground – especially as my brother had just finished his tour in Afghanistan a few months before I arrived, and he had been in situations where his unit benefited from the same support."
After her contract ended with the Marines, Pabian began her undergraduate studies at Northern Arizona University (NAU) in Flagstaff thanks to the financial support of the new GI Bill. While at first she didn't know which major she would pursue, she ultimately earned a bachelor's degree in chemistry and biomedical science in 2016.
"I have always had an interest in science, and one chemistry professor's enthusiasm inspired me to pursue chemistry as a degree," Pabian says. "I then decided to double major and study biomedical science to learn more about the applications of chemistry. In fact, it was that professor who encouraged me to work at an immunology and infectious diseases lab at NAU. That was my first exposure to scientific research."
The experience stuck with Pabian, and she decided to pursue a doctorate focused on pharmacology and toxicology.
"I always found it fascinating to learn how certain drugs worked in some of my chemistry courses," she says. "And having focused on research throughout my undergraduate studies, I felt that obtaining a PhD was a natural progression."
While searching for schools that offered a pharmacology and toxicology program, MCW kept coming up.
"After interviewing at three schools, it was clear that MCW was the best option for me," Pabian says.
While Pabian enjoyed her first year at MCW as a graduate student, working with physician scientists piqued her interest in the clinical aspect of their research.
"MCW's PhD program in biomedical sciences offers a year of lab rotations during the first year to expose students to various areas of research before committing to a specific field," Pabian explains. "Towards the end of the first year, I decided to make the switch to the PharmD program."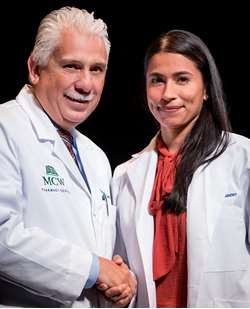 Although MCW's School of Pharmacy is only matriculating its first class, Pabian says she feels very fortunate to have the opportunity to stay at MCW and is confident that it will exceed all of her expectations.
"The faculty and staff have been very involved in our development as we proceed through each session," she says.
Pabian loves that the pharmacy field offers diverse settings that allow her to serve a variety of patient needs. Currently, she's rotating in the pharmacy community setting at Roundy's as part of the experiential program at MCW.
"I really admire how the pharmacist is able to interact with his patients about their medications," she says. "I get a real sense that he truly cares about the well-being of his patients."
Additionally, Pabian is interning at the inpatient pharmacy at Froedtert Hospital and volunteering at the Bread of Healing Clinic, a Milwaukee free clinic.
"I consider myself very lucky to have these opportunities and experiences," she says. "As far as volunteering at the free clinic, not only do I get to practice the skills I've learned in class, such as taking the patients' blood pressures and counseling them on their medications, but I also get to connect with them at a different, more personal level. Being able to give back to the community, communities similar to where I came from, is a great feeling. Even if that just means being able to communicate with some patients in their native language, Spanish."
For now, Pabian is still unsure which specific field she hopes to enter upon completing her doctor of pharmacy degree.
"I am considering a few options," she says. "I have a great interest in learning about psychiatric pharmacy and how we treat veterans with post-traumatic stress disorder. I also have an interest in pediatric and critical-care pharmacy. Of course, I hope that my future rotations and courses will ultimately help me decide what I want to do with my career."