Postgraduate Training is Competitive Edge for Pharmacy Students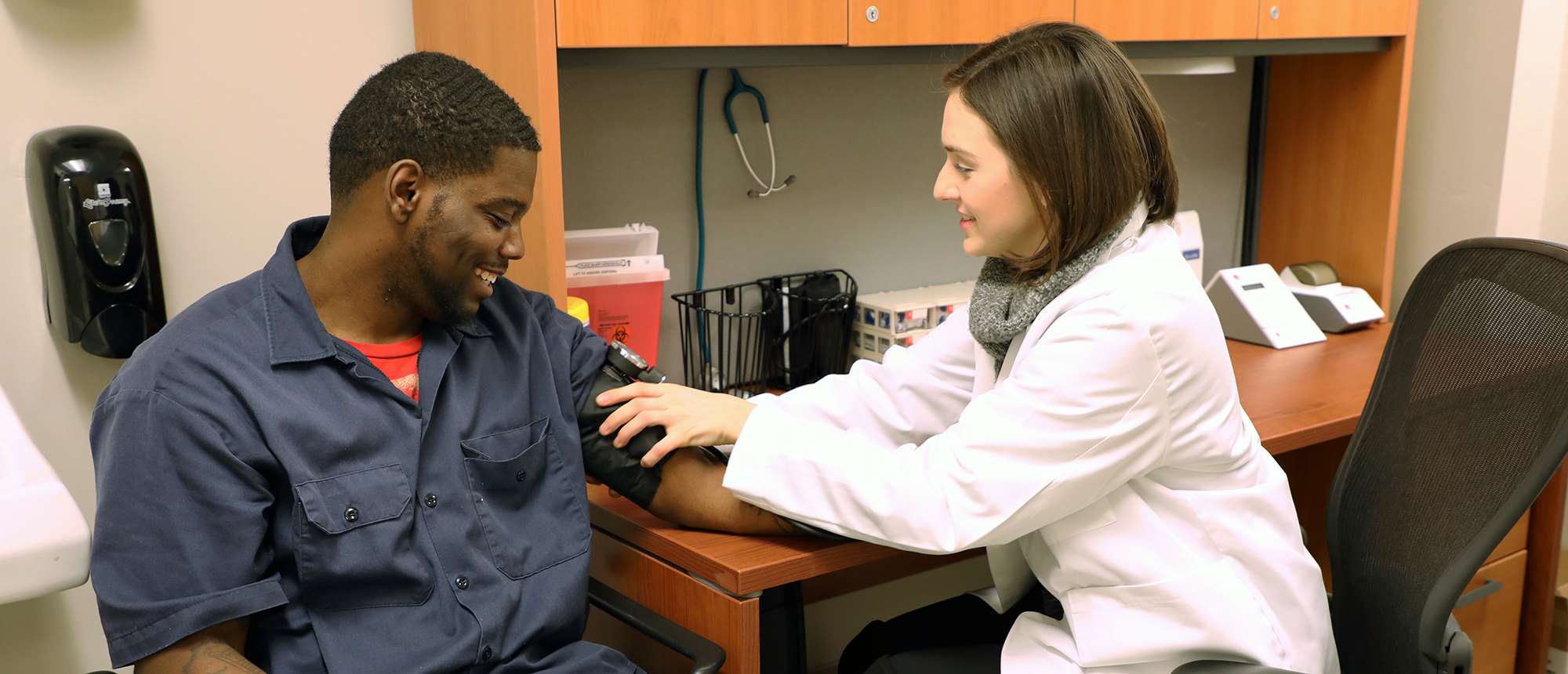 Dr. Dominika Krynicka, MCW School of Pharmacy Class of 2020.
The role of the pharmacist in public health has been transforming and expanding in recent years. As new opportunities have arisen for pharmacists to be involved in the provision of expanded direct patient care, more pharmacy students seeking postgraduate residency training to become more competitive for these roles and to pursue different medical specialties.
"Pharmacy school allows for an incredible opportunity to learn about medication therapies, but residency is the time that allowed me to fully apply my education in a hospital setting," says Dominika Krynicka, PharmD, graduate of the MCW School of Pharmacy's inaugural Class of 2020. "From the perspective of my PGY-2 year, the topics I had learned were only a small focus of pharmacy school. Nonetheless, I was able to develop myself beyond a student or even a clinical pharmacist, but as a pharmacy leader. This transformation would take significantly more time without postgraduate training."
Dr. Krynicka recently completed a Post-Graduate Year 1 & 2 (PGY-1/2) Health-System Pharmacy Administration and Leadership residency at New York-Presbyterian Hospital in New York City. At the end of July, Dr. Krynicka began as a consultant with Visante, a pharmacy-focused consulting firm. "I am looking forward to my new position at Visante, where I will be working with colleagues from Froedtert Hospital and the University of Wisconsin Medical Center," Dr. Krynicka shares.
A pharmacy residency is one of the postgraduate training options for students once they have earned their Doctor of Pharmacy (PharmD) degree. First-year residencies provide additional in-depth pharmacy practice experiences and offer graduates the opportunity to specialize in areas such as emergency medicine, pediatrics, cardiology, pharmacogenomics, oncology, psychiatry and more in subsequent years. In the US, PharmD graduates are deemed to be "practice-ready" per the American Council for Pharmacy Education Accreditation Standards. Thus, postgraduate training is an elective option for pharmacists.
"I would recommend pursuing postgraduate training such as a residency or fellowship," says Arslan Aslam, PharmD, graduate of the MCW School of Pharmacy Class of 2020 (pictured right). "These types of trainings will help advance clinical judgement, enhance teamwork, problem solving and communication skills by working with an interdisciplinary team."
Dr. Aslam recently finished a PGY-1/2 Health-System Pharmacy Administration and Leadership Residency at Advocate Aurora Health in Illinois and has transitioned to an inpatient pharmacy supervisor role with Beaumont Health in Royal Oak, Michigan.
"MCW really prides itself on creating trailblazers for the next generation of pharmacy, and part of this is creating unlimited resources for students who may want to pursue residency. I took the residency prep class when I was a pharmacy student, and it was by far the best thing I did for myself," shares Jennifer Polenska, PharmD, a fellow graduate of the Class of 2020 who completed a PGY-1 residency at SSM Health St. Mary's Hospital in Madison, Wisconsin, and now works as a clinical pharmacist with St. Mary's. "That class gave students everything they could possibly need to jump into applying to residency, rocking those interview days, and ending it all with a well-written thank-you. I was almost stunned when I found out other schools do not offer a class like that."
This year, the MCW School of Pharmacy achieved its highest match rate yet during the annual postgraduate pharmacy match program sponsored by the American Society of Health-System Pharmacists.
Ninety-three percent of residency applicants from the MCW School of Pharmacy Class of 2022 matched, far surpassing the 2022 national average of 77 percent. Of the 41 members of the MCW Class of 2022, 56 percent have gone on to postgraduate residencies and fellowships after graduation.
"All of our students are to be commended for entering what was once again a very competitive year," says George E. MacKinnon III, PhD, MS, RPh, founding dean and professor of the MCW School of Pharmacy. "This is a testament of the MCW School of Pharmacy's innovative PharmD program and the quality pharmacists we are creating – with many intending to fulfill direct patient care roles. We are excited for them in their future endeavors."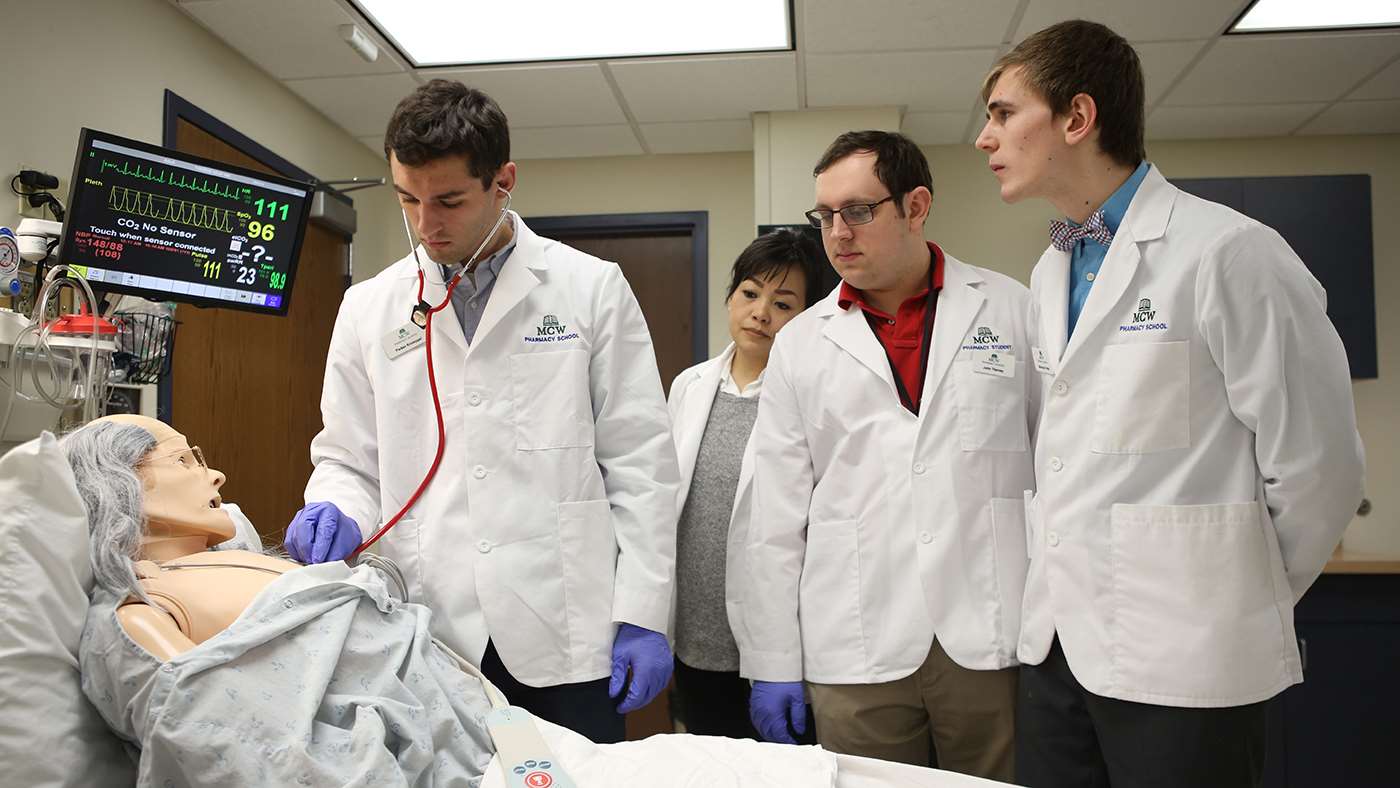 Dr. Parker Knueppel (top left) checks the heartbeat of a simulation mannequin.
The MCW School of Pharmacy is preparing students by educating them to fulfill the expanded role of the pharmacist. The accelerated PharmD program provides students early experiences in a variety of clinical settings that continue throughout their three years of schooling. Students receive training in advanced patient care skills such as physical assessment, point-of-care testing (including influenza or strep throat) and chronic care management that takes place in simulated patient care situations and mirrors real life. Through their educational experience, MCW pharmacy students learn how to provide quality healthcare as part of an interprofessional team to improve the health and well-being of patients and communities.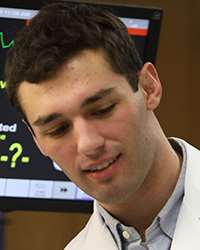 "My experience at the MCW School of Pharmacy was an incredibly exciting and challenging time when I truly felt I was able push myself toward my full potential as a future leader of innovative pharmacy practice," says Parker Knueppel, PharmD '21 (pictured right). "One thing I appreciate most is my role as Pharmacy Student Alliance president, as I helped push forward the development of a new interprofessional student government organizational structure along with MCW's graduate and medical school programs. I also thoroughly enjoyed the emphasis placed on advocacy for pharmacy practice at a legislative level and involvement in pharmacy organizations." Dr. Knueppel recently entered the second year of a combined PGY-1/2 Health System Pharmacy Administration & Leadership residency program at the University of California, Davis Health in Sacramento, California.
Dr. Aslam agrees that MCW's PharmD program and extracurricular opportunities prepared him well. "During my time there, I served as the inaugural vice president of the Pharmacy Student Alliance, helped create the pharmacy student mentorship program and was a member of the LAPPE program at Froedtert Health. I believe that the pharmacy curriculum and my ability to participate in extracurricular activities at MCW prepared me to better manage my time and priorities when transitioning to residency. I also think the interprofessional opportunities with medical students, nursing students and more made me much more comfortable interacting with them as part of the interdisciplinary team," Dr. Aslam remarks.
Members of the MCW School of Pharmacy's Class of 2022 were excited to look ahead to their opportunities after graduation. Brianna Wallace, PharmD '22, shares, "I have a residency lined up with Northwestern Medicine at its main campus in downtown Chicago, and I'll also be at an outlying community hospital for some rotations. This first-year residency enables me to put my foot in the door and to make sure that I explore all my options. My second-year residency will be more specialty-focused. I'm excited to move back to where I'm from and to have some new experiences."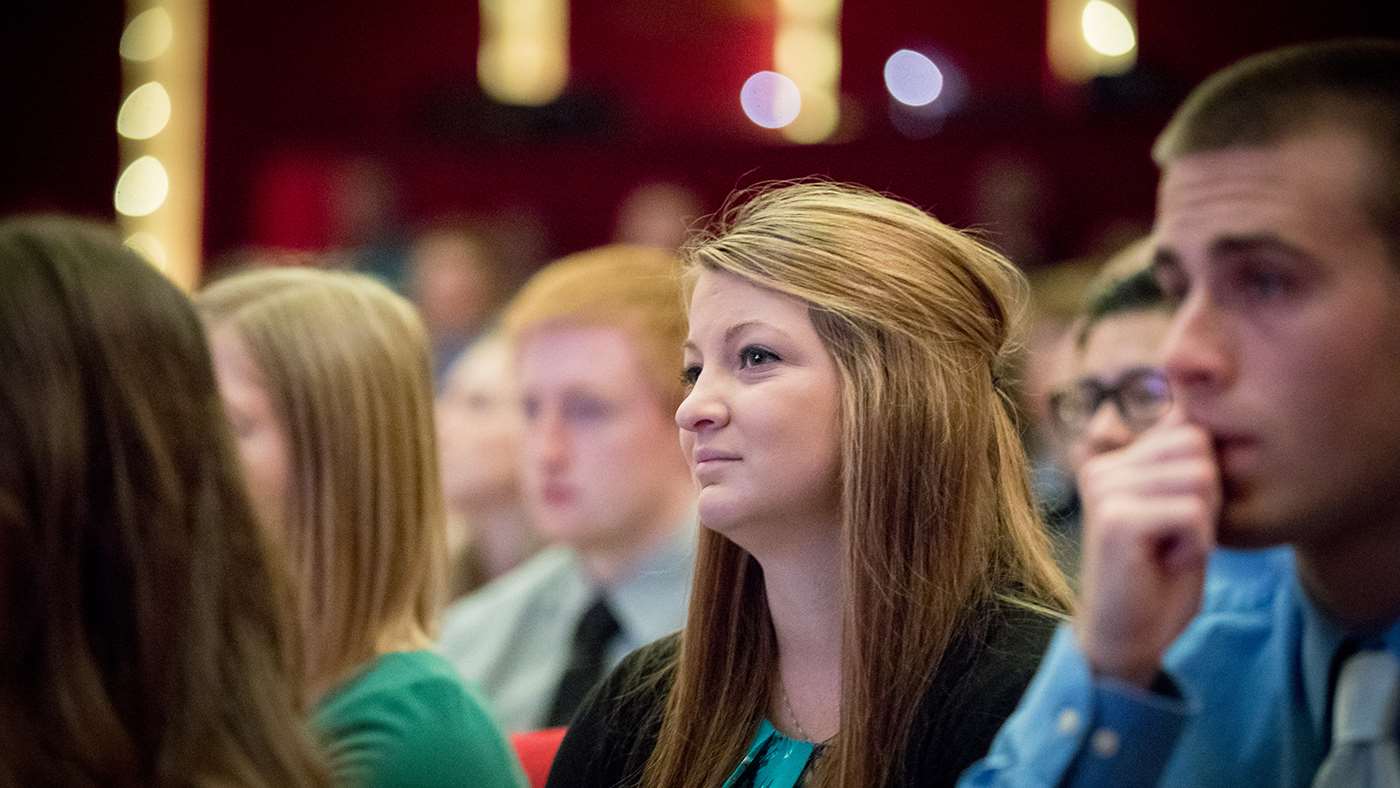 – Michelle Schaefer