Reflections on 30 Years as a Clinician, Educator and Leader

Dr. José Franco is congratulated by Dr. John R. Raymond, Sr., at Convocation 2015.
Jose Franco, MD '90, GME '93, FEL '94
It was August of 1986 – and my first day as an incoming student at the Medical College of Wisconsin. My heart beat a little quicker and my step had a little more bounce due to the excitement of the challenges ahead of me.
Now, as I look forward to my 30-year MCW class reunion, that excitement is still there every time I go to "work" at MCW. What was supposed to be four years in Milwaukee has turned into calling the city "home."
As a graduate of MCW (where I also completed my residency in internal medicine and a fellowship in gastroenterology), I have the opportunity to care for patients, train future physicians and scientists, and take several leadership roles – all while working with a group of colleagues who share my passion. If I had to do it all over again, I would not change a thing.
My training has allowed me to provide hepatology care to patients ranging from those with mild lab abnormalities to those requiring liver transplantation. This is challenging but rewarding work. I greatly value – and never want to forget – this privilege to provide care for others. And I am extremely proud to have cared for some of these same patients for more than 25 years!
While not initially seeing myself as an educator, others saw this potential in me. Mentors such as Drs. Walter Hogan, Mark Adams and the "three Jims" (Cerletty, Zeller and Sebastian) were able to take complex theories and simplify them for students, which inspired me to make teaching a part of my own career. Being around our medical students has kept me young and invigorated. Each day, they challenge me to do better. Over the years, I have been fortunate to receive multiple awards from MCW, but the two I cherish most were both awarded by students: the T. Michael Bolger Standing Ovation Award and the Leonard Tow Humanism Award. These awards represent what I believe are the most important aspects of medicine: professionalism, empathy, dedication and character.
Taking on leadership roles also was something I never envisioned, but MCW provided me with the necessary tools to contribute in meaningful ways. I have had the privilege of being a course and clerkship director, to chair the curriculum committee, work with others to develop and implement the Discovery Curriculum, and serve in my current role as the inaugural associate dean for educational improvement and the director of the Community and Institutional Engagement Pillar at the Kern Institute for the Transformation of Medical Education.
Serving on the MCW/Marquette Alumni Association Board is the least I can do for a school that has given me so much. Sharing my story with others allows me to ensure that those who follow will have similar opportunities.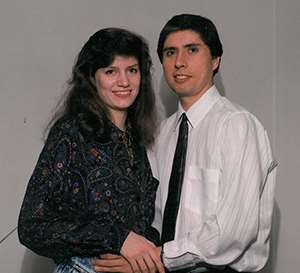 (l-r): Drs. Rose and José Franco, circa 1990, and in 2020.
During these unprecedented times, it is easy to dwell on the many challenges ahead. When interacting with students, I tell them to reflect, strive for work-life balance (my wife, Rose Betzold Franco, MD '91, is my foundation and helps keep me grounded) and recognize that MCW is there for them – today and in the future.
– Dr. Jose Franco