Summer Science Sets the Stage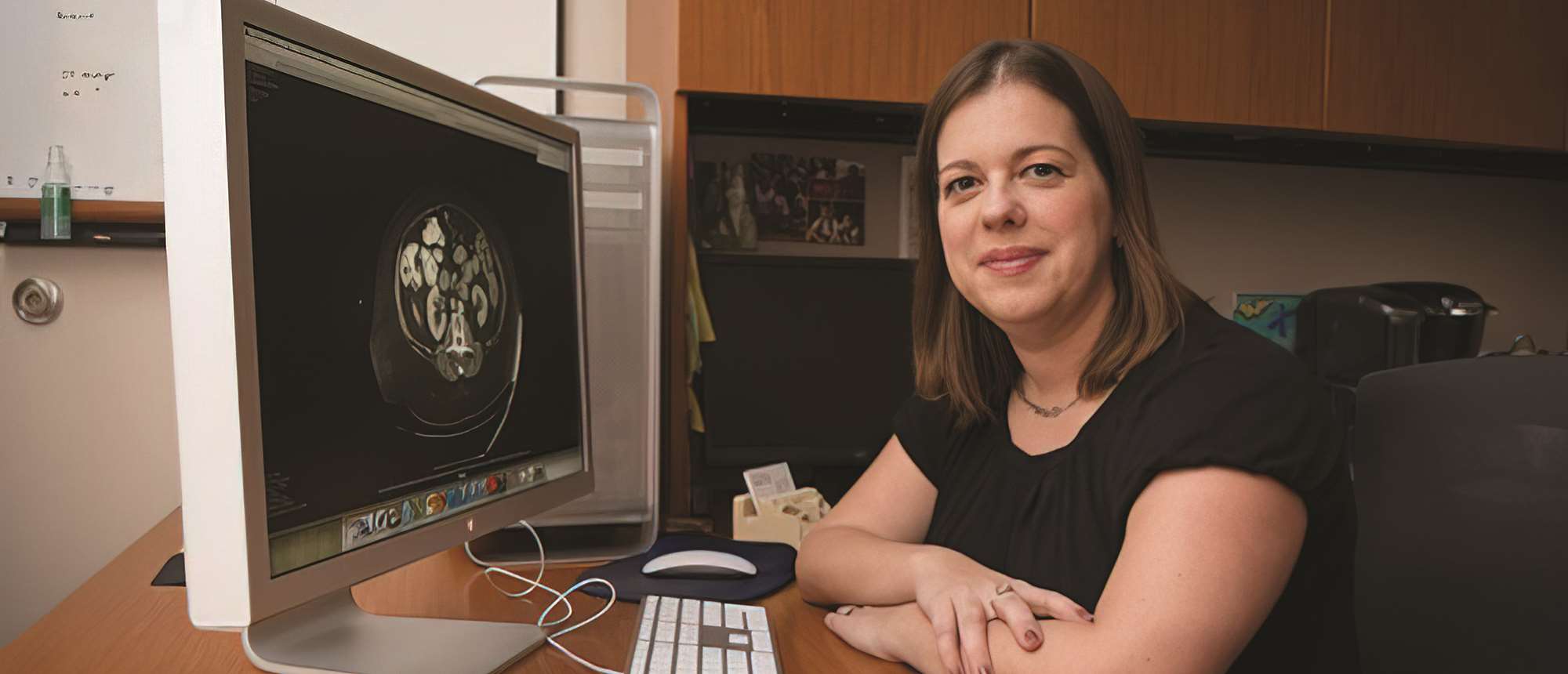 "My career in science and medicine probably started with some memorable science projects my dad and I completed, including growing cultures on petri dishes in the dental office he ran in Milwaukee," reflects Ann Klopp, PhD '02, MD '03, GME '04. Her scientific enrichment continued during high school summers at genetics camps in Michigan.
Dr. Klopp currently serves as professor of radiation oncology at the University of Texas MD Anderson Cancer Center in Houston; she also leads the gynecologic section in the department of radiation oncology and is the director of brachytherapy.
Dr. Klopp was determined to study science when she entered the University of Michigan in Ann Arbor as an undergraduate and envisioned her future as a researcher running a laboratory. After a different scientific summer experience, however, her dreams expanded to include medicine.
"I was fortunate to spend a college summer at the Royal Free Hospital in London helping with a project to sequence the Ras family of genes, now widely known to increase risk of cancer when mutated. Even though the confines of sequencing technology at the time limited our success, I really enjoyed the work and loved interacting with patients while collecting their samples for the study. The experience made me want to be both a physician and a scientist," Dr. Klopp says.
A family friend and faculty member at MCW, Jack Kleinman, MD, suggested that she apply to the Medical Scientist Training Program (MSTP) at MCW, where she would be able to complete both her MD and PhD degrees.
"I had a wonderful experience at MCW. I have fond memories, especially of bonding with my classmates during the first two years as we learned the fundamentals. I still think of those days and how what I learned then is foundational to the knowledge and wisdom I use to care for patients today," Dr. Klopp adds. She notes that the MSTP felt like a welcoming academic home throughout her training.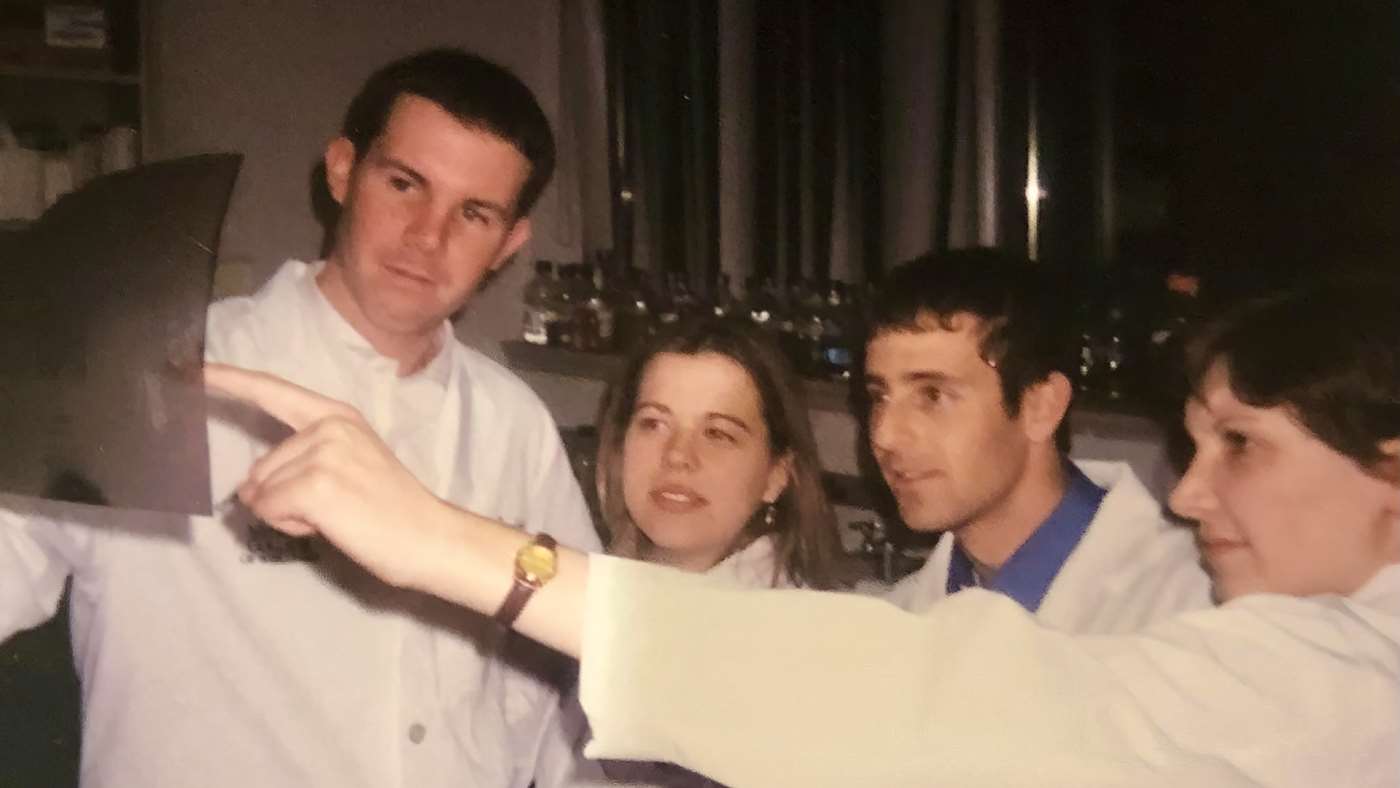 Dr. Klopp (at center) with Michael Rosenblum, PhD '03, MD '06; Matthew Anderson, PhD '04, MD '06; Kathryn Bollinger, PhD '01, MD '03 – fellow students in MCW's Medical Scientist Training Program in the early 2000s.
"The PhD often is a journey of peaks and valleys, mine especially so," Dr. Klopp notes. Her mentor was William Burns, MD, former holder of the Robert A. Uihlein, Jr. Professorship of Hematologic Research and leader of MCW's adult bone marrow transplant program.
"He was interested in ameliorating the infections that could be a problem in patients with suppressed immune systems before and after a bone marrow transplant. We were studying a mouse herpesvirus and a gene that caused the virus to reactivate," Dr. Klopp says. Dr. Burns was very patient and supportive while Dr. Klopp developed new processes to create and isolate recombinant versions of the virus and test their effects.
"Sadly, at the end of my PhD program, Dr. Burns died. I'll always remember him as an incredible mentor. I learned so much from him about excelling as a clinician and researcher," Dr. Klopp notes. She attributes her choice of medical specialty to another group of MCW mentors.
"My path to radiation oncology is another great MCW story. During my medical student rotations, I was fortunate to observe many wonderful women radiation oncologists such as Drs. Beth Gore [MD '90], Colleen Lawton [MD '83, GME '87] and Beth Erickson [MD '84, GME '88]," Dr. Klopp says.
She was drawn to the depth of relationships these physicians developed with their patients, as well as by the example they set for others as role models. "I looked up to them because they were thriving as physicians, scientists and people," Dr. Klopp recalls.
Dr. Klopp is thankful that she chose a career as a physician-scientist in this field. "I still find so much appealing in this discipline. I like the imaging, the technology and the pace of the clinical work. Most importantly, it is meaningful for me to meet patients during a very challenging time, form a tight bond with them and be able to offer something very concrete to help them," Dr. Klopp adds.
– Greg Calhoun