With an Eye Toward the Future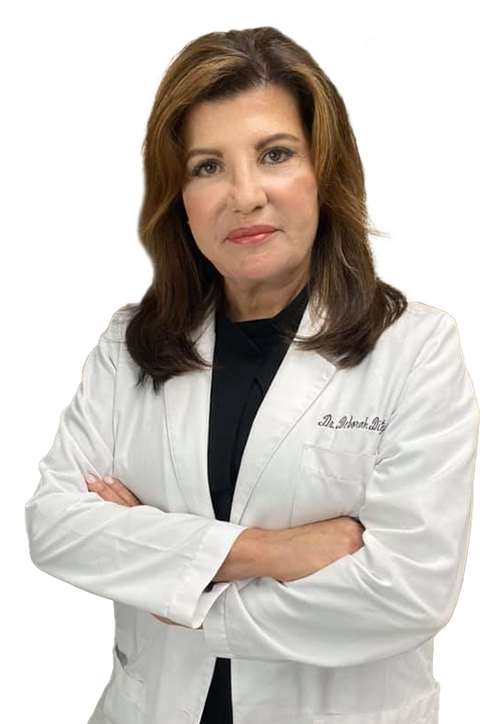 Perhaps it was a twist of fate that Deborah DiStefano, MD '76, GME '80, was born prematurely at a time when preemies were kept in incubators with 100 percent pure oxygen without the medical realization that oxygen saturation would damage eyes that were still developing – and rather than becoming blind, as some babies in the incubators around her, she ultimately became an internationally recognized ophthalmologist!
Her mother was a nurse, and her nursing colleagues at the hospital took turns holding baby Deborah during her first days – thus keeping her out of the incubator for long periods of time and likely preserving her sight.
Growing up in Worcester, Massachusetts, Deborah was surrounded and nurtured by healthcare providers – not only her mother the nurse, but her father, Anthony DiStefano, MD '45, a general surgeon, and two like-minded siblings who became a doctor and a dentist, respectively.
"Ever since I was six years old, I knew I was going to be a doctor," Dr. DiStefano shares. "While my friends were out playing, I was in the basement with my dad, extracting hearts from turtles and keeping them beating in epinephrine as part of his research."
She also gained from her father a strong love for the Marquette University School of Medicine and its successor institution, the Medical College of Wisconsin. "I always wanted to attend the same medical school that my dad did, and he brought me to the campus in Milwaukee to attend alumni events on numerous occasions during my childhood," Dr. DiStefano says.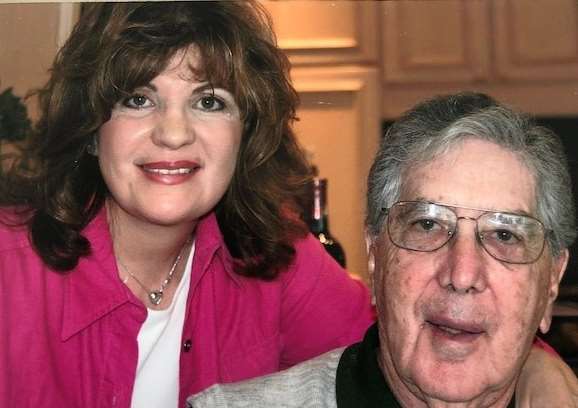 Her father wanted her to follow his footsteps into surgery, but she became interested in ophthalmology early on. As an undergraduate at Connecticut College, she was able to work on the electron microscope while doing research on adrenal glands.
Pictured left: Dr. DiStefano with her father, Dr. Anthony DiStefano, at a medical school reunion, ca. 2010.
At MCW, Diane Van Horn, PhD, a faculty member in the department of ophthalmology who was working with the electron microscope doing research on eyes, asked the young medical student if she would like to assist in the research. That led to an invitation by the chair of the department to become a resident in ophthalmology – and her fate was sealed. (The ophthalmology residency matching program did not start until 1979.) Dr. DiStefano shares that "there were only six women in my class, but we all got along great and the teachers were terrific. I was grateful to be at MCW."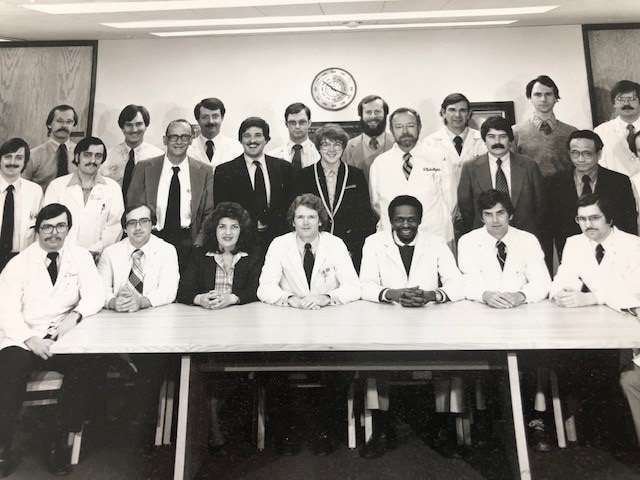 (Above, front row, third from left) Dr. DiStefano with her ophthalmologic colleagues, ca. 1980.
Following her residency at MCW, Dr. DiStefano completed a corneal fellowship at the Massachusetts Eye and Ear Infirmary at Harvard University in 1982, and was recruited to become the chair of the department of ophthalmology at the University of Tennessee at Chattanooga. She remained in that position for 10 years before going into private practice and founding the DiStefano Eye Center.
Dr. DiStefano currently resides in Chattanooga with her son, JP Millet, age 28. She continues to operate the DiStefano Eye Center and is the director and founder of DiStefano's Skin Solutions Medical Spa, which she is working to grow into a comprehensive women's health and wellness center that will include medical, aesthetic, nutritional and other services.
"My time at MCW was wonderful," Dr. DiStefano recalls. "I was treated as an equal, and the faculty guided us to become better physicians. Most of all, I was grateful that MCW enabled me to carry forward the legacy of my dad."
– Sara Wilkins