2023 Golden Apple Award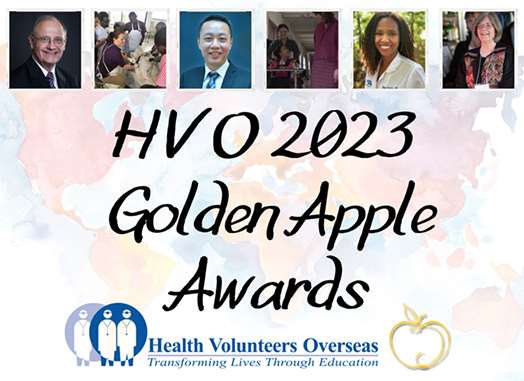 Health Volunteers Overseas (HVO) is pleased to announce the recipients of the eighteenth annual HVO Golden Apple Award. As part of its World Health Day observances and in celebration of World Health Worker Week, HVO recognizes the extraordinary contributions of HVO members, volunteers, and supporters. Each individual honored with this award has demonstrated a commitment to HVO's mission to improve global health through the education, training, and professional development of the health workforce in resource-scarce countries.
The recipients of the 2023 Golden Apple Award are: Charity Burke, MD; John Kanyusik, DDS, MSD; Nancy Kelly, MHS; Mark Koh, MBBS, MRCP; Olushola Vaughn, MD; and Linda Wolff, MPT.
These individuals have contributed to global health and the HVO mission in a number of ways. Their work includes project assessment, development, and monitoring; advocacy and promotion of HVO's mission; building professional networks that support health workers and facilitate advancements at project sites; cultivation of connections between HVO volunteers and overseas trainees; acquisition and development of educational resources; and teaching, training, and mentoring overseas health workers to expand their knowledge, skills and professional development.
"When I consider this year's World Health Day theme of 'Health for All,' I cannot help but think of the dedication and commitment of this year's honorees to HVO's mission of improving the quality of and access to health care for all individuals across the globe," remarked HVO Executive Director April Pinner, MSPH, RD. "Thanks to their efforts, more providers have received valuable training, getting us closer to our vision of a world with health for all."
The efforts of HVO Golden Apple Award recipients are an integral part of HVO's mission to expand access to care by educating and supporting health workers. By highlighting the achievements and contributions of the Golden Apple Award recipients, HVO seeks to demonstrate how education and opportunity for health workers will lead to more people around the world being able to access safe, skilled, and compassionate health care when they need it most.
The HVO Board of Directors established the HVO Golden Apple Award in 2006 to recognize and thank the individuals and health educators who make exceptional contributions to HVO and our mission to improve global health. Each year, a handful of individuals – nominated by HVO members, volunteers or leadership, or by our overseas partners – receive the award in recognition of the substantial impact they have had as teachers, advisers, mentors, and leaders.
Since 1950, the World Health Organization (WHO) and the international community have celebrated World Health Day on April 7. The day always focuses on a relevant global health issue and this year's theme is "Health for all." This year marks the 75th anniversary of WHO's founding, when the world came together to promote public health and improve the quality of life for all.