Dr. Francesca Marassi Named Chair of Biophysics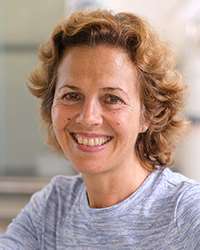 MCW is pleased to announce the appointment of Francesca Marassi, PhD, as Chair of the Department of Biophysics at the Medical College of Wisconsin (MCW), effective October 1, 2022. Dr. Marassi currently is a Professor in the Cancer Center at the Sanford Burnham Prebys Medical Research Institute (SBP) in La Jolla, California and also serves as Scientific Director of the Structural Biology Core of the SBP Cancer Center, which has been designated by the National Cancer Institute (NCI) since 1981.
Marassi was identified as the top candidate for this role after a comprehensive national search process.
Marassi joined SPB in 2000, serving as Assistant Professor from 2000-2006 and Associate Professor from 2006-2013 before being promoted to the rank of Professor. From 2019-2021, Marassi served as the Director of the Cell and Molecular Biology of Cancer Program at SBP and in 2019 became the Scientific Director of Structural Biology Core. From 1998-2000, Marassi was Assistant Professor of Pharmacology at the Wistar Institute at the University of Pennsylvania.
Dr. Marassi graduated from the University of Toronto in 1987 and received her Master of Science degree in 1989 and her PhD in chemistry from that institution in 1993. From 1993-1998, Dr. Marassi was a postdoctoral fellow of the Natural Science and Engineering Research Council of Canada and the Medical Resource Council of Canada – both at the University of Pennsylvania in Philadelphia.
Dr. Marassi's major areas of research focus on understanding the structures and functions of proteins embedded in cellular membranes or bound to lipids. Many of these proteins play important roles in host-pathogen interactions, ectopic deposit formation in degenerative diseases and cancer-related programmed cell death, and their dysfunctions are linked with devastating diseases. A major goal of Dr. Marassi's biomedical research is to understand how these proteins function at the molecular level, as these represent principal targets for therapeutic drug development.
Dr. Marassi has been significantly involved in undergraduate, graduate and postdoctoral education, including serving as a thesis advisor and on thesis committees in biochemistry and chemistry. Additionally, Dr. Marassi has served as a mentor for nearly 60 undergraduate and graduate students, as well as postdoctoral fellows, staff scientists and research assistants.
Dr. Marassi has participated in more than 100 invited lectures, workshops and presentations, both nationally and internationally. Her bibliography includes approximately 110 articles and book chapters. She has served on the editorial boards of Molecular Membrane Biology and Frontiers in Molecular Biosciences since 1995, and in 2020 began service as an Associate Editor of both of those journals. In 2020, Dr. Marassi was elected as a member of Council of the Biophysical Society and was named a member of the National Institutes of Health's Macromolecular Structure and Function C Study Section.
Dr. Marassi will be relocating from La Jolla when she joins MCW.