Medical College of Wisconsin Department of Biophysics
The Department of Biophysics at the Medical College of Wisconsin (MCW) has a rich history of innovative research focused on protein structure and function, biomedical imaging, membrane biology, and redox biology. Our unique expertise in technology development spans the range of magnetic resonance technology, computational methods for biophysics and image analysis, and chemical biology.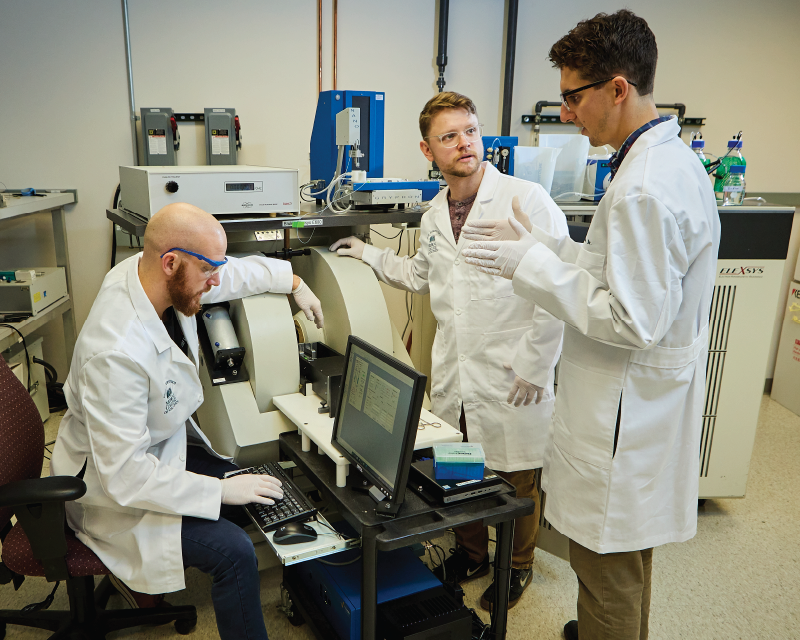 Biophysics Technology
Innovation, cutting-edge techniques  
Considering a Career in Biophysics?
The Department of Biophysics at MCW is an excellent place to work. And we're hiring!


Why Work for Biophysics?
The Department of Biophysics has been on the forefront of innovation since its inception, and is brimming with creativity. We have strong research programs in structural biology and biomedical imaging, including electron paramagnetic resonance (EPR), nuclear magnetic resonance (NMR), and magnetic resonance imaging (MRI). State-of-the-art research resources geared toward these programs—including laboratories for EPR, NMR, MRI, X-ray crystallography, cryo electron microscopy, mass spectrometry, biomolecular analysis, and high-performance computing—are available.
Why Work at MCW?
The Medical College of Wisconsin brings together the most inquisitive minds in science, medicine, education, and community engagement to advance biomedical knowledge and solve human health challenges. Our goal is to harness the power of academic medicine, where scientists, clinicians, and students actively collaborate with each other and the community, to find novel solutions to the challenges in health and society today. We will ask the questions no one else is asking to fuel the continuous cycle of knowledge that's shaping the future of translational research.
Why Work in Milwaukee?
Milwaukee is one of the Midwest's best-kept secrets and a prime location for the Medical College of Wisconsin's main campus. Milwaukee has a rich cultural heritage and is recognized for its museums, art and music scenes, championship-winning sports teams, festivals, breweries, and historical architecture. The city has access to a multitude of beautiful parks, rivers, and lakes. Milwaukee's charming neighborhoods are known for their character, variety, and architecture, and offer a superb quality of life. Milwaukee is a city that's growing and changing, and there's energy in the air.
Contact Us
Biophysics
Medical College of Wisconsin
8701 Watertown Plank Rd.
Milwaukee, WI 53226