Child Advocacy and Protection Child Abuse Pediatrics Fellowship
The Child Advocacy and Protection Services (CAPS) program has grown to become one of the leading academic child abuse programs in the nation. CAPS is an active and diverse program that exceeds the Children's Hospital Association criteria for center of excellence status through its comprehensive services including outstanding clinical care, education, research and advocacy. The culturally competent clinical services are extensive and include a very active hospital-based program as well as multiple urban and rural outpatient Child Advocacy Centers staffed by an experienced team of physicians, advanced practice providers, social workers and other staff.

Leadership Statement
To achieve resilience and wellness as a healthcare provider, it is important to surround ourselves with individuals who inspire us to achieve our full potential as providers and as people. As a member of the Child Advocacy and Protection Services program, I am honored to work with a cohesive group of highly professional individuals who share my commitment to the safety and well-being of children. We strive to provide our fellows with a well-rounded, innovative, and immersive experience that promotes excellence in clinical care and scholarly activity and a deep understanding of the community systems that impact child safety. Our team is also dedicated to fostering the qualities of balance, integrity, and life-long learning critical to the field of Child Abuse Pediatrics.

I hope you will explore this website further to learn more about what our educational program offers and consider a visit to meet our exemplary team.
Angela Rabbitt, DO, FAAP
Program Director
Medical College of Wisconsin and Affiliated Hospitals Child Abuse Pediatrics Fellowship
A Conversation with Our Fellows
Two fellows discuss their experience as part of our Pediatric Child Advocacy fellowship at the Medical College of Wisconsin in Milwaukee, Wisconsin.
Meet our Faculty
Members of our faculty discuss our fellowship program, our institutions, and living and training in Milwaukee.
As a fellow, you will...
Experience a dynamic and progressive training environment
Receive rigorous training in quality improvement, clinical, translational, and educational scholarship
Utilize our diverse patient population and community partnerships to foster collaborative and compassionate patient care and systems-based practice skills
Learn to effectively advocate for the medical and psychosocial needs of patients and families
Build skills to educate a variety of medical and community-based learners
About the Fellowship
The Medical College of Wisconsin and Affiliated Hospitals (MCWAH) sponsors a three-year fellowship in Child Abuse Pediatrics (CAP), which is accredited by the ACGME. Fellows will be an integral part of the Child Advocacy and Protection Services program, which provides hospital-based and outpatient services for suspected victims of child abuse and neglect. Fellows will develop skills and expertise in evaluating all types of child maltreatment, providing legal testimony, and advocating for children through their work as members of the multidisciplinary team, didactics, rotations with other specialties, attendance at conferences, and experiences with community agencies.
Program Highlights
Well-staffed, multidisciplinary, statewide program
The Child Advocacy medical team is composed of five board-certified child abuse pediatricians, and multiple advanced practice providers, as well as social workers, forensic interviewers, child life specialists, mental health providers, and support staff. The program does not rely on learners for service obligations, allowing fellows to focus on learning.

Diverse range of clinical experiences
The child abuse team evaluates more than 7,000 cases of child maltreatment annually, making it one of the largest Child Abuse Pediatrics programs in the country. Fellows rotate with a diverse range of subspecialty services, including Burn Surgery, Forensic Pathology, Toxicology, and Mental Health among others. In addition to a wide variety of inpatient consult experiences, outpatient clinical experience includes time at the Milwaukee Child Advocacy Center (MCAC) and multiple community sites.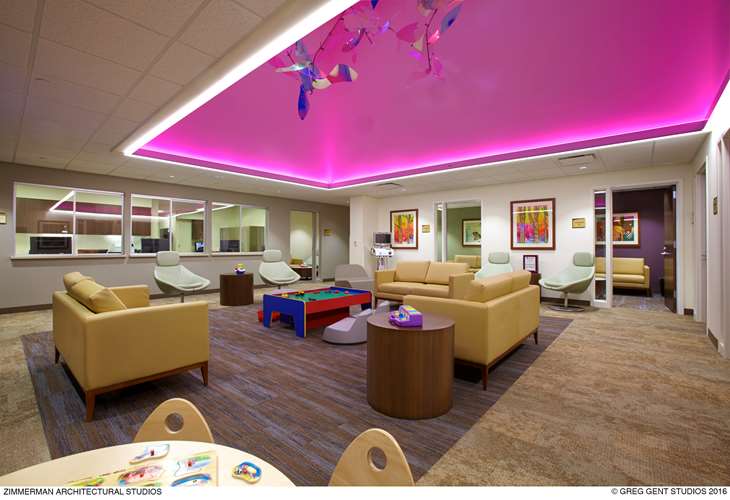 The MCAC serves Milwaukee as well as the surrounding areas to provide onsite services including forensic interviews, mental health therapy, medical evaluations, and victim services. It is one of ten Children's Wisconsin Child Advocacy Centers in Wisconsin, many of which fellows will rotate through for experience in more rural settings. Fellows also will complete forensic interview training during their fellowship. In addition to evaluating children suspected of being maltreated, fellows gain multiple skills in evaluation of children in foster care through the MCAC's busy foster care medical home program called Care4Kids.

Established board review program
Child Advocacy and Protection faculty have developed written board review material based on the American Board of Pediatrics Content Specifications for the Subspecialty Board Exam. These materials are updated regularly and reviewed with fellows during weekly board review sessions. MCWAH Child Abuse Pediatrics fellows consistently score above the mean on in-service examinations and the Board pass rate for the program is 100%.

Unique community and systems perspective

The Milwaukee CAC is housed within Milwaukee's Family Peace Center, the largest and most comprehensive family justice center in the nation. Multiple youth-service community and investigative agencies are co-located within the center. Multidisciplinary team agencies, including Children's Wisconsin, have signed a Memorandum of Understanding recognizing a joint protocol for the initial investigation and service provision of child maltreatment investigations in Milwaukee County. These collaborative efforts allow our fellows unique opportunities for systems-based learning and community advocacy.

Support for scholarly activities
Members of the medical team are actively engaged in teaching and research in addition to their clinical duties. A research coordinator provides support to the Child Advocacy and Protection division, and the Medical College of Wisconsin Quantitative Health Sciences department provides support for research development, study design, and statistics. In addition to dedicated research blocks, the program offers protected time and funding for attendance at local and national conferences.

Emphasis on work-life balance

Given the nature of Child Abuse Pediatrics, the program recognizes the importance of work-life balance. This culture is supported by Child Advocacy and Children's Wisconsin leadership and is reflected in program policies and within the structure of the fellowship and health system.

Located on the shores of Lake Michigan, Milwaukee is a great place to live. The Milwaukee metropolitan area offers a wide variety of communities from urban to rural. You will find excellent schools, professional, college and amateur sports, a vibrant restaurant scene, one of the most extensive park systems in the country, and numerous opportunities for enjoying theatre, music and art.

Reimbursement for fellowship interviews
Applicants who are interested in further exploring fellowship training through the MCWAH Child Abuse Pediatrics Fellowship will be reimbursed for lodging and other travel expenses.
Clinical Experience
Outpatient Clinical Services
At the Milwaukee Child Advocacy Center (MCAC), physicians and nurse practitioners perform medical evaluations for child physical abuse, sexual abuse, emotional abuse, and neglect. At this location we also perform foster care evaluations. Mental health therapists and forensic interviewers are located on site. The assessments at the MCAC are multi-disciplinary and include observation/review of the forensic interview, conducting a medical interview with the caretaker, an effective and objective medical history with the child, and conducting the physical examination. At the conclusion of the assessment, the fellow explains his/her assessment to the multi-disciplinary team members and works as part of the team to assimilate this medical information into case planning. The MCAC is our primary outpatient teaching site; however, fellows will also spend time at clinics within our other Child Advocacy Centers to obtain experience with systems of care in more rural areas.

Hospital-based Consult Service
The fellow will be first call for the Child Advocacy & Protection Services (CAPS) consult service at Children's Wisconsin Hospital, Emergency Department, and Children's Clinics on average every 3-4 days throughout fellowship. The fellow will also take first call for questions from Medical College of Wisconsin and community physicians. The CAPS program performs inpatient consults and chart reviews on physical and sexual abuse and neglect cases, ensuring a wide variety of exposures to all forms of maltreatment. The CAPS inpatient social worker will perform evaluations with the fellow and can provide a wealth of experience in the psychosocial and protective aspects of inpatient child abuse evaluations. The fellow will interface with all medical specialists involved in inpatient assessments. The fellow will also have face to face teaching with radiology and other subspecialty specialists as cases present and through dedicated learning experiences with subspecialties pertinent to Child Abuse Pediatrics throughout fellowship.
Subspecialty Exposure
Child Abuse Pediatricians must develop specialized knowledge that spans multiple subspecialties to identify medical conditions that may mimic or exacerbate injuries. The provider must then apply that knowledge in the context of the child's injuries, medical history, and the investigation as a whole. In order to develop that expertise, our fellows participate in multiple subspecialty educational experiences including but not limited to mental health, hematology, toxicology, radiology, orthopedics, and pathology.
Research Experience
As required by the
American Board of Pediatric (ABP)
, each Child Abuse Pediatrics fellow will complete a scholarly project during their fellowship. The fellow will have fourteen months during the fellowship to devote to completion of this project as well as one additional elective block if needed. To assist with formulating and completing this project, the fellow will choose a research mentor and a Scholarship Oversight Committee within the first six months of fellowship. More information about the requirements for a scholarly project and the function of the Scholarship Oversight Committee, see
Principles Regarding the Assessment of Scholarly Activity
on the ABP website.
The Medical College of Wisconsin's
Quantitative Health Sciences
department provides support for research development, study design, and statistics. Opportunities for networking and collaboration with other researchers are also available through the Medical College of Wisconsin's
Comprehensive Injury Center (CIC)
and Children's Wisconsin's
Children's Research Institute
.
Curriculum
Child Abuse Pediatrics requires a broad range of knowledge spanning multiple disciplines. The curriculum for the Child Abuse Pediatrics fellowship program includes a wide variety of patient care experiences, research opportunities and educational activities.
The curriculum consists of clinical rotations with the inpatient and outpatient Child Advocacy and Protection team as well as one half day per week on the Milwaukee Child Advocacy Center (MCAC), outpatient service throughout fellowship. The fellow will also take first call for the hospital-based consulting service every 3-4 days throughout fellowship. This will provide substantial exposure to management of all forms of child maltreatment.
Fellows gain experience with other subspecialties through educational experiences that highlight aspects of these specialties pertinent to Child Abuse Pediatrics. Subspecialty experiences can include rotations with Mental Health, Trauma/Burn Services, Radiology, Forensic Pathology, Orthopedics, Hematology, Adolescent Medicine, Toxicology, and Community Advocacy. Exposure to subspecialty rotations can be modified to fit the needs of individual fellows.
Fourteen months are devoted to completion of a scholarly project. The fellow will also have one elective block to use towards either research or additional clinical experiences.
Additional non-clinical and educational activities consist of regular peer reviews, conferences, and didactics (see Conferences & Teaching Opportunities). Of note is the Fellow Board Review. This is a weekly, fellow-led meeting and will include one CAPS faculty member on a rotating basis. In preparation for taking the subspecialty certification exam, the fellow and faculty member will review the American Board of Pediatrics (ABP) Content Outline for Child Abuse Pediatrics using study materials developed by the Child Advocacy team.
The fellow will also complete a Forensic Interviewing Course, a Medical Photography Workshop, and media training to develop skills for effective communication and documentation of injuries. CAP fellows collaborate with law students to develop skills in expert witness testimony through participation in mock trials and interactive lectures through Marquette University Law School.
Conferences and Teaching Opportunities
Required Conferences:
Medical Peer Review
The Child Advocacy and Protection Services (CAPS) medical providers meet each week to discuss inpatient and outpatient cases.

National Peer Review
Child Advocacy Centers across the country meet via this monthly web-based conference to discuss difficult cases.

Documentation Peer Review
Each month the documentation of a member of the CAPS medical team is chosen randomly and brought to the group for feedback and discussion. Fellow documentation is reviewed twice a year.

Subspecialty Board Exam Prep
This is a weekly, fellow-led meeting and will include one CAPS faculty member on a rotating basis. In preparation for taking the subspecialty certification exam, the fellow and faculty member will review the American Board of Pediatrics (ABP) Content Outline for Child Abuse Pediatrics (PDF) using study materials developed by the CAPS team.

Journal Club
Each month a member of the CAPS team chooses one or two journal articles and leads a discussion about the content, limitations, and validity of the article. Fellows present two times during each academic year.

Joint Fellowship Curriculum
The Joint Fellowship Curriculum (JFC) committee consists of Directors of the Medical College of Wisconsin Affiliated Hospitals (MCWAH) pediatric subspecialty fellowship programs. This committee has developed a core curriculum designed to address the academic requirements mandated by the American Council for Graduate Medical Education (ACGME) and the career and personal development goals of the fellows.

Suspected Child Abuse and Neglect (SCAN) Committee
Members of the SCAN committee include representatives from the CAPS program as well as the legal department, medical records, patient advocacy, emergency department, and hospitalist medical teams. The goal of this committee is to address systems issues within Children's Wisconsin related to child maltreatment.

Subspecialty Conferences
Fellows will receive financial support and protected time for participation in local, regional, and national conferences. Attendance at a minimum of one of these conferences during fellowship is required.

Recommended Conferences (when applicable to subspecialty):
WI CAN (Wisconsin Child Abuse Network) Educational Series
Monthly statewide, web-based lectures on various topics related to child maltreatment. Fellows are expected to provide presentations at this meeting when appropriate. Attendance at every meeting is encouraged.

Pediatric Grand Rounds are held most Fridays in the Children's Wisconsin Auditorium from 8:30-9:30 am. Go to the Pediatric Grand Rounds schedule for upcoming topics.

Professor Rounds occur each Thursday from 12-1 p.m. in the Children's Wisconsin Auditorium.

Schwartz Center Rounds (supported by The Schwartz Center for Compassionate Healthcare) is a multidisciplinary forum where caregivers discuss emotional and social issues that arise in caring for patients. Upcoming dates and topics are posted on Children's Connect.

The MCW Office of Continuing and Professional Education offers a comprehensive list of upcoming CME activities.

Teaching Opportunities:
Residents / Medical Students
Pediatric Residents participate in a required one-week rotation with Child Advocacy during their second year. Medical Students have the option for a one-month rotation during their final year. Rotators participate in patient care at both our hospital-based and outpatient locations. Fellows will have ample time to develop teaching skills during these encounters. Fellows will also have the opportunity to provide lectures to students and residents as part of their regular didactic series.

Community Education
The CAPS program is actively involved in community education at the local and regional level through the development of conferences related to child maltreatment. CAPS also provides lectures and training workshops to community partners, including law students, social services, community physicians, law enforcement, etc. In addition to the education that occurs during communication with these agencies during routine patient care, fellows will have the opportunity to participate in the development of these lectures and workshops as their training progresses.

Education of other fellows
Fellows will gain experience educating other subspecialty fellows as they participate in CAPS involvement with the Joint Fellowship Curriculum, which directs workshops on the topics of the legal aspects of Pediatrics and expert witness testimony.
Our Faculty
Our talented team is here to work with and support you as you work to become a Child Advocacy and Protection provider.
A Day in the Life of a Fellow
Fellows are provided with a dedicated semi-private workspace within the Child Advocacy and Protection Services inpatient program offices and at the Milwaukee Child Advocacy Center (MCAC)
Free covered parking is available adjacent to the inpatient program offices. Free gated parking is available at the MCAC
Underground tunnels connect the office building with the hospital, research buildings, and clinics building (5-10-minute walk between buildings)
Several cafeterias, coffee carts, and other food services are available throughout the medical complex
Pager coverage for the inpatient service begins at 8 a.m. and ends at 5:00 p.m. Evening call starts at 5 p.m. and ends at 8 a.m. Weekly ambulatory clinics start at 1 p.m. and end at 5 p.m. Work hours can be flexed to meet the needs of the fellow.
Fellows take call every 3-4th night by phone and 1-2 weekends per month. CAPs providers and fellows provide an in-person response during business hours during the week and until noon on weekends. To maintain work-life balance, CAPs providers and fellows respond by phone only outside of these hours for all non-emergent patient care.
Electronic health record and medical library access is available on-site and remotely
Fellows have access to the hospital physician's lounge where food and beverages are available, along with workspaces, newspapers, and television
The clinic area includes food storage areas, coffee maker, and microwave

About Children's Wisconsin
The primary teaching site for the CAP fellowship is Children's Wisconsin, a freestanding academic children's hospital affiliated with the Medical College of Wisconsin (MCW). A 306-bed hospital with a Level I Trauma Center, Children's Wisconsin serves children throughout Wisconsin and northern Illinois.
Living & Training in Milwaukee
Milwaukee is one of the Midwest's best-kept secrets and a prime location for the Medical College of Wisconsin's main campus. A one-of-a-kind city with a vibrant and diverse culture, this charming, yet metropolitan must-see is just 90 minutes north of Chicago and nestled on the coast of Lake Michigan. Whether you're catching a show at Summerfest, the world's largest music festival, immersing yourself in the old world charm of the Historic Third Ward or taking in the sights and sounds of one of the many cafés, beer gardens or restaurants that line the city's riverbank and shoreline, Milwaukee never disappoints. Find out why MCW students, faculty and employees take pride in calling Milwaukee home.
Application Process
Our three-year fellowship program is
ACGME
accredited and begins on July 1 each year. We accept one fellow every three years. Applications are accepted through
ERAS
and matches are conducted through the
NRMP Specialties Matching Service
.
International Medical Graduates should refer to the Medical College of Wisconsin Affiliated Hospitals (MCWAH) Visa Information page for additional information.
If you have any questions regarding this process, please email
Angela Rabbitt
, DO, Program Director.
Reimbursement for fellowship interviews
Applicants who are interested in further exploring fellowship training through the MCWAH Child Abuse Pediatrics Fellowship will be reimbursed for lodging and other travel expenses.
Benefits Conditions and Terms of Employment
The CAP Fellowship program at Children's Wisconsin and Medical College of Wisconsin is unlike any other. The necessary breadth, depth and volume of training is embedded in a collaborative, compassionate, nationally-recognized group that prepares and trains their fellows at the highest level.
-A Graduated Fellow
Contact Us
Child Advocacy & Protection
Children's Corporate Center
999 N. 92nd St.
Suite 615
P.O. Box 1997
Milwaukee, WI 53201-1997
(414) 266-2090
(414) 266-3157 (fax)
Angela Rabbitt, DO, FAAP
Fellowship Director
Connie Chase
Fellowship Coordinator