Medical College of Wisconsin Pediatric Emergency Medicine (PEM)
Striving to provide the best care for kids, the pediatric emergency medicine team consists of thirty-four board-certified faculty physicians, eight fellows, eleven physician assistants and six nurse practitioners. Administrative support includes a division administrator, data analyst, clinical research manager, clinical research coordinators, administrative assistants, and an education program coordinator.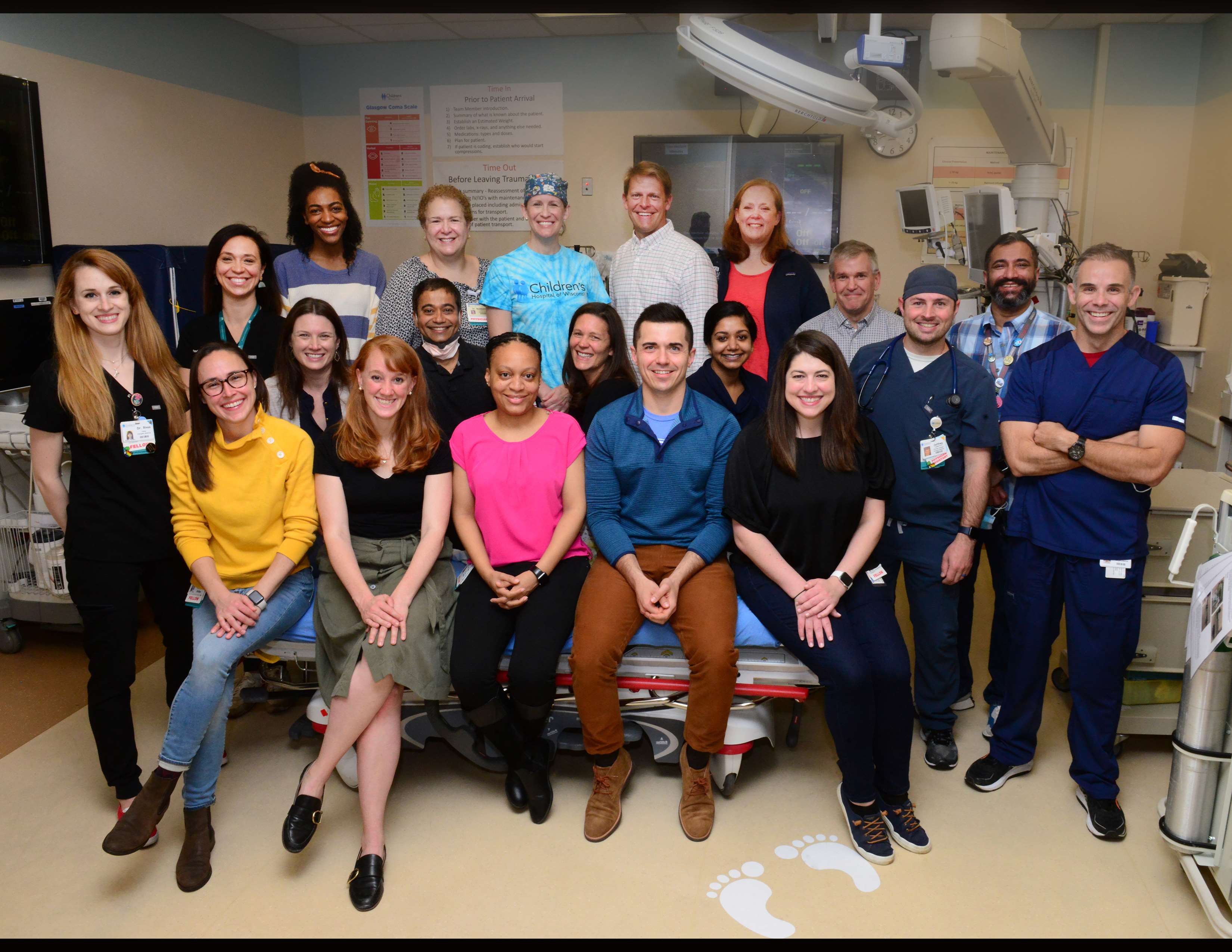 In addition to academic duties at the Medical College of Wisconsin, the faculty and fellows serve as attending physicians in the Children's Wisconsin Emergency Department. The team provides Level 1 pediatric trauma care to approximately 70,000 patients annually visiting from Wisconsin and the Midwest.

We are actively engaged in the education and development of the next generation of emergency medicine physicians and researchers. The thriving Pediatric Emergency Medicine Fellowship is currently training eight fellows to become experts in providing pediatric emergency care.
Research is a priority for the section with interests in the areas of analgesia and sedation, asthma, sickle cell disease, violence and injuries, penicillin, adolescent issues and outcomes for management strategies of several patient populations. Our faculty and fellows are actively involved in numerous research projects with over $8.2 million in funding and averaging 20 research publications per year. We are a participating research site for the Pediatric Emergency Care Applied Research Network (PECARN).
PediDOSE Study Disclosure
When paramedics treat active seizures, one-third of children arrive at the hospital still seizing. As part of the Pediatric Dose Optimization for Seizures in Emergency Medical Services (PediDOSE) study, Drs Lorin Browne and Ben Weston of the Medical College of Wisconsin are trying to improve these outcomes by equipping paramedics to quickly give the right anti-seizure medication dose. Because it is a time-sensitive condition, when Milwaukee County EMS transports a child, they will be enrolled before parent/guardian permission can be sought. To learn more about PediDOSE, visit
texaschildrens.org/PediDOSE
Contact Us
Pediatric Emergency Medicine
Medical College of Wisconsin
Children's Corporate Center, Suite C550
999 N. 92nd St.
P.O. Box 1997
Milwaukee, WI 53201-1997
(414) 266-2625
(414) 266-2635 (fax)