Pediatric Nephrology Fellowship
Our mission is to train future pediatric nephrologists who are highly competent in clinical nephrology and have the necessary skills to become a successful academician in education, clinical or basic science research and/or administration. The broad educational goals of the program are to develop the knowledge, skills, and professional attributes that will lead the pediatric nephrology fellow to becoming an excellent clinician caring for children with kidney disease. This will be accomplished by providing a rich environment with opportunities for direct inpatient, outpatient, and consultative patient care under the direct supervision of full-time faculty. Our program was first accredited in 2009.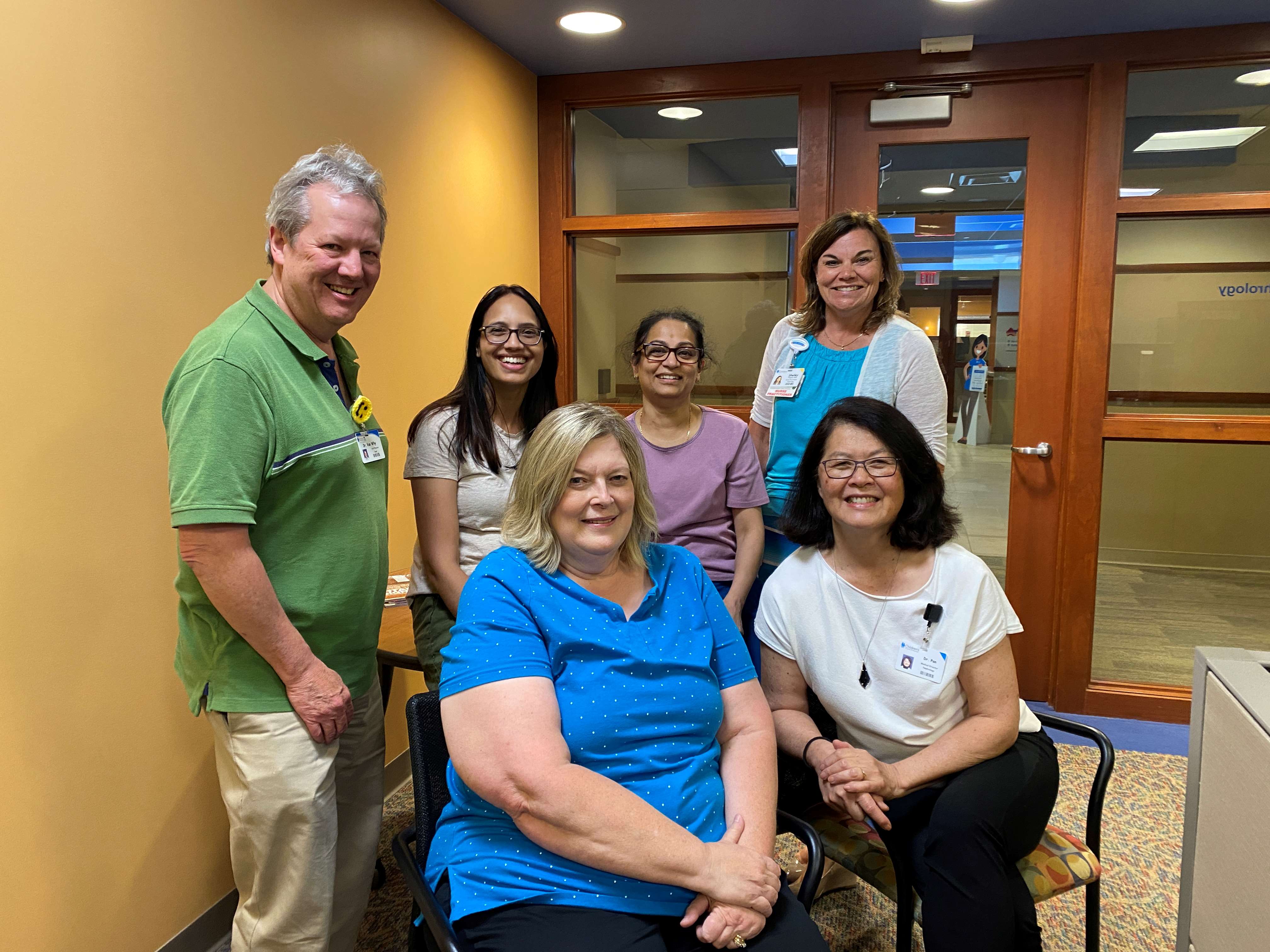 A Message from our Fellowship Program Directors
The Pediatric Nephrology Fellowship program at the Medical College of Wisconsin and Children's Wisconsin hospital is dedicated to training the future leaders of Pediatric Nephrology. Our goal is to develop each trainee into an outstanding clinical and academic pediatric nephrologist. Our program provides a rich clinical environment with abundant resources for training in outpatient care, acute inpatient nephrology, kidney transplantation, and pediatric dialysis in our free-standing 280 bed children's hospital. Academic pursuits are individualized to the trainees' interests with mentoring from highly respected faculty throughout the medical college. We offer academic pathways in clinical research, basic science research, quality improvement or education. Our team encourages an environment of learning and is committed to provide fellows the time, guidance and support to succeed. We welcome you to visit us and see for yourself!
Scott Van Why, MD
Professor, Pediatric Nephrology
Program Director, Fellowship Program
Cynthia Pan, MD
Professor and Chief, Pediatric Nephrology
Associate Director, Fellowship Program
As a fellow, you will...
Master your skills in patient care, research, and education at a free-standing children's hospital with a catchment area of more than 9 million.
Become an integral part of our Nephrology, Kidney Transplant & Dialysis teams
Maintain a well-balanced schedule that will provide a meaningful clinical experience and protected time for learning and exploring your interests
Work with faculty who are dedicated to your education and success
Receive resources and mentorship for you to explore a research project or academic focus
Participate in educational conferences to advance your knowledge in nephrology and pediatrics
Travel and learn to present your scholarly work at local and national conferences
More Information
We have an ACGME-accredited three-year program and we accept one new fellow per year. The Medical College of Wisconsin Affiliated Hospitals (MCWAH) has general oversight of the program. All of the division faculty are board-certified in pediatric nephrology and along with staff, will be integral to the fellowship trainee's clinical education. The Department of Pediatrics has 14 other fellowship programs and the fellowship directors and pediatric faculty provide a Joint Fellowship Program year-round. This program provides a conference for all fellows that covers curriculum such as research design, ethics, teaching methods, quality improvement processes, interviewing for jobs, etc.
Diversity and Inclusion
The Department of Pediatrics (DOP) formed the Council on Diversity and Inclusion. The council's mission is to "make all members of the department feel welcome considering our increasingly diverse composition, to embrace best practices to improve diversity through recruitment and retention, and to use scholarship to discover new avenues for embracing diversity and all the benefits it brings." The council works to educate the DOP on topics such as unconscious bias, trauma-informed workplace, microaggressions, and gender identity. They also support numerous efforts to promote the fostering of diversity, inclusion, and unity at MCW.
The Fellowship Experience
Clinical
Outpatient rotation
Minimum of 10 hours per week, averaging 15–25 hours of direct patient contact

Designed to provide exposure to and develop expertise in the diagnosis and management of the full spectrum of kidney diseases.

Clinical experience includes:
continuity clinic
acute and chronic dialysis
renal transplantation
kidney biopsies
specialty clinics in metabolic bone disease and polycystic kidney disease
emergency room and telephone consultations
Inpatient rotation
Estimated 32 weeks over the 3 years of training on the inpatient consult service taking at-home call every other night during each week

Responsibilities include:
Fellows will be first call with increased responsibilities each year for making initial assessments and treatment plans on nephrology inpatients and consults. Fellows will round each day with resident teams and a nephrology attending who act as second call physician both day and night.
Second and third year fellows will conduct teaching sessions with residents and medical students.
Fellows are given many opportunities to gain expertise in kidney biopsy procedures and acute dialysis procedures.
Patient base
7-10 new kidney transplants performed each year; 65 total transplant patients followed.
Average of 20-30 patients with end-stage kidney disease in the Dialysis Center and hundreds of patients with other kidney diseases, including acute and chronic glomerulonephritis, chronic kidney disease, hypertension, nephrotic syndrome, congenital urinary tract anomalies, inherited kidney disorders, and fluid and electrolyte abnormalities are seen and followed.
The Division averages over 210 inpatient consultations/admissions per year and >2700 ambulatory visits per year.
Nephrology averages 7-12 patients on the inpatient service.
Research
23 months protected research time beginning in the first year of training.
Fellows will learn how to select a research project and mentor.
Meet biannually with Scholarship Oversight Committee responsible to provide feedback and review progress of their project proposal.
Mentorship provided for the writing and submission of at least one first-authored manuscript. Grant writing opportunities are available.
Mentorship and guidance to prepare abstracts and manuscripts for publication and poster and oral presentations for regional and national meetings provided.
Conferences
Weekly
CRI Research Conference
Faculty and guest speakers present basic or clinical research to openly share their work and encourage the exchange of ideas between scientist and clinicians.
Pediatric Professor Rounds
Attended by students, pediatric residents, fellows and all faculty, a senior resident presents an interesting pediatric case. The diagnosis is not initially revealed and faculty are called upon to provide a lively discussion on their approach to develop a differential diagnosis and diagnostic work-up.

Internal Medicine – Nephrology Clinical Conference
Pediatric nephrology faculty and fellows are welcome to attend monthly case presentation by adult nephrology fellows. Fostering interaction between the adult and pediatric nephrology divisions.

Internal Medicine – Nephrology Academic Conference
Adult faculty, fellows and prominent guest speakers give presentations on current state-of-the art topics in clinical care and Nephrology research.

Department of Physiology – Renal Physiology Sessions
Pediatric fellows are given the opportunity to "sit in" on the graduate level classes on renal physiology presented by faculty in Physiology in the graduate department.

Pediatric Grand Rounds
Weekly lecture by faculty or local/national guest speaker presented on a topic of interest to the entire Department of Pediatrics.

Clinical Case Conference
Interactive review of interesting cases presented by nephrology faculty and fellows.

Monthly
Multidisciplinary Transplant Conference
A case-based discussion and evaluation of current and potential transplant recipients. The conference is attended by nephrology and surgery faculty, fellows and support staff.
Dialysis Quality Improvement Conference
Multidisciplinary discussion of patient medical and psychosocial information. Fellows participate in monthly review of patient outcomes and associated quality improvement initiatives.

Fellows Didactic Learning Sessions
Interactive lecture and discussion led by Nephrology faculty to enhance learning of specific nephrology topics outlined in the curriculum.

Renal Pathology Conference
In a small group setting using a 10 multi-head microscope, pathology faculty provide a review of recently performed kidney biopsies specimens with an interactive discussion of the patients' presenting symptoms, diagnostic evaluation, and management along with Nephrology faculty and fellows.

Fellow's Journal Club
Led by Fellows', a discussion of current literature on a clinical or research topic with critical evaluation of the article and recommendations for clinical application and improvement of quality patient care.
Biannual
Joint Fellowship Curriculum
All specialty fellows meet monthly to learn about topics common to all specialties including teaching skills, career development, quality improvement, etc.
Evaluation
Fellows
In addition to self evaluations, performance is evaluated after each learning experience by the Program Director as well as other members of the nephrology section. Twice annually a summary evaluation is conducted based upon compiled data received from faculty and staff evaluations.
Program
Fellows meet annually and participate in a confidential group interview where strengths of program as well as areas for improvement are gathered and disseminated to the Program Director.
Program Goals and Objectives
The broad educational goals of the program are to develop the knowledge, skills, and professional attributes that will lead the pediatric nephrology fellow to becoming an excellent clinician caring for children with kidney disease. This will be accomplished by providing a rich environment with opportunities for direct inpatient, outpatient, and consultative patient care under the direct supervision of full-time faculty.

In addition, the trainees will gain knowledge and skills to become productive academic physicians. They will have the opportunity to pursue clinical and/or laboratory-based research as well as learn quality improvement science. Instruction regarding study design, epidemiology, and biostatistics will be available through the research mentor, pediatric nephrology faculty, and the Joint Fellowship Curriculum. Multiple scholarly opportunities exist in the department and at MCW. Under the supervision of a research mentor and Scholastic Oversight Committee, the training program will aim to develop the academic potential of the nephrology fellow. A summary of the goals of the training program will be distributed to each fellow and faculty member within the section, as well as to each research mentor on an annual basis. A brief summary of the goals and objectives include:
Develop the clinical competencies to manage a wide spectrum of kidney disease, hypertension and urinary abnormalities in infants, children and adolescents.
Be able to manage patients requiring all modalities of renal replacement therapies including kidney transplantation.
Understand the role of the pediatric nephrologist in assisting primary care providers in the care and management of children with kidney disease and hypertension.
Become knowledgeable about research methods and its application to the field of pediatric nephrology.
Become proficient in the design, execution and dissemination of clinical or basic science research.
Develop teaching skills and take a significant role in the educational activities of the division.
Our Faculty
Our experienced, talented faculty members are excited to work alongside and support you throughout your fellowship.
Testimonials
I was geographically limited to Chicago due to my husband's job. I came to MCW because of the proximity to Chicago. I did not expect much as I knew this was a new program and I was the first fellow. I was blown away by the individual attention from everyone. From faculty to staff members including research coordinator, nurses and administration. I was invited to participate in all the procedures like biopsies and acute dialysis. Not only did it offer a fulfilling clinical and educational experience, it was also an incredible research experience. I was equipped with both clinical and basic science research tools. I was very fortunate to have opportunities to learn from mentors in physiology and internal medicine/nephrology. Graduating from the pediatric nephrology program I was a very confident, well equipped clinician. Milwaukee was also great place to live and start a new family. It offered great food, outdoor activities and we made lifelong friendships.
-Shireen Hashmat, MD
MCW combines excellent clinical training with vast research opportunities. Having a strong CICU, PICU, neonatology and urology program along with diverse patient population gives nephrology fellows the opportunity to see the length and breadth of the renal disease spectrum. MCW also has a strong liver and renal transplant program and fellows are involved in every stage of decision making and care of their patients. Along with multidisciplinary didactics and conferences, fellows are given the opportunity to choose their own research mentors and projects. There is a good mix of both basic, clinical and translational science research to choose from. Besides, Milwaukee is a great family friendly city. From food to arts, music to sports, there is something here for everyone!
-Vaishali Singh, MBBS

Recent Alumni
Shireen Hashmat, MD (2012-2015)
Position after graduation: Assistant Professor, University of Chicago, Comer Children's Hospital

Ameya Patil, MD, MS (2013-2016)
Position after graduation: Assistant Professor, Medical College of Wisconsin, Children's Wisconsin
Vaishali Singh, MD (2015 – 2018)
Position after Graduation: Staff Physician, Children's Wisconsin
Living and Learning in Milwaukee
Milwaukee is one of the Midwest's best-kept secrets and a prime location for the Medical College of Wisconsin's main campus. A one-of-a-kind city with a vibrant and diverse culture, this charming, yet metropolitan must-see is just 90 minutes north of Chicago and nestled on the coast of Lake Michigan. Whether you're catching a show at Summerfest, the world's largest music festival, immersing yourself in the old world charm of the Historic Third Ward or taking in the sights and sounds of one of the many cafés, beer gardens or restaurants that line the city's riverbank and shoreline, Milwaukee never disappoints.
Application Process
Applicants must have completed a certified pediatric residency training program and submit their application through ERAS (Electronic Residency Application Service).
Benefits Conditions and Terms of Employment
The Medical College of Wisconsin Affiliated Hospitals (MCWAH) offers its employees a competitive and comprehensive benefit package. The benefits offered are designed to recognize the diverse needs of our workforce and provide long-term financial security to employees and their family members.
Visit the Graduate Medical Education website for information regarding vacations, leaves, insurance, stipends and professional liability: See MCWAH Benefits, Conditions & Terms of Employment.
Academic Development Fund
Fellows receive a fund each year to be used for items such as society memberships, license renewal, board fees, text books, travel to academic meetings and any other seminars or educational materials that may be required during the fellowship.
Our Fellowship in Photos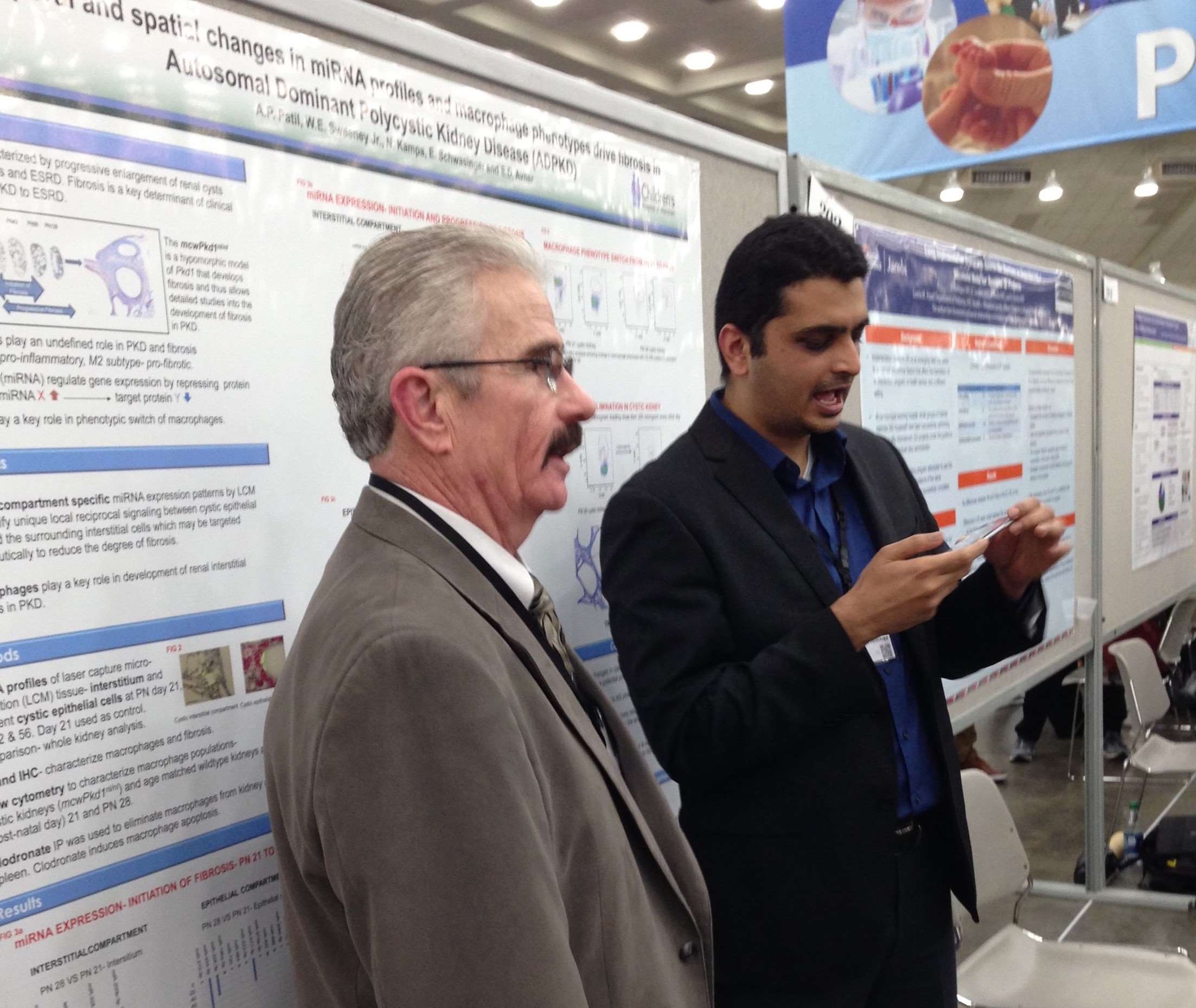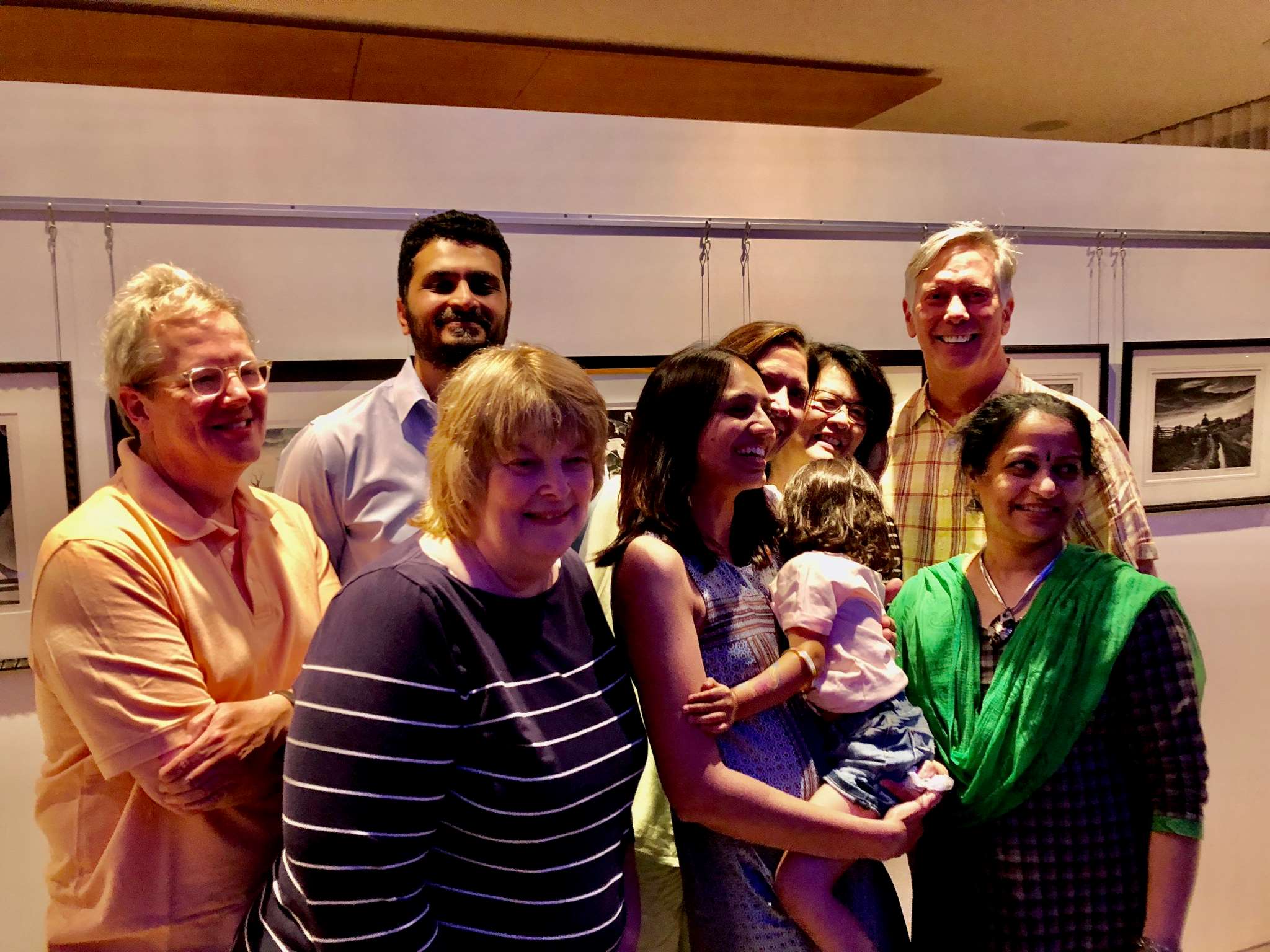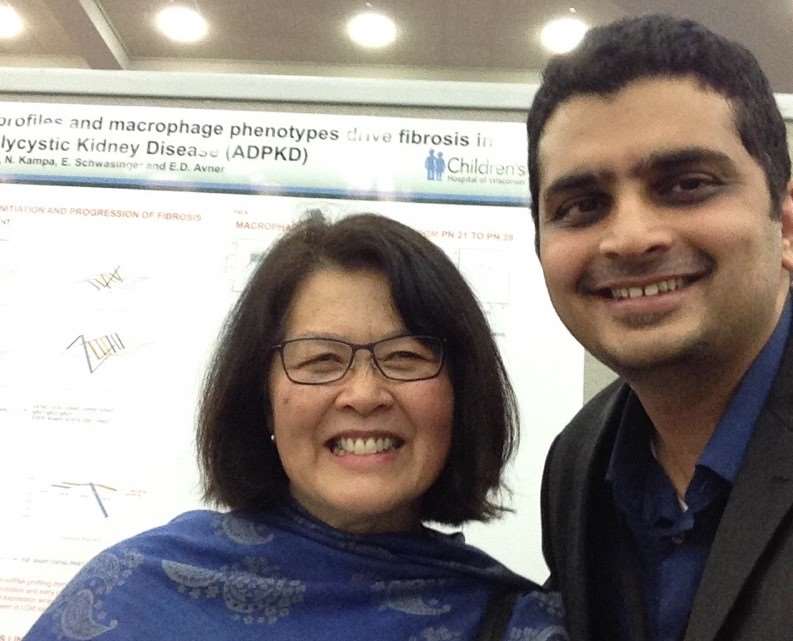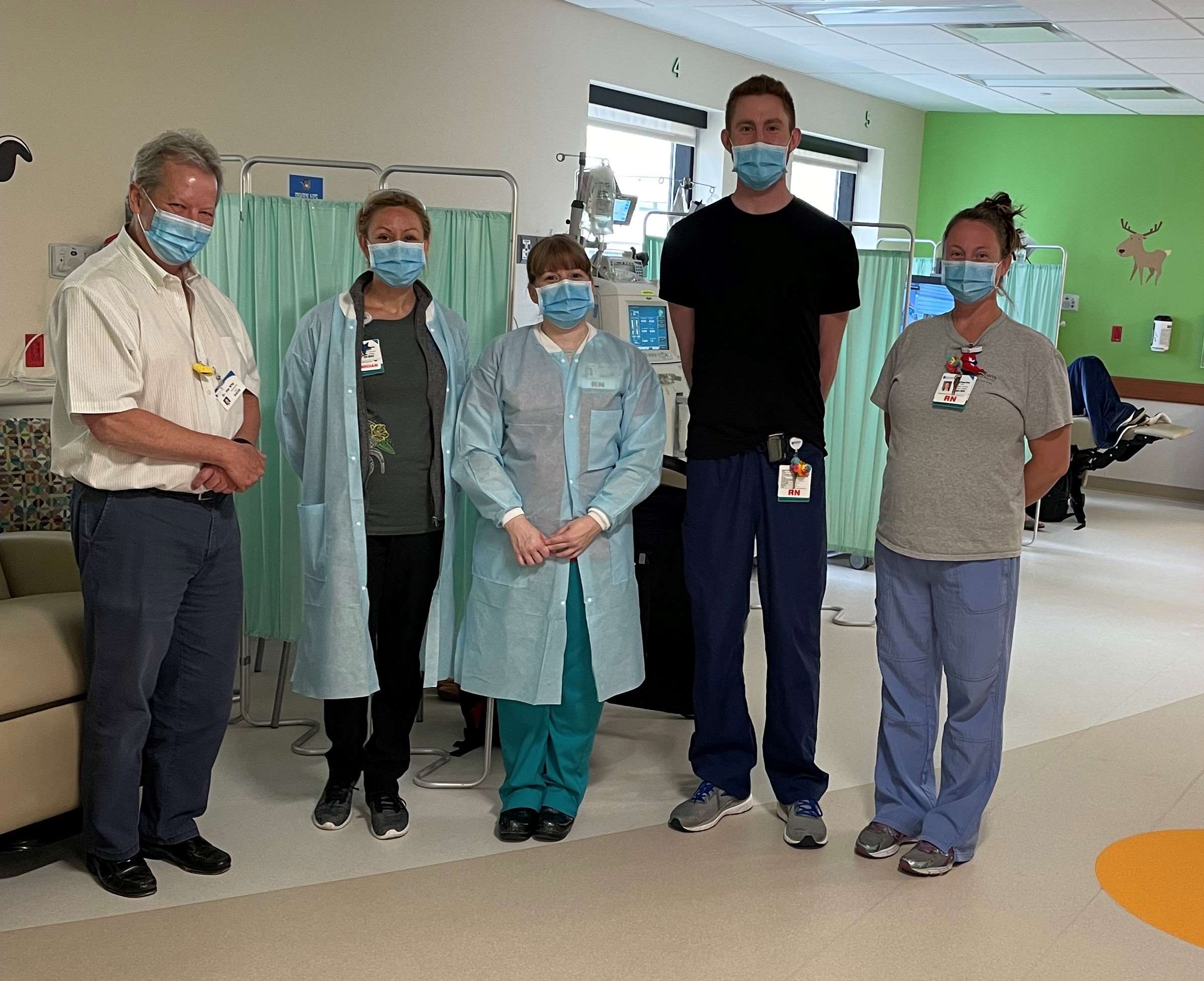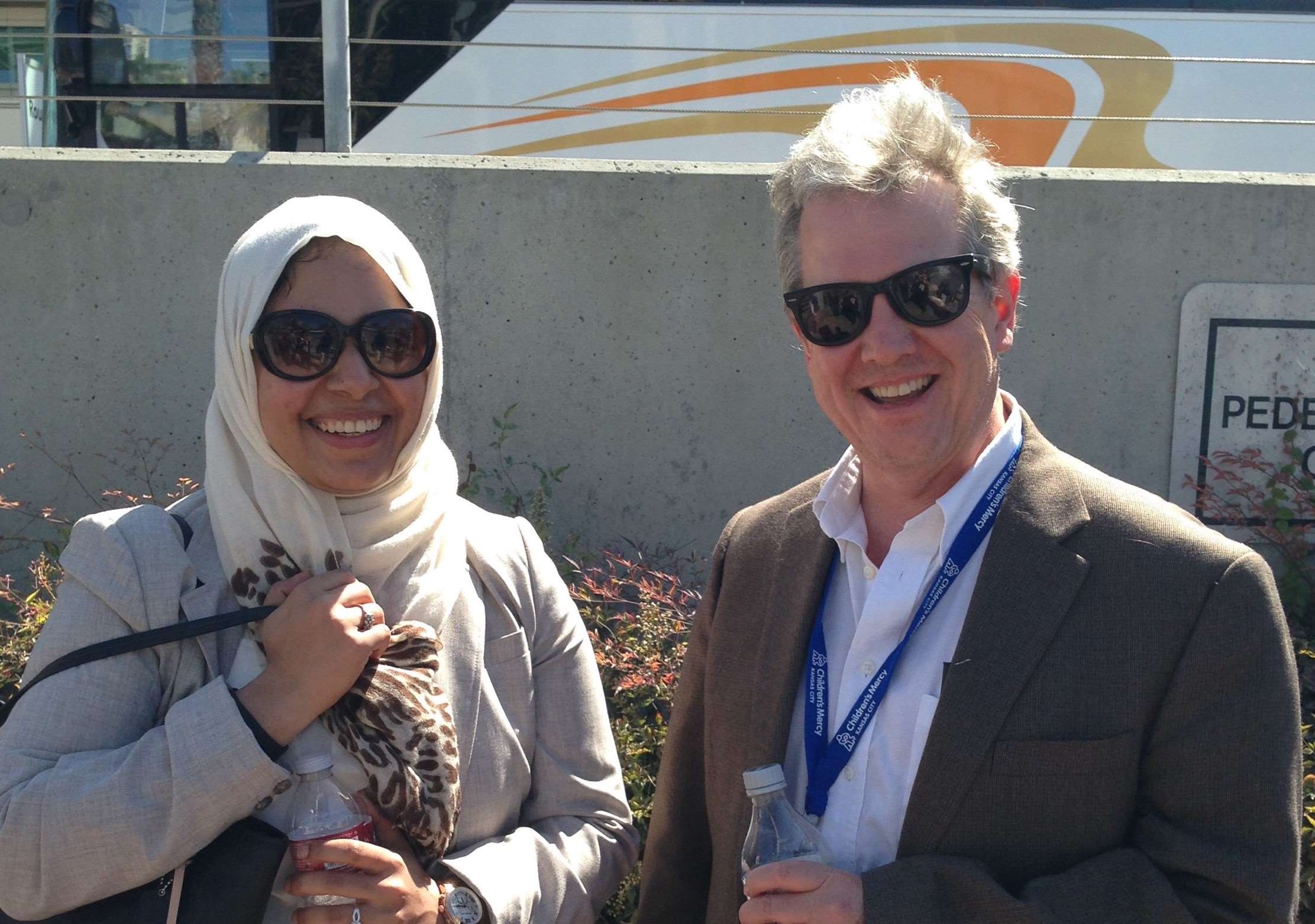 The moment I entered the MCW campus and met with the faculty and staff in pediatric nephrology I felt very welcomed. I knew that I would totally enjoy my fellowship years here; and I did. I learned a lot during my years of fellowship. There are plenty of opportunities available which along with the flexibility provided by the program gives you freedom to develop your portfolio just the way you want. The breadth of clinical exposure is extensive. The staff is very supportive and helps you remain focused on the clinical work and also helps protect your research time."
Ameya Patil, MD, MS
Our Team
Scott Van Why, MD
Fellowship Director
Professor
Cynthia Pan, MD
Associate Fellowship Director
Professor
Corrine Dean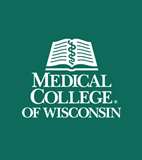 Administrative Coordinator
Christina Hoppe
Fellowship Coordinator
Fellowship Program Contact
Pediatrics Nephrology
Department of Pediatrics
Children's Corporate Center
999 N. 92nd St.
Milwaukee, WI 53226