Honors and Awards
2011 - New Innovator Award, Office of the Director of the NIH
Research Interests
Continuing research efforts in the Geurts lab are being driven by our interests in developing genetic approaches toward understanding human health and disease. For the past 12 years, we have been developing tools for genetic manipulation in a variety of cell and animal systems including stem cells, zebrafish, mice and laboratory rats. These systems are among the most widely preferred models for genetic and physiological investigation into human disease, however, genetic approaches, especially in non-mouse systems, have traditionally been limited by a lack of technologies.

After joining the Medical College in 2006, we implemented new approaches to accelerate transgenic and gene knockout studies for the PhysGen Program for Genomic Applications by adapting the Sleeping Beauty transposable element system for use in rats. Transposons are currently the most reproducible and efficient tool available for adding new genes to the rat genome and since then, we have worked with several other local investigators to create new transgenic rat models.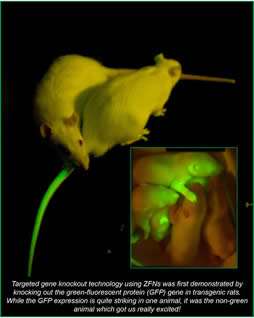 In 2009, we were fortunate to be the first to demonstrate that engineered proteins called Zinc Finger Nucleases (ZFNs) could be applied to rat embryos to generate the world's first targeted gene knockout rats. This breakthrough revolutionized the local and broader research communities who use laboratory rats as a model system and other researchers are now applying these methods to other animal models such as mice, pigs, and rabbits. Site-specific modification of the rat genome using ZFNs is used to disrupt (knockout) or introduce specific gene alleles (knockin) to modify gene function. To date, we have created more than 100 knockout and knockin genetic models for several research areas related to our collaborative interests in complex diseases such as hypertension, renal disease, Type 1 Diabetes, and drug abuse.
More recently, the Geurts lab has been developing TAL Effector Nuclease (TALEN) technology for targeted genome engineering. TALENs are a relatively new technology which are analogous to ZFNs, but have some attractive attributes including reduced cost and design flexibility which will facilitate their use in the field. This new technique is complemented by our recent development of the first rat embryonic stem cells from a hypertensive rat model in collaboration with the laboratory of Dr. Howard Jacob. The availability of stem cells from this disease model rat now provides unique possibilities for creating more complicated genetic models. We are currently establishing whether these cells are capable of supporting our engineering approaches for producing genetically modified rats.

Recently, Dr. Geurts' creative and innovative contributions to the field of genetics and technology were recognized by the granting of a New Innovator Award from the Office of the Director of the National Institutes of Health. This prominent award will propel efforts in the Geurts lab toward pushing the limits of these technologies to create better models of human disease. These techniques, animal models, and resources broadly benefit the local and broader research communities and advance our collective understanding of complex human genetic diseases.