About the Medical College of Wisconsin Department of Urology
Welcome from the Chair
As the newly appointed Chair of the Department of Urology at the Medical College of Wisconsin, I am excited to help lead a phenomenal group of physicians, APP's, administrative staff, and other health care providers committed to providing cutting edge care in Urology. Our talented staff has worked hard to become local, regional, and national leaders in Urology clinical care, education, and research.
We have also made a commitment to community involvement, including providing services at Planned Parenthood. We have worked hard to provide the very best care in the right location at the right time for all patients. We treat everything from basic urologic disorders to the most complex conditions. Our adult practice serves patients in locations across the metro Milwaukee area, while our pediatric practice also serves regional locations up and down the shores of Lake Michigan.
Additionally, as leaders in urologic research, our patients can benefit from the most up-to-date clinical trials. Our learners are involved every step of the way as well, helping to train the next generation of physicians and health care professionals.
Explore our website and feel free to contact us with questions.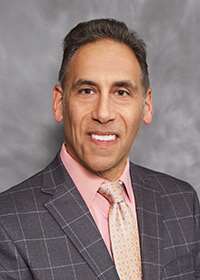 Jay Sandlow, MD
Professor and Chair
Department of Urology
Medical College of Wisconsin