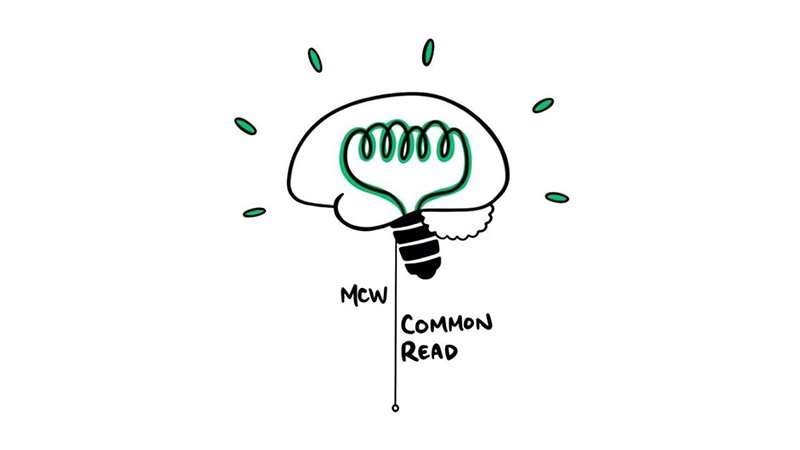 MCW Common Read
The purpose of the MCW Common Read Program is to unite students, trainees, faculty, staff, and community members alike in thought-provoking discussions about timely topics.
Each year a book will be selected that exemplifies the integration of innovation, reflection, academic discourse and critical thinking. Selected books will be framed by formal and informal events allowing for engagement with the subject matter in meaningful ways that enrich the reader's experience.
The MCW Common Read Program strives to provide a foundation for conversations around change, compassion, caring, and character - we strive to make the un-common, COMMON.
2019 Common Read Book Selection
Your Heart is the Size of Your Fist
by Dr. Martina Scholtens
Dr. Martina Scholtens spent a decade in a Vancouver, British Columbia clinic for newly-arrived refugees, providing health care for families from the Middle East, Asia, Africa, and the Americas. But her real mission – the challenge that shines through her fascinating book – was to accompany them on their journeys in ways that went far beyond what she learned in medical school or during her family medicine residency.
I met Dr. Scholtens in 2017 and was stirred by her book, Your Heart is the Size of Your Fist: A Doctor Reflects on Ten Years at a Refugee Clinic. She has created a heartfelt, well-written volume that describes triumphs and challenges at work. More than that though, the book chronicles how she dealt with the stress of a growing family (a husband and four kids), limited resources (government cuts to refugee health funding), patient challenges (travel, poverty, communication, and cultural barriers), professional ambiguity (when is it appropriate to go to a patient's birthday party???), and the risks of burnout. She shares her approaches to wellness, balance, providing great clinical care, and becoming an advocate. She even writes about knowing when it was time to move on. The book brims with her caring, character, and competence.
Your Heart is the Size of Your Fist is full of wisdom, warmth, and insight. I look forward to sharing what is found within its pages with the MCW Common Read community."
- Written by Dr. Bruce Campbell, MD FACS, suggester of this year's MCW Common Read, Member of the Department of Otolaryngology and Communication Sciences and the Center for Bioethics and Medical Humanities
2018 Common Read Book Selection
In Shock: My Journey from Death to Recovery and the Redemptive Power of Hope
by Dr. Rana Awdish
"In Shock is a riveting first-hand account from a young critical care physician, who in the passage of a moment is transfigured into a dying patient. This transposition, coincidentally timed at the end of her medical training, instantly lays bare the vast chasm between the conventional practice of medicine and the stark reality of the prostrate patient.

Hauntingly perceptive and beautifully written, it allows the reader to transform alongside her, and watch what she discovers in our carefully cultivated, yet often misguided standard of care. The author demonstrates through engaging narrative and laser-sharp wit how the unbearable is borne. She comes to understand the fatal flaws in her profession and in her own past actions as a physician. She also achieves, through unflinching presence, a crystalline vision of a new and better possibility.

Using her exceptional recall, Awdish fashions an elegant, yet urgent call to action. As she finds herself up against the same self-protective partitions she was trained to construct as a medical student and physician, she artfully illuminates the dysfunction of disconnection. Shatteringly personal, and yet wholly universal, she offers a brave roadmap for anyone navigating illness. At the same time, she presents physicians with a new paradigm and rationale for embracing the emotional bond between doctor and patient. All told, she cogently outlines the redemptive possibilities of dismantling the barriers to connection in all relationships."
Learn more about In Shock, about Dr. Rana Awdish and register to attend a Grand Rounds presentation by Dr. Awdish on April 18, 2019.
Book Discussion Toolkit
Program Goals
Book Discussion Guidelines For Participants
Book Discussion Guidelines For Facilitators
Discussion Guide for In Shock
Ways to Engage
Kern Institute Grand Rounds: Rana Awdish, MD
Locate a Copy of In Shock
Suggest a Book
Writing Submissions
Are you doing an event related to Common Read?
Contact Us
MCW Common Read Steering Committee
Join in the Conversation
#MCWCommonRead
MCW Common Read imagery created by MCW medical student Rushi Patel