MCWfusion Curriculum Phase 3: Individualization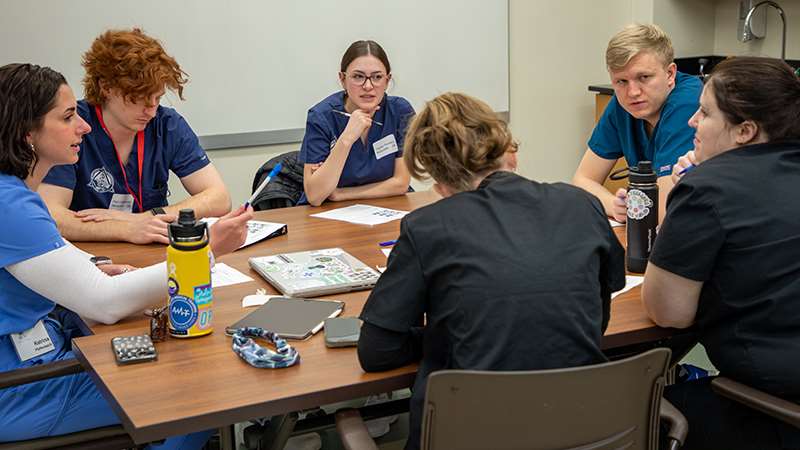 Phase 3 Overview
During Phase 3 of the MCWfusion Curriculum, students will individualize their training, differentiating towards their specialty choice.
Phase 3 duration:
MCW-Milwaukee campus: 17 months/begins January 2026
Regional campuses (MCW-Central Wisconsin and MCW-Green Bay): 10 months/begins August 2025
Course requirements include:
Two (2) Acting Internships (core plus core/noncore)
At least one (1) Integrated Science Selective course (at least 50% Foundational Science focus; virtual/in-person/hybrid opportunities)
Preparing for Residency course
Completion of Scholarly Pathways
Elective courses will fulfill remaining credits for completion of Phase 3
Phase 3 Calendar Map (MCW-Milwaukee and Regional Campuses)
Due to the nature of individualization of Phase 3, the image below represents a potential schedule of one student. In addition, students on the MCW-Milwaukee campus can use two of the elective blocks in Phase 3 as vacation time.

Phase 3 Tracks
Primary Care and Medical Specialties
Acute Care/Emergency Medicine
Surgical Procedural
Mind, Brain & Body
Diagnostics & Therapeutics
Undifferentiated
Accelerated Regional Campus (ARC)
Tracks are guided paths of menus of required and elective experiences for students. They include the following:

Specialty-oriented Acting Internships
Integrated Science Selectives
Clinical & Research Electives
Specialty-specific preparation for residency

Tracks allow for specialty-oriented individualized curriculum that also ensures adequate general physician training.
Tracks support individualization of medical training and organize student experiences.
Tracks may have required courses, recommended courses, and/or suggested courses.
Tracks may give preference for certain high demand low-capacity courses to students within a Track.
Tracks offer extracurricular activities.
Students retain the ability to take courses outside of what's defined in their Track.