Postdoc Industry Consultants (PICO)
PICO is a bioscience consulting group comprised of postdoctoral fellows at the Medical College of Wisconsin. Our mission is to provide research-based, actionable business recommendations on key projects for biotechnology and pharmaceutical firms. Concurrently, consultants broaden their business acumen and learn how to navigate the evolving biotechnology and pharmaceutical sectors.
Meet Our Team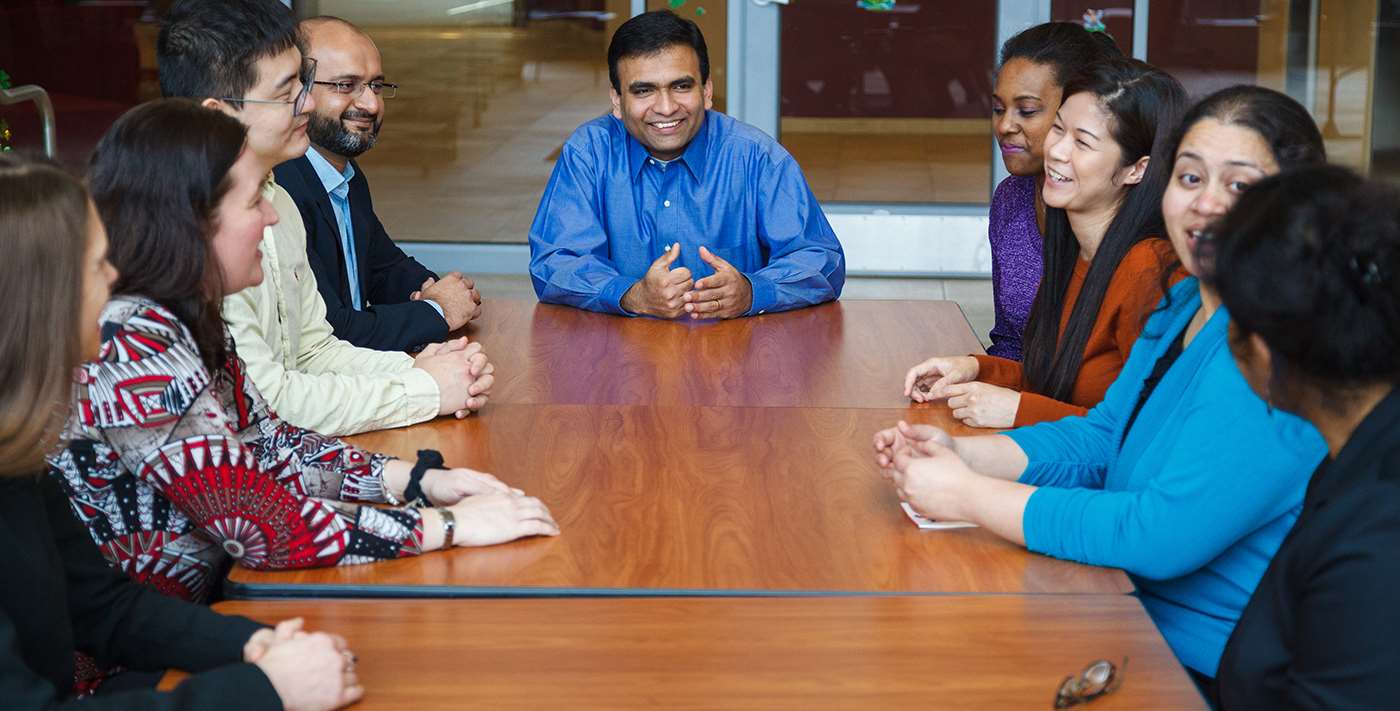 Who We Are
The PICO group works with companies, large and small, on projects that have the potential to impact company growth and development. Our target market is start-up and second stage bioscience companies.

PICO consultants leverage their scientific critical thinking skills to provide research-based, actionable business recommendations on key projects for regional biotechnology and pharmaceutical firms. In return, client companies will offer a practical experience for business-minded postdocs in an industry setting.
Benefits to Postdocs
At the Medical College of Wisconsin, postdoctoral fellows are at the forefront of scientific research. The results of our work have the potential for global impact. For those who plan to transition to industry after the postdoctoral fellowship, PICO is an excellent opportunity to gain first-hand experience in industry and work on projects that positively impact local bioscience firms.

Working in highly integrated 2-3 person teams, consultants develop their business acumen, enhance soft skills, broaden their professional network, and enhance their knowledge of the business of science.

PICO places an emphasis on postdoc development. Many of our consultants are academics who are simply curious about bio-business, while others are working to hone their skills as they look to transition to industry. As a team, we participate in monthly development workshops, small group discussion, and large conferences where we rub shoulders with industry leaders from all over the world. Former members have gone on to become consultants, product specialists, bench scientists, and patent agents.
PICO Video Testimonial
Types of Services and FAQs
Types of Services
Using a team based approach, PICO provides short term consulting services for the complex challenges faced by start-up and second stage firms. Postdocs are highly skilled in conducting rigorous research and filtering through complex issues to formulate objective, research-based recommendations. Each team is made up of 2-3 consultants that will address the needs of your company. Projects typically completed within 2-6 months and each team member will commit 5-10 hours per week. There is no fee for our services.

Past projects have included:

Business plan drafting
Company valuation
Competitive benchmarking
FDA regulatory assessment
Identification of in- and out-licensing partner companies
Market research analysis
Price sensitivity analysis
Product commercialization
Product packaging
Targeted surveys
SBIR grant preparation
FAQs
When was PICO established?
PICO was established in 2011 by Dr. Philip S. Clifford (former MCW faculty member, currently at UIC) and Lena Watanabe (former MCW postdoctoral fellow) after a series of long discussions and meetings with selected industry representatives. They then recruited two more postdocs, Sheldon Garrison and Mike Zickus, to participate in the first PICO project.

How many companies/projects has PICO completed?
Since our establishment, we have completed over 30 projects for 16 biotechnology and pharmaceutical companies. Our results have had a deep and meaningful impact for our clients who range from start-ups through well-established corporations.

How much does PICO charge for its services?
Nothing. PICO services are pro bono. Our payment is considered fulfilled by providing our consultants with hands-on experience and networking opportunities in exchange for actionable business recommendations. On occasion, some clients have been asked, or have offered, to present a workshop to the group on a variety of business related topics.

How does PICO train its consultants?
In addition to hands-on training through consulting projects, PICO regularly brings in guest speakers from various areas of business and biotech to speak on topics such as product valuation, finance, intellectual property, project management, regulatory affairs, etc. Knowledge and best practices are also shared among members in monthly meetings, which insures the flow of knowledge from senior members to new consultants.
Apply To Be A Consultant
Recruitment and hiring occurs on a rolling basis and applications are always welcome.
To apply you must currently be a postdoctoral fellow from the Medical College of Wisconsin or University of Wisconsin- Milwaukee. Current graduate students at the Medical College of Wisconsin, please read the policy (PDF) and download the checklist (PDF) to complete.

If you are interested in joining our team, please download and submit the PICO application file (DOCX) and submit it along with your CV or resume to PICO@mcw.edu.
Contact Us
Office of Postdoctoral Education
Health Research Center, H2200
Medical College of Wisconsin
8701 Watertown Plank Rd.
Milwaukee, WI 53226