Adapting Over a Lifetime as a Clinician, Educator and Leader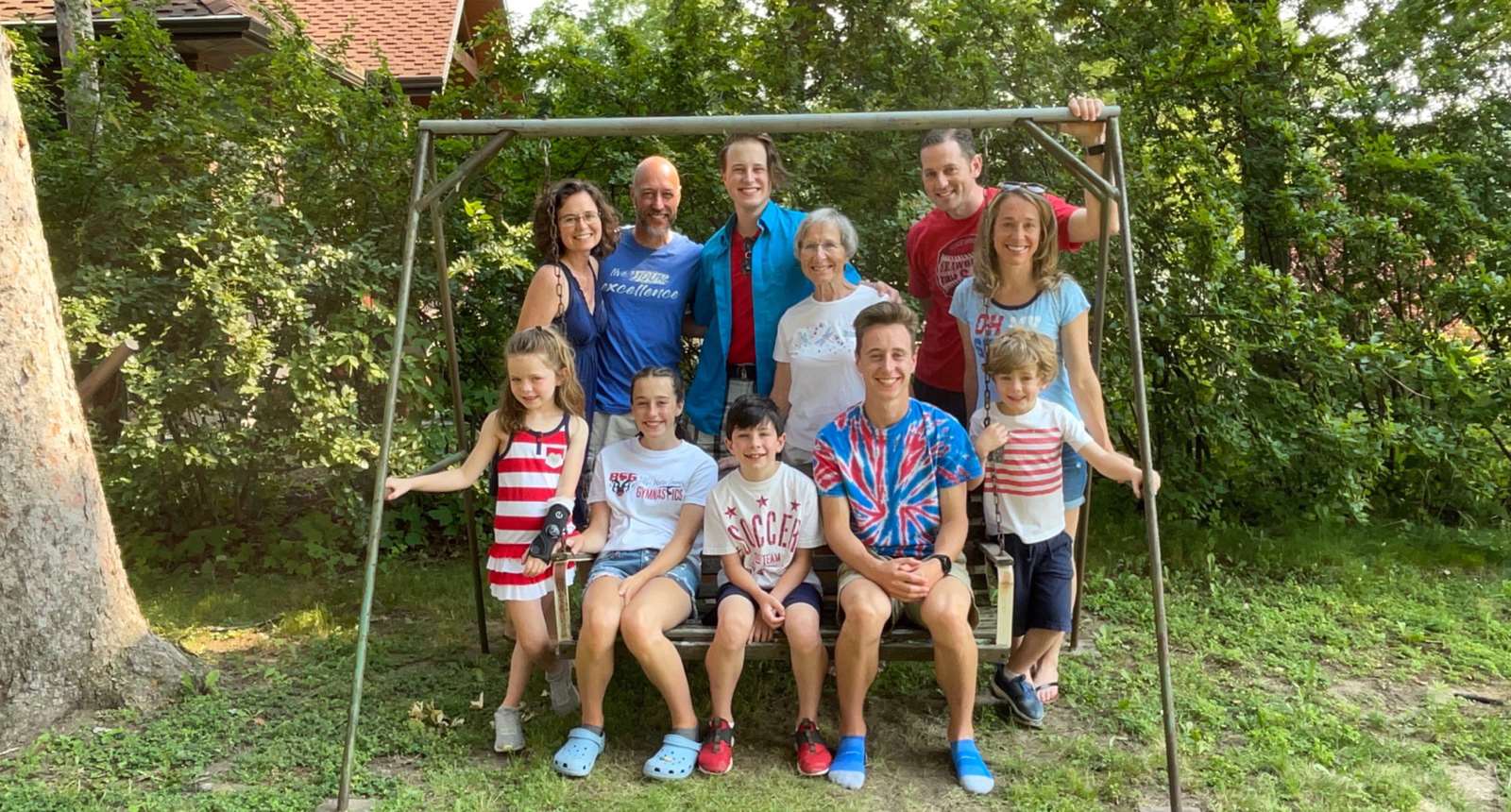 Dr. Elizabeth Sanfelippo with her children and grandchildren in the summer of 2021.
One thing Elizabeth Tucker Sanfelippo, MD '71, GME '74, FEL '87, has noted during her 50 years as a physician is that adaptability is important.
"Many members of our class made their careers in fields that weren't invented at the time we left medical school," says Dr. Sanfelippo. She served a residency in internal medicine and practiced for 10 years, then started an allergy fellowship and practiced in that field for seven years. In 1994, Dr. Sanfelippo joined the burgeoning specialty of hospital medicine – a setting where she could care for acutely ill patients. She also maintained a part-time allergy practice until 2012.
Dr. Sanfelippo began as a hospitalist when the specialty program at St. Joseph's Hospital in Milwaukee was launched. She then worked as a hospitalist in temporary roles, starting up programs at medical centers. Dr. Sanfelippo practiced as a hospitalist until 2020, most recently holding positions in Green Bay, Wisconsin, at St. Mary's and St. Vincent Hospitals.
Throughout her career, Dr. Sanfelippo has maintained a focus on medical education. She began working with medical students teaching physical diagnosis during her fellowship – which continued throughout her hospitalist years. At St. Joseph's, Dr. Sanfelippo served as an attending physician and twice received the Golden Apple Award from junior MCW medical students who were completing their rotations there. When MCW-Green Bay opened, Dr. Sanfelippo mentored students rotating through hospital medicine and evaluated exams in physical diagnosis. This year, Dr. Sanfelippo became the co-chair of the Continuous Professional Development Year 1 (CPD1) course at MCW-Green Bay, along with Joseph Kellner, MD. She also served nine three-year terms on the Wisconsin Medical Society Commission on Continuing Medical Education.
In 1967, when Dr. Sanfelippo began medical school, she was one of 18 women in the entire student body. "The six women in our class would likely have never met in other circumstances, but we all began the same journey," says Dr. Sanfelippo. "Our experiences in medical school were more similar than disparate, and by graduation, a bond had been formed that has lasted over the years." In 2017, Dr. Sanfelippo sponsored the white coats of six matriculating female students at MCW, in partnership with the Wisconsin Medical Society. She shared with them that this was a way to honor the six female students from the Class of 1971. All six students Dr. Sanfelippo sponsored graduated in 2021, coinciding with the 50th anniversary of the graduation of her 1971 Class.
Class of 1971 Community Service Awards
While the anniversary class was unable to hold an in-person reunion due to COVID-19, its members have continued to support the Annual Fund for Excellence or their class fund. Like many of her classmates, Dr. Sanfelippo has a passion for community service and its impact on both the students and the community. This shared interest led to the establishment of the Class of 1971 Community Service Endowment Fund in 2006, which provides a sustainable source of funding for the Class of 1971 Community Service Awards at MCW. Dr. Sanfelippo serves on the committee to review proposals from student organizations for their start-up community service projects.
The awards program has provided a great benefit to community partners and expanded the educational horizons of MCW students. In recent years, a wide range of student organizations' projects have been funded, including the Hmong Health Project by the Asian Pacific American Medical Student Association (APAMSA); Granting Wishes, which helps victims of domestic violence and sexual assault in Central Wisconsin, sponsored by the American Medical Women's Association; and secondary school science education by the STEM student group.
– Emily Marquardt