Changemaker: Medical Student Receives National Recognition for Local Community Health Work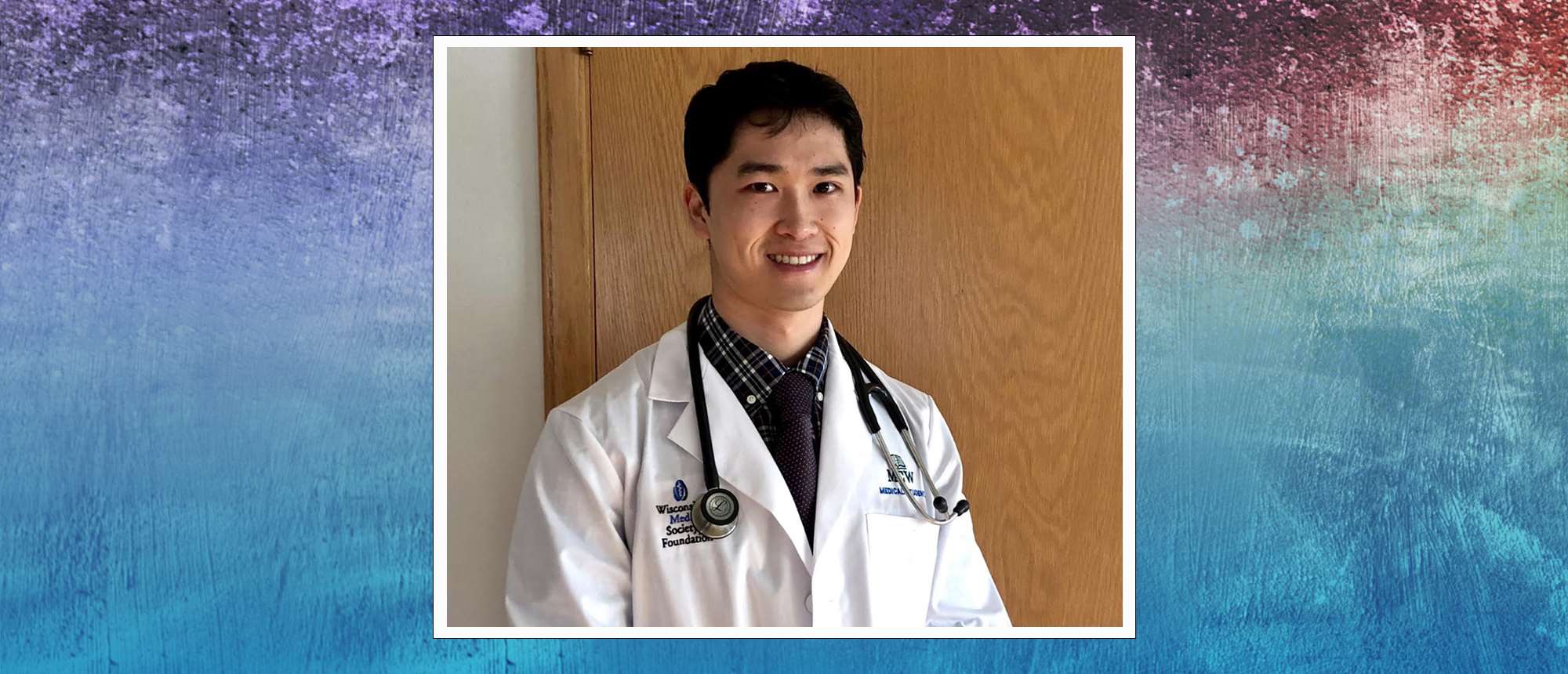 Second-year Medical College of Wisconsin Medical student Jonathan Wong selected for prestigious Campus Compact Newman Civic Fellowship.
Jonathan Wong, a second-year medical student at the Medical College of Wisconsin (MCW), has been selected as a 2022-2023 Campus Compact Newman Civic Fellow for his work in community outreach and community engagement. Wong is one of a cohort of 173 students from across the country to be recognized with the fellowship for commitment to their communities as changemakers and public problem-solvers. The fellowship provides students with training, networking opportunities and resources to nurture their interests.
Wong was nominated by his MCW advisor, David Nelson, PhD, associate professor of family and community medicine, for his volunteer work addressing housing and health equity. Wong volunteers for StreetLife Communities, a homeless outreach program in Milwaukee that Dr. Nelson cofounded, and is conducting research regarding the threat of evictions and health, especially for single mothers of color. Wong is co-founder of the newly formed Street Medicine Interest Group at MCW, alongside fellow medical students Josh Matzke and Delaney Weiland, which aims to increase MCW student involvement in community outreach with people experiencing homelessness.
"I am very surprised and pleased to be the recipient of the Newman Civic Fellowship," Wong says. "I was humbled to be recognized for the work I am doing with Dr. Nelson. His work has a profound impact on people in the community; getting to be part of that is an amazing opportunity for me."
Wong says his interest in community health started when he was a college student. While attending school in California, he had an opportunity to volunteer in Mexico, an experience he says allowed him to work in medicine and community engagement in a meaningful way.
"I regularly drove down and volunteered in a health care clinic in Tijuana, Mexico," Wong shares. "It was my first time interacting with underserved patients. What had the most profound impact on me at the clinic was seeing health care disparities. The patients in Mexico at the clinic did not have the same access to care that I had just over the border in California. I saw patients whose entire lives were falling apart, who were apart from their families, had little money and were facing serious health issues. I became very passionate about health care as a human right and decided I wanted to help address social disparities in health care."
But Wong saw that health disparities were not confined to Mexico and existed in the US, even in his hometown of San Francisco.
"I moved back to San Francisco and continued doing community outreach, volunteering in free dining rooms and driving for Meals on Wheels before starting medical school. Seeing the great disparity in wealth and rampant homelessness in San Francisco only further impassioned my desire to continue community engagement in medical school and beyond," he says. As a student at MCW, Wong feels he is encouraged in his mission to address health disparities by like-minded students and knowledgeable faculty. 
"Dr. Nelson is very much a pioneer in community engagement and does incredible work with people experiencing homelessness. When I came to MCW, I asked him to be my faculty advisor and became involved in his work with StreetLife Communities," Wong notes. As a volunteer with StreetLife Communities, Wong and other volunteers drive through Milwaukee and provide basic necessities to people experiencing homelessness.
"We take food, clothing, toiletries and other donations directly to people where they live since there are often barriers that prevent them from going to shelters to pick them up," he explains. He encourages MCW students to get involved in the Street Medicine Interest Group at MCW to help raise awareness in future physicians and community leaders about health disparities facing people experiencing homelessness. The organization hosts donation drives and provides guest lectures and clinical workshops for students to learn more.
Wong is also conducting research on the social issue of eviction and striving to better evaluate the impact of eviction on the health of single women with children. He says there is very little data available on connecting the issue of eviction to a clinical context, so he is interviewing patients at a primary care clinic in nearby Waukesha to discover how their housing situation affects their health outcomes. Despite his busy schedule as a student, Wong continues to set even higher goals.
"In the next year or so, we are hoping to give MCW students the opportunity to do street rounds and assist physicians with providing access to basic primary care under the leadership of a faculty advisor," he says.
In his career as a future physician, Wong plans to continue working in community health outreach with patients experiencing homelessness while also working to change public policy for better equity and health care access. He hopes people in Milwaukee and beyond can see past the differences between themselves and a person experiencing homelessness.
"They are often called the 'invisible people' because the only thing people see is their housing situation. I want people to realize that is not what defines them," Wong shares. "They are brothers, sisters, mothers, fathers, people. They are not different from anyone else. Their access to health care, or anything else, should not be defined by their housing status."