Special Delivery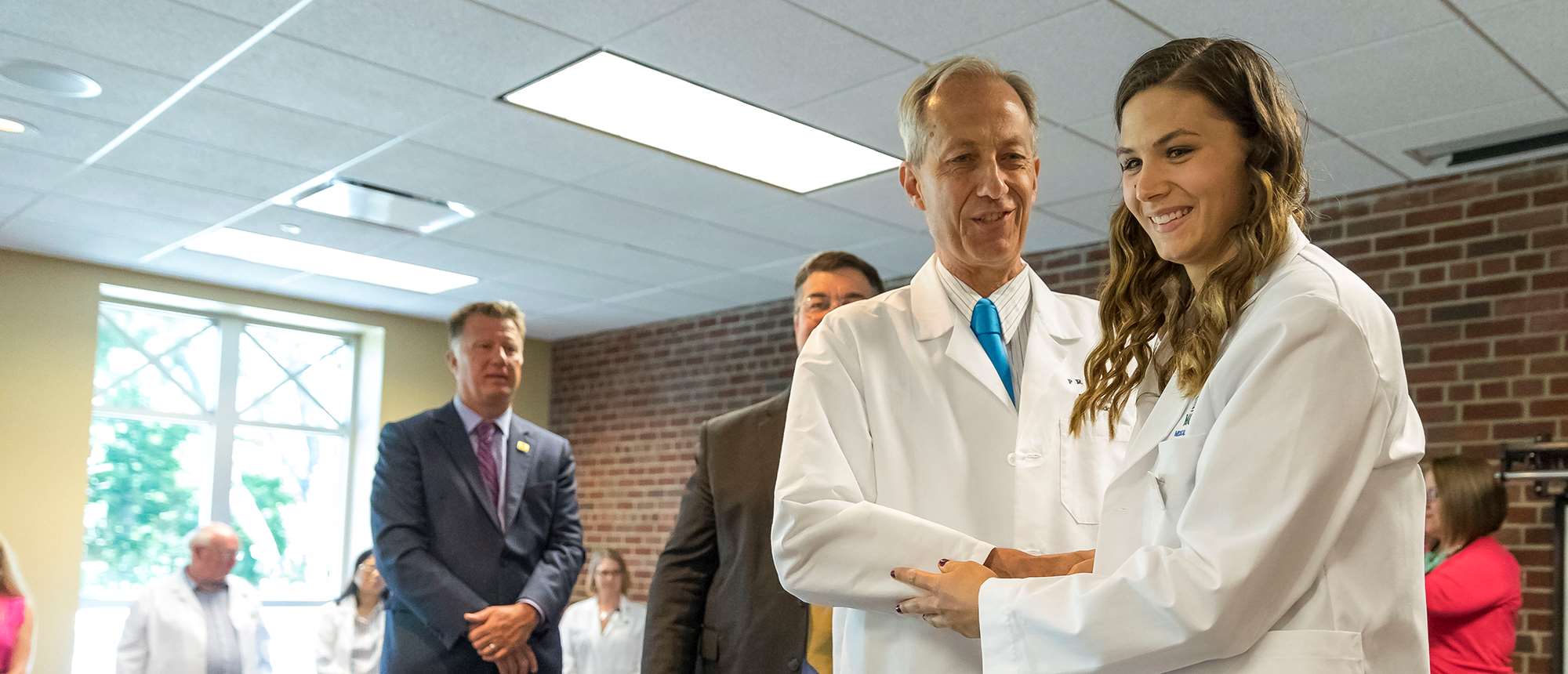 When Brittany Rupp, a first-year student at the Medical College of Wisconsin-Green Bay, arrived on campus, she had no idea that within a year, she'd have a hand in a few miracles ‒ literally.
"I got to essentially catch the baby and then help prepare the umbilical cord to be cut," Rupp says.
As part of her studies at MCW, Rupp, a Green Bay native, has been able to conduct clinical work at Bellin Health Ashwaubenon, a big benefit for students who get to hone their skills in a real-world setting while still in their first year of medical school.
"I think it provides us a unique opportunity to practice what we learned in the classroom. It also helps you solidify that information and experience specialties before you know where you want to go in the field," Rupp says.
Rupp is working under the guidance of her preceptor, Stacy Mohr, MD, and has participated in three births so far. The second happened to be the delivery of the great-granddaughter of Richard Asma, MD '59, and granddaughter of Stephen Asma, MD '84, two well-known Wisconsin physicians and MCW alumni. Dr. Stephen Asma also teaches medical students at MCW in his role as a family medicine preceptor.
In all honesty, Rupp says, she didn't know any of that information before the baby was born, but was glad when she found out.
"I was surprised and excited to be part of that delivery," she says.
Rupp wasn't the only one excited about the delivery. The birth of baby Audrey was the next chapter in the Asma family's long-time association with MCW.
"Our family's legacy spans four generations," says Dr. Stephen Asma. "It's gratifying to see things come full circle for our family, and we are proud to be associated with MCW for so many years."
Rupp says as soon as she learned about MCW-Green Bay, which opened in 2015, she had the goal of becoming a student there. Coming from a small undergraduate school setting at St. Norbert College, she wanted to maintain that atmosphere and close connections she was able to build. And seeing as the MCW-Green Bay program is located on St. Norbert's campus, it was the perfect fit.
"I wanted to stay in the area. I knew that I had developed that family in St. Norbert, and I also knew that the family in MCW would be just as strong," Rupp says.
As far as why she chose medical school, Rupp says it was simply "her calling."
"I think I always knew I wanted to be a doctor," she reflects.
This summer Rupp will be starting her rotations and participating in surgeries. As far as the direction she wants to go in the future, she's considering internal medicine but is currently leaning toward obstetrics and gynecology. The fact that she would get to work with expectant mothers through their pregnancies and monitor their babies' fetal development is a big sell. But the biggest is being part of the delivery.
"It's amazing, and I love it. You get to witness a miracle," Rupp says.