Communication by MCW Researcher Discusses Use of DNP Technique to Overcome Low Sensitivity of NMR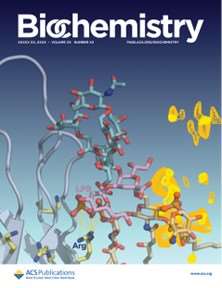 Biophysics chair, professor, and eminent scholar Francesca Marassi, PhD, published a communication in Biochemistry, titled "Dynamic Nuclear Polarization Illuminates Key Protein Lipid Interactions in the Native Bacterial Cell Envelope." Co-authors include James Kent, PhD, of Sanford Burnham Prebys Medical Discovery Institute, and Bryce Ackerman, PhD, and Galia Debelouchina, PhD, of University of California, San Diego. Their image (pictured) was selected for the journal cover.
The authors describe the use of dynamic nuclear polarization (DNP), a technique that enhances the sensitivity of nuclear magnetic resonance (NMR) experiments, to elucidate the structure and interactions of a bacterial membrane protein in its native bacterial cell envelope. The authors capture the interactions of the membrane protein Ail, a key component of the host invasion pathway pathogenic bacteria, with the bacterial membrane lipids. They show that the DNP-enhanced NMR spectra of Ail are well resolved and enriched in correlations that are invisible in conventional NMR experiments.
Notably, they demonstrate the ability of DNP to capture elusive interactions between the protein and its surrounding lipopolysaccharide lipid layer. The results presented in this communication support a model where key sites in the protein's long extracellular loops remodel the membrane environment, a process that is crucial for host invasion and pathogenesis.