Dr. Kajua Lor Wins 2022 Woman Pharmacist of the Year Award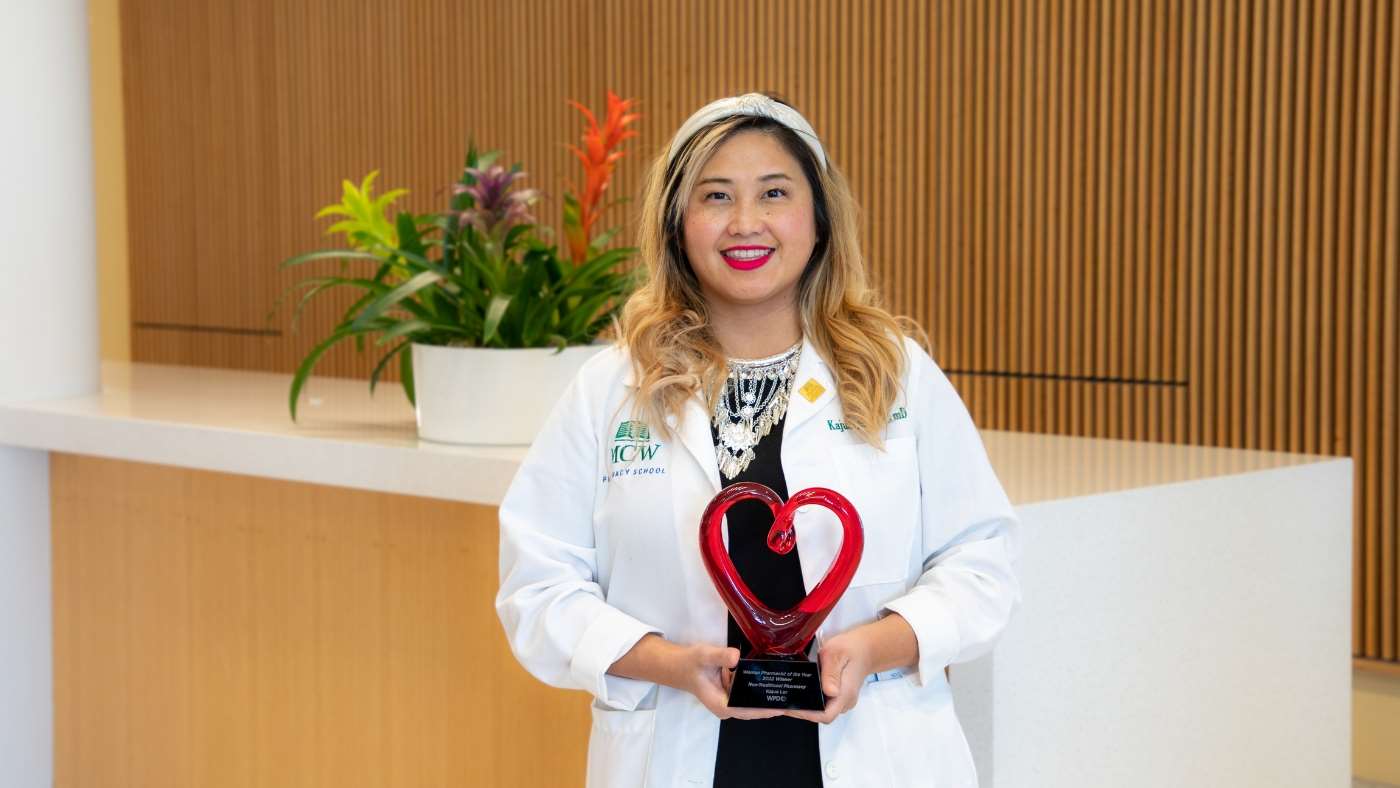 Kajua Lor, PharmD, BCACP, was selected as a winner of the 2022 Woman Pharmacist of the Year Award, recognizing women who have made a significant impact on the practice of pharmacy.
"This award – and even being named a finalist – is a testament to the changing roles of women in society and the profession of pharmacy," says Dr. Lor. "It's interesting because I've found that learners who gravitate towards me are mostly learners of color, minority and/or are women. For me, this award shows that I need to continue the work that I do in education, scholarship and advancing pharmacy practice. I belong in this space and I'm here for a reason."
The Pharmacist Moms Group presented the 2022 awards to four women in different practice areas: Community Pharmacy, Health-System Pharmacy, Independent Pharmacy and Non-Traditional. Dr. Lor was announced as one of three finalists and was chosen as the winner of the Non-Traditional category on October 12, which is also Women Pharmacist Day.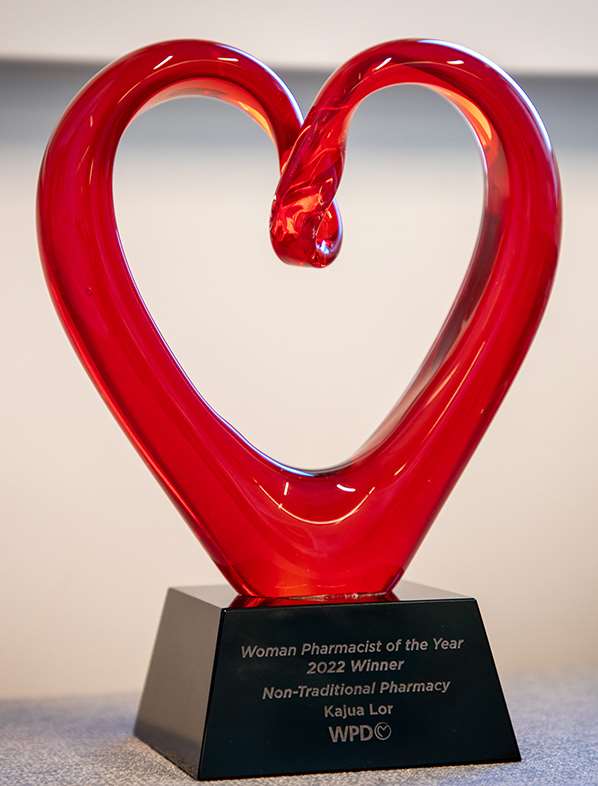 Criteria for the award includes demonstrated commitment to the practice of pharmacy, health care and community. Awardees work collaboratively with other healthcare providers to optimize a patient's quality of life, assist other women in their personal and professional development in the pharmacy profession, develop or improve programs or services that significantly advance the practice of pharmacy and demonstrate an exceptional personal commitment to civic endeavors outside of professional obligations.
"Dr. Lor has served as a pillar for the MCW community with learners, faculty and staff who identify as Asian American Native Hawaiian Pacific Islander (AANHPI). She practices inclusive excellence in her teaching, research, service and leadership and is a key leader in modeling and incorporating equity, diversity and inclusion into her efforts," writes Sendra Yang, PharmD, former medication utilization pharmacist at Froedtert Health, in her award nomination essay.
Dr. Lor is the founding chair of the clinical sciences department and an associate professor in the MCW School of Pharmacy. In this role, she leads over 20 faculty – the majority of whom are practicing clinical pharmacists. Originally appointed as the curriculum development committee chair, Dr. Lor began as one of three faculty with the MCW School of Pharmacy. As one of the few pharmacy schools in the country offering a three-year Doctor of Pharmacy degree, Dr. Lor and her team developed an innovative curriculum with the commitment that students will be immersed in developing their knowledge, skills, and abilities. Dr. Lor teaches various topics including working with interpreters, social determinants of health, cultural competence, health disparities and health equity. She established various educational initiatives at the pharmacy school including a self-care and wellness course and a medical Spanish elective course. She also served on committees that successfully launched the MCW School of Pharmacy Teaching Certificate Program, the Research Certificate Program and four academic concentrations.
As the first and only native Hmong immigrant/refugee pharmacy faculty in the nation, Dr. Lor volunteers her time to share her story at various local, regional, national and international venues and inspires others to pursue pharmacy and health careers. She serves as a distinguished speaker at the Hmong Health Summit and has trained over 200 professionals on cultural humility skills to provide appropriate care for the Hmong community.
As a mother of three (5-year-old Luca, 3-year-old Ella and 1-year-old Esmae), Dr. Lor inspires women to pursue their passions and navigate pharmacy careers as new mothers. She supports student pharmacists and student doctors who are new mothers, assisting them with ways to navigate the workplace and understanding the resources that are available, including designated areas to express breast milk.
She also conducts research on postpartum Hmong traditions, which includes a 30-day rest period after giving birth and eating boiled chicken soup with herbs. She learned about other cultures which have similar traditions, including Korean, Japanese, Thai, Chinese and Vietnamese.
"I learned about how confinement is a time when you can rest and recover. The time is meant to focus on yourself and have that support from your partner and family to ensure you have time for yourself and your little one," explains Dr. Lor. "I found the tradition was useful in that it could also decrease the risk of exposure to illnesses."
Dr. Lor mentors underrepresented minority pharmacy and medical students who are a part of projects to improve health care for underserved communities. Topics include examining the intersections of social determinants of health, creating an educational curriculum about providing culturally intelligent care to members of Asian American Native Hawaiian Pacific Islander communities (HAAPIE Initiative) and educating health care providers on the intersections of Hmong and LGBTQ experiences (Invisible Identities project).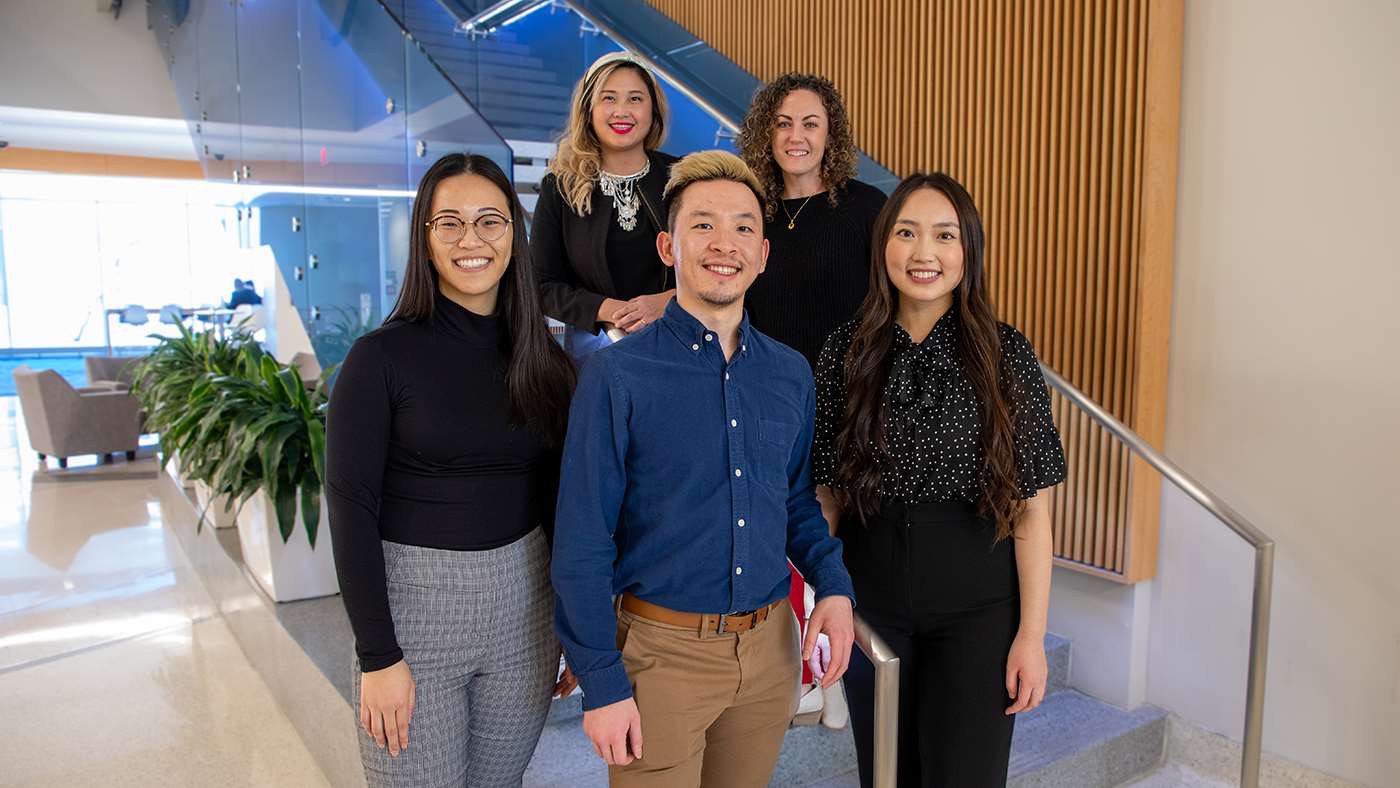 "As a native Hmong community-engaged researcher and educator with proficiency in Spanish, Dr. Lor creates and facilitates a safe space for learners from diverse backgrounds to feel welcome and have the ability to thrive," writes Yang.
In 2021, Dr. Lor was honored with the MCW President's Community Engagement Award, which highlighted her collaborative leadership, community engagement and service through the Invisible Identities project. It also honored her work throughout the COVID-19 pandemic addressing misinformation within the Hmong community and volunteering her time to administer vaccines.
As testament to her commitment to transform pharmacy practice, Dr. Lor practices as a primary care clinical pharmacist one day per week at Sixteenth Street Clinic, a federally-qualified health care center serving Spanish-speaking communities in Milwaukee. As a clinical pharmacist, she performs medication reconciliation visits with an interdisciplinary care team and is involved with disease state management services improving blood pressure control for patients.
Pharmacists are often viewed as the unsung hero of the healthcare team. Dr. Lor would like people to reimagine the role of pharmacists and ensure all patients have access to pharmacists that promote health and wellness, provide comprehensive medication management, perform point-of-care testing and collaborate with the health care team to ensure patients have the safest and most effective medications.